Gulbis gobbles up Robredo in 91 minutes
Ernests Gulbis had four ATP wins on the season heading into the U.S. Open. Now, the youngest player left in the men's draw has reached the second week of the tournament.
Updated:
September 3, 2007, 1:13 AM ET
GULBIS ROUTS ROBREDO TO REACH FOURTH ROUND
By Bonnie D. Ford, ESPN.com
NEW YORK -- Nothing in Ernests Gulbis' record this year indicated that he was poised to make a breakthrough at the U.S. Open.
Gulbis
The 19-year-old from Latvia, one of the former Soviet republics, showed promise by rising 300 places to No. 139 in the rankings last year, but on paper, it looked like he still was in transition. He had played mostly lower-level Challenger events and hadn't won back-to-back matches on the ATP circuit -- where he was 4-11 coming into the Open -- all season. Sunday night, he learned what it's like to be a winning underdog in New York. A surprisingly large crowd at the Grandstand court chanted Gulbis' name in the late stages of his stunning third-round upset of eighth seed Tommy Robredo of Spain.
PHOTO OF THE DAY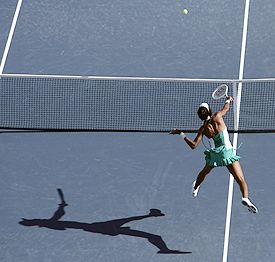 Julie Jacobson/AP Photo
Venus Williams (and shadow) improved to 4-0 against Ana Ivanovic with a 6-4, 6-2 fourth-round win Sunday.
SISTER SHOWDOWN?
STAT OF THE DAY
Henin
4
-- Number of sets women's No. 1 seed Justine Henin has won at love through the first four rounds. Henin heads into her quarterfinal match against Serena Williams having lost a total of 11 games.
Multiply Robredo's ranking by 11, and you get Gulbis' position on the ATP charts. In another nifty bit of numerology that explains the result, Robredo had fewer wins (seven) than his ranking, never an encouraging equation.
The match, ostensibly scheduled for the day session, was delayed for hours as two previous men's matches went the maximum five sets. Gulbis and Robredo didn't take the court until 10 p.m., but then Gulbis made fast work of the Spaniard, waxing him 6-1, 6-3, 6-2 in 91 minutes, to end at 11:31 p.m. "I didn't think it was going to be so easy," said Gulbis, a bright, confident teenager with chestnut hair, hazel eyes and a quick smile. Until his post-midnight press conference, he was the only player in the 128-man draw who hadn't been requested by journalists. "I felt a little bit of pressure at 3-0 (in the third set), because guys in the top 10, if you don't finish them, they can turn the match around in a second," Gulbis said. His next opponent also is a high-ranked Spaniard, 17th-seeded Carlos Moya, who played a taxing five-set match Sunday. "Maybe I'll be more fit for the match," Gulbis said. Gulbis' grandfather, Alvils Gulbis, was a star for the old USSR basketball team, and Ernests began playing tennis with his grandmother when he was a young child. At 12, Gulbis began training at the Munich, Germany-based academy of former Croatian pro Niki Pilic, where Novak Djokovic also honed his game. Gulbis, the first player from his nation to crack the top 100, now joins a very small subgroup of elite athletes from Latvia, which gained its independence in 1991. Andris Biedrins starts for the NBA's Golden State Warriors, and Jelena Prokopcuka is a two-time winner of the women's New York Marathon.
SPONSORED HEADLINES
MORE TENNIS HEADLINES
MOST SENT STORIES ON ESPN.COM
2007 U.S. OPEN

Aug. 27-Sept. 9
ChampionsWomen:
Justine Henin
Men:
Roger Federer
USTA
•
Live scores
•&nbsp
Interactive draws
•&nbsp
Schedule of play
•
U.S. Open radio
•&nbsp
Photo galleries
•&nbsp
Press conferences
Day 14
•
Federer wins Open-era record fourth straight title
•
Garber: History on horizon for Federer
•
Ford: Djokovic just what men's game needs
•
Hawkins: Federer inside the numbers
•
Dechy, Safina capture U.S. Open doubles title
•
Chat wrap

Day 13
•
Ford: Fabulous end to Slam season for Henin
•
Djokovic reaches first Grand Slam final
•
Garber: Recent history favors Novak
•
Men's final predictions
•
Ford, Garber chat wrap

Day 12
•
Henin, Kuznetsova to meet in women's final
•
Ford: Federer's greatest gift
•
Garber: Making the case for Henin, Kuznetsova
•
Chat wrap

•
Aspelin, Knowle win men's doubles title
Day 11
•
Men
•
Azarenka, Mirnyi win mixed doubles title
•
Garber: Late nights at the U.S. Open
•
Ford, Garber chat wrap

Day 10
•
Men
|
Women
•
Ford: Unclearable hurdle for Roddick?
•
Henin vs. Venus for all the marbles … in semis
•
Notebook: Russians to meet in semis
•
Ford, Garber chat wrap

Day 9
•
Men
|
Women
•
Garber: Sulking Serena
•
Garber: Hard courts hard on Nadal
•
Ford: A few good juniors
•
Gallery: Behind the scenes

•
Thacher has eyes on college
•
Chat wrap

Day 8
•
Men
|
Women
•
Garber: What we learned in Week 1
•
Page 2: Being Sharapova
•
Notebook: Venus-Jankovic moved to Wednesday
•
Deportes on Argentina's run
•
Week 1 gallery
•
Week 1 coverage
•
Preview coverage
Video

•
Jensen: Four for Federer
•
Lucky No. 7 for Henin
•
Youth vs. Experience in final
•
Collins final preview
•
Ford: Women's semis recap
•
Bud's breakdown
•
Men's Thursday preview
•
Federer defeats Roddick again
•
Jensen's semifinal preview
•
Venus discusses Serena's loss
•
Venus vs. Henin in semis
•
Serena short with media
•
Jensen: Federer-Roddick preview
•
A Few Good Juniors
•
Roddick rested
•
Blake had his chances
•
Bud Collins looks ahead to Week 2
•
Serena, Venus rolling
•
Sisters showing their strength
•
Bud Collins breakdown
•
Day of upsets
•
Day 6: Defending champ Sharapova ousted
•
Gentlemen Tim
•
Americans in action
•
Day 4
•
Day 4 preview
•
Venus wins with ease
•
Top 5 players to watch
•
Advantage Luke Jensen
•
Courier: How to play Federer
•
Bud Collins on Althea Gibson
•
McEnroe's preview
•
Roddick raring to go
•
Bud Collins preview
•
Pete Sampras interview:
Part I
|
Part II
Blogs
•
Bodo: Blood in the water
•
Bodo: Gentleman Tim
•
TENNIS.com: Rafa's biggest challenge
•
Bodo: The game's latest grinder
Podcasts

•
Isner-Federer preview
•
How far can Hingis go?
•
Go pro or go to school?
•
Nadal's knees