Commentary
What a wild, wacky 2008 tennis season it has been
We can simply dub the 2008 tennis season as volatile and unpredictable. From the slumping Roger Federer, to the abrupt retirement of Justine Henin, expect nothing to make sense at the U.S. Open.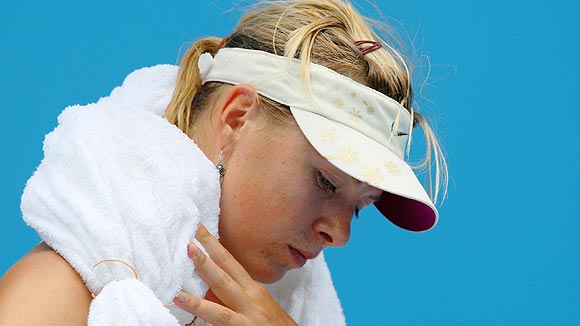 Greg Wood/AFP/Getty ImagesAfter an Australian Open title in January, Maria Sharapova's year has been blunted by an bum shoulder.
Tennis loves a ritual, and there will be plenty of that on the first night of the U.S. Open. To commemorate the 40th anniversary of the Open era -- the falling of the anachronistic, Berlin Wall-like barrier between amateurs and professionals -- 40 champions will be recognized in a ceremony at Arthur Ashe Stadium.
It's a nifty coincidence that there are 40 names to honor over those four decades, and that Ashe himself would have led the parade had it not been for his premature death. But there is a number within the number we should heed as we approach the start of this intriguing final movement of the Grand Slam symphony. Of those 40 names of men and women, fewer than half -- 18, to be exact -- won the U.S. Open more than once. As the saying goes, if it were easy, everyone would have done it.
Roger Federer is the four-time defending champion, yet he isn't a clear favorite at this Open, for good reason. As for the women's draw, people who feel good about their picks should make a beeline for Wall Street and buy low because that bracket is as volatile as the daily skirmish on the floor of the New York Stock Exchange.
This is The Year That Wasn't, when nothing we expected has come to pass, when the Swiss bear and the Spanish bull have traded places in complete opposition to the financial markets.
2008 was supposed to be the year Federer challenged Pete Sampras' record of 14 Grand Slam wins. Remember? It was supposed to a simple matter of time. It was supposed to be the year Federer channeled all of his considerable focus and skill into solving Rafael Nadal on clay and winning the French Open, to get closer to Sampras sooner. It was the year that Nadal's balky knees were supposed to betray him.
Instead, it was Federer who flagged physically and Nadal who seemed to get stronger as the season wore on, despite his well-publicized concerns about a schedule that folded in on itself like an accordion largely because of the Olympic Games.
2008 was supposed to be the year that Serena Williams and Justine Henin continued Part 2 of a fascinating rivalry. It was supposed to be the year Henin and Maria Sharapova carried on the slugfest they began in a marathon final at the 2007 year-end championships. It was supposed to be the year that Sharapova's shoulder mended and she reached her full adult height, literally and figuratively. It was supposed to be the year that the Serbian women asserted themselves.
Sharapova started the season by crushing the field, including Henin, in Australia. Ana Ivanovic won the French Open, and she and compatriot Jelena Jankovic have both logged time at No. 1 this year. Yet the top ranking feels more like a hot potato than a hot property, passed around as if it's too much to handle. It's also The Year of the Asterisk on the women's side, thanks to Henin's sudden and shocking retirement shortly before Roland Garros.
[+] Enlarge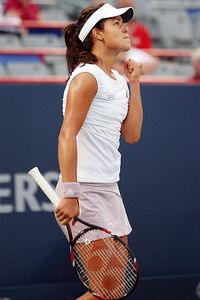 Elsa/Getty ImagesAna Ivanovic has not been able to build on the momentum of her French Open title earlier this year.
Ever played Jenga, in which you stack wooden blocks and then pull them out one at a time, trying to keep the tower from toppling? Henin's abrupt resignation removed a cornerstone of the present-day sport and left a messy pile of players that has yet to be sorted.
The steel-plated Sharapova might have been able to dominate if she hadn't been sidelined indefinitely with that pesky shoulder, but we'll never know, just as we were deprived of the chance to see Henin at Wimbledon one more time, trying to capture the one Slam that eluded her. Neither Serb has stepped onto the summit, planted the flag and claimed it. Both Ivanovic and Jankovic seem a little worn out by the exertions of their sudden rise to prominence. The chaos has opened the door to opportunists and made the women's Open an especially tough one to call.
To be fair, Beijing has made the summer a tad convoluted and hard to judge. And this round-robin among the top women isn't a new trend. The WTA's No. 1 ranking changed hands 14 times among seven players during Federer's four-year-plus reign. The U.S. Open has been won by four different women in the past four years -- three of whom, by the way, will be absent next week when play starts in New York. Sharapova, as previously noted, is injured, and Henin and new mom Kim Clijsters both chose to retire in their 20s.
The men, on the other hand, spoiled us with stability. Federer and Nadal marched in lockstep, ranked 1-2 for more than three years. That joint tenure may have skewed a few things. The tribal warfare between their respective fan camps has intensified to the point where neither seems to be able to see any merit in the other (at least, if their e-mails are to be believed). And many of us have conveniently forgotten that their tandem act is a complete statistical anomaly.
It isn't supposed to happen this way. Perennial second fiddles bash their heads against the glass ceiling for a while, lose heart and fade. Champions' story arcs ascend and dip. Nowhere is that better illustrated than in the crucible of the U.S. Open itself. Who would have foreseen that Sampras would go from 1996 to 2002 without an Open championship? Or that neither Williams sister would manage another bite of the Big Apple in the past five years?
Let's not forget how fearsomely difficult it is to get through seven matches in Flushing Meadows intact. Federer may have lulled us into submission on that point. As he knows better than anyone, you sleep in this sport at your peril.
Bonnie D. Ford covers tennis and Olympic sports for ESPN.com. She can be reached at bonniedford@aol.com.
Enterprise and Olympic Sports
Bonnie D. Ford is a senior writer for ESPN.com.
SPONSORED HEADLINES
MORE TENNIS HEADLINES
MOST SENT STORIES ON ESPN.COM
U.S. OPEN 2008

Aug. 25-Sept. 7
Defending championsWomen:
Justine Henin
Men:
Roger Federer
USTA
•
Live scores
•&nbsp
Interactive draws
•&nbsp
Schedule of play
•&nbsp
Photo galleries
Tuesday, Sept. 9
•
Ratings down for pushed-back men's final
Monday, Sept. 8
•
Federer wins 5th straight U.S. Open, 13th Slam
•
Garber: Massive effort by Federer
•
Ubha: With new team, Murray has flourished
•
Whittell: Brits' response to Murray mixed
•
Ubha: U.S. Open men's live analysis
•
Watch: Federer wins fifth straight U.S. Open
•
Watch: Advantage Luke Jensen
Sunday, Sept. 7
•
Men
|
Women
•
Ford: Andy Murray descends on game's elite
•
Who will win the U.S. Open men's singles final?
•
Ubha: U.S. Open women's live analysis
•
Black, Huber win women's doubles championship
•
Bodo: Don't discount Jelena
Saturday, Sept. 6
•
Men
•
Who will win the U.S. Open women's singles final?
•
Rain delays Serena-Jankovic final until Sunday
•
Ford: New adventures of old Roger
•
Ubha: Rain wreaks havoc on U.S. Open
Friday, Sept. 5
•
Who will win the U.S. Open women's singles final?
•
Ford: Charisma aplenty for U.S. Open finalists
•
Garber: Men's semifinal preview
•
Ubha: Meet tennis' bad boys
•
Serena, Jankovic to meet in women's final
•
Storm fears force first men's semi to be moved
•
Bryan brothers win men's doubles championship
•
Djokovic goes from cheers to jeers at U.S. Open
Thursday, Sept. 4
•
Garber: Incendiary Djoker comments elicit boos
•
Ford: Roddick finally playing with confidence
•
Garber: Women's semifinals preview
•
Ford: Winning title paramount for Federer
•
Djokovic, Federer to meet in semifinals
•
Paes, Black win mixed doubles championship
•
Serena chasing ninth Slam title, No. 1 rank
•
Racket abuse reaches epic proportions
Wednesday, Sept. 3
•
Men
|
Women
•
Garber: Another empathic Williams sisters battle
•
Paes in men's doubles, mixed doubles finals
•
Garber: Is Djokovic really ailing?
•
Notebook: Scott: Tried to "bridge the gap"
•
Ubha: What we learned Wednesday
•
Star Watch: Dementieva serving lights out
•
Watch: Men's quarterfinal preview
Tuesday, Sept. 2
•
Men
|
Women
•
The great debate: Which Williams sister will win?
•
Ubha: What we learned from Tuesday's Big Five
•
Chip and Charge: U.S. Open edition
•
Star Watch: Murray's progression
•
Garber: Ragged Federer prevails over Robredo
•
Ford: Davydenko has no answers for Muller
•
Watch: Advantage Luke Jensen, Day 9
Monday, Sept. 1
•
Men
|
Women
•
Ford: Querrey put in big performance
•
Five things we learned, long weekend edition
•
Ford: Japanese teenager heats up his game
•
Star Watch: Djokovic, Jankovic, Boyz II Men?
•
Watch: Advantage Luke Jensen, Day 8
•
Watch: A talking Fish
Sunday, Aug. 31
•
Men
|
Women
•
Ford: U.S. Open midway report
•
Garber: Federer resolute in quest for title
•
Notebook: What to look forward to in Week 2
•
Star Watch: Muller lives on
•
Watch: What to expect in Week 2
•
Watch: Andy Roddick wins
•
See all U.S. Open Week 1 stories here