Commentary
Nadal moving up the celebrity ladder
A continent away, Rafael Nadal's iconic stature is undeniable. But while his stardom has manifested in the U.S., the question remains: Is New York ready to embrace the Spanish matador?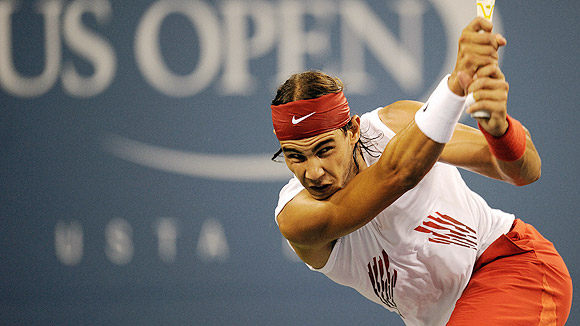 Don Emmert/AFP/Getty ImagesRafael Nadal's image and popularity in America would skyrocket with a U.S. Open title.
NEW YORK -- The landscaping on the grounds of the Billie Jean King National Tennis Center is impeccably maintained, but there's one particular area that is savaged so often caretakers have given up. Fans have burrowed into the hedge that runs along one side of the practice courts in order to see their heroes from a closer vantage point than the small area set aside for spectators, and this week they tore it apart to get a glimpse of
Rafael Nadal
. And that's nothing, apparently, compared to the friendly riot that broke out in the humongous Apple Store on Fifth Avenue when Nadal went in to shop for headphones and was swarmed by fans. Although he's been a bona fide star for years and hardly walked the streets of New York unrecognized, Nadal's brilliant season has ratcheted him up another level on the celebrity ladder. He arrived in the city for the U.S. Open earlier than usual, traveling from his gold-medal run in Beijing, and his comings and goings have been faithfully reported in the New York tabloids -- including the evening when he took in "Phantom of the Opera'' on Broadway for the fifth time. His good buddy, Spanish golfer Sergio Garcia, hit with him as fans peered through the bushes earlier this week, and he has invited Michael Phelps -- whom he met briefly in the Olympic Village -- to sit in his box next week if the swimming superstar can fit it into his busy schedule. Still, Nadal has a higher profile in Europe and South America than here in North America, where he's won just three of his 31 career titles. He traditionally has done his best work a continent away, on clay, and he spent three years as an entrenched second violin to Swiss maestro
Roger Federer
. In addition, Nadal consistently ran out of diesel in the media cauldron of the U.S. Open, where his best showing is a quarterfinals appearance in 2006. But now that Nadal and Federer have traded places in the rankings, is New York ready to embrace Nadal? And what would a U.S. Open win do for his appeal in this country? "I think it would be a real help on this stage, where so many ad agencies and corporate executives gather," said Doug Shabelman, president of Burns Entertainment, a suburban Chicago company that matches sports celebrities with sponsors and endorsement campaigns. "He appeals to the Gen Y crowd. Federer has made his reputation as being a little more stoic -- the Pete Sampras model. Nadal is younger and more brash, but at the same time, he's been nothing but respectful of Federer. That's a good combination with the flash in his game." Shabelman added that Nadal's image is inextricably tied to Federer's, however, and it would be to his advantage if their great rivalry continued rather than one supplanting the other. That philosophy was made tangible when the two made a joint appearance with legendary boxing promoter Don King, who declared their possible collision in the U.S. Open final as "The Grapple in the Apple.'' Nadal's matches this week might not be the best gauge of his future popularity, since the crowds at Flushing Meadows are passionately dedicated to supporting the underdog. When Nadal walked out for his second-round match against unranked American Ryler De Heart, who had won his first ATP-level match just three days earlier, the folks who run the public address system at Arthur Ashe Stadium broke out trumpeter Herb Alpert's vintage '60s version of "The Lonely Bull'' -- perhaps inadvertently signaling what was about to come. De Heart managed just three points through the first five games (including one Nadal double fault) but received wild applause from the sellout crowd on each one. Nadal got due respect from the stands as the match evolved into a slightly more competitive one with time, but the true measure of fan appreciation is apt to emerge if/when he advances to face more established players here. A Federer-Nadal final has the potential to be the most luminous since American icons Sampras and Andre Agassi played out their final act in 2002. And given New York's bias toward the underdog, it raises the question of who would be the real favorite in that match.
[+] Enlarge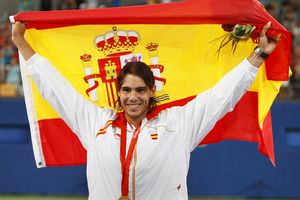 Behrouz Mehri/AFP/Getty ImagesHe's unassailably one of Europe's brightest stars, but Rafael Nadal is just beginning to catch on in the U.S.
Liza Horan, editor of the respected industry Web site tenniswire.org, was among many who noted that Federer got the only standing ovation when he was introduced along with an all-star crew of former champions -- including numerous Americans -- on opening night. On paper, she still rates Nadal as a U.S. Open underdog because of the hard surface and his past performance here, but she wonders whether Federer would get the sympathy vote because of his recent struggles.
"It's not that they don't love Nadal; they just feel for Roger right now," Horan said.
But if Nadal makes a breakthrough here, no matter who the opponent, Horan thinks he couldn't do it in a better place.
"New York is the most culturally diverse place in the country, and people here celebrate people from all over the world," she said. "The Wimbledon final put Nadal on the map for Americans. To win in New York would reverberate to the rest of the country."
Bonnie D. Ford covers tennis and Olympic sports for ESPN.com. She can be reached at bonniedford@aol.com.
Enterprise and Olympic Sports
Bonnie D. Ford is a senior writer for ESPN.com.
SPONSORED HEADLINES
MORE TENNIS HEADLINES
MOST SENT STORIES ON ESPN.COM
U.S. OPEN 2008

Aug. 25-Sept. 7
Defending championsWomen:
Justine Henin
Men:
Roger Federer
USTA
•
Live scores
•&nbsp
Interactive draws
•&nbsp
Schedule of play
•&nbsp
Photo galleries
Tuesday, Sept. 9
•
Ratings down for pushed-back men's final
Monday, Sept. 8
•
Federer wins 5th straight U.S. Open, 13th Slam
•
Garber: Massive effort by Federer
•
Ubha: With new team, Murray has flourished
•
Whittell: Brits' response to Murray mixed
•
Ubha: U.S. Open men's live analysis
•
Watch: Federer wins fifth straight U.S. Open
•
Watch: Advantage Luke Jensen
Sunday, Sept. 7
•
Men
|
Women
•
Ford: Andy Murray descends on game's elite
•
Who will win the U.S. Open men's singles final?
•
Ubha: U.S. Open women's live analysis
•
Black, Huber win women's doubles championship
•
Bodo: Don't discount Jelena
Saturday, Sept. 6
•
Men
•
Who will win the U.S. Open women's singles final?
•
Rain delays Serena-Jankovic final until Sunday
•
Ford: New adventures of old Roger
•
Ubha: Rain wreaks havoc on U.S. Open
Friday, Sept. 5
•
Who will win the U.S. Open women's singles final?
•
Ford: Charisma aplenty for U.S. Open finalists
•
Garber: Men's semifinal preview
•
Ubha: Meet tennis' bad boys
•
Serena, Jankovic to meet in women's final
•
Storm fears force first men's semi to be moved
•
Bryan brothers win men's doubles championship
•
Djokovic goes from cheers to jeers at U.S. Open
Thursday, Sept. 4
•
Garber: Incendiary Djoker comments elicit boos
•
Ford: Roddick finally playing with confidence
•
Garber: Women's semifinals preview
•
Ford: Winning title paramount for Federer
•
Djokovic, Federer to meet in semifinals
•
Paes, Black win mixed doubles championship
•
Serena chasing ninth Slam title, No. 1 rank
•
Racket abuse reaches epic proportions
Wednesday, Sept. 3
•
Men
|
Women
•
Garber: Another empathic Williams sisters battle
•
Paes in men's doubles, mixed doubles finals
•
Garber: Is Djokovic really ailing?
•
Notebook: Scott: Tried to "bridge the gap"
•
Ubha: What we learned Wednesday
•
Star Watch: Dementieva serving lights out
•
Watch: Men's quarterfinal preview
Tuesday, Sept. 2
•
Men
|
Women
•
The great debate: Which Williams sister will win?
•
Ubha: What we learned from Tuesday's Big Five
•
Chip and Charge: U.S. Open edition
•
Star Watch: Murray's progression
•
Garber: Ragged Federer prevails over Robredo
•
Ford: Davydenko has no answers for Muller
•
Watch: Advantage Luke Jensen, Day 9
Monday, Sept. 1
•
Men
|
Women
•
Ford: Querrey put in big performance
•
Five things we learned, long weekend edition
•
Ford: Japanese teenager heats up his game
•
Star Watch: Djokovic, Jankovic, Boyz II Men?
•
Watch: Advantage Luke Jensen, Day 8
•
Watch: A talking Fish
Sunday, Aug. 31
•
Men
|
Women
•
Ford: U.S. Open midway report
•
Garber: Federer resolute in quest for title
•
Notebook: What to look forward to in Week 2
•
Star Watch: Muller lives on
•
Watch: What to expect in Week 2
•
Watch: Andy Roddick wins
•
See all U.S. Open Week 1 stories here