Commentary
Great Dane riding a sweet season into match versus Jankovic
Growing up, ice cream was Caroline Wozniacki's motivation to play tennis. On Sunday, she'll take her sweet, businesslike game into the fourth round of the U.S. Open in one of the biggest days of her career.
NEW YORK -- It's been a magical season for Caroline Wozniacki, who has worked her way up to earn a ranking to match her age (18) and owns the best hard-court record of any woman in the top 100 at 32-7.
Perhaps inevitably, when Wozniacki won the Pilot Pen tournament in New Haven, Conn., the week before the U.S. Open, the organizers couldn't resist playing "Sweet Caroline'' in her honor. It might seem trite, but the song title suits the sunny Dane perfectly. She smiles early and often in a fashion reminiscent of one of her idols, Martina Hingis. And this daughter of two former elite athletes from Poland seems to have adjusted to life on the tour with ease, snowboarding gracefully through an avalanche of media requests this week, answering questions in Danish, Polish and practically unaccented English in her lilting voice. "I'm getting used to it step by step,'' she told ESPN.com. "In Denmark, it's crazy sometimes with everyone asking for me. We're a small country of 5 million people, and right now I'm the biggest sports name they have.'' The only other Danish woman to reach the fourth round of a Grand Slam was Tine Scheuer-Larsen, who accomplished that feat at the 1985 French Open. Wozniacki, the youngest woman in the top 100 by a few months, has already eclipsed Scheuer-Larsen's career-high ranking of No. 34. Denmark's highest-ranked man currently is No. 128
Kristian Pless
. Wozniacki, the 21st seed, will face off against world No. 2
Jelena Jankovic
on Sunday morning for the chance to advance to the round of 16. It's no stretch to imagine her winning. Jankovic has labored theatrically through her past two matches while Wozniacki, playing her clean, businesslike game, hasn't dropped a set and shrugged off some diva-like behavior from 14th seed
Victoria Azarenka
in a 6-4, 6-4 third-round victory. Jankovic beat Wozniacki in the third round at Wimbledon in their only previous meeting, but it's the teenager who will carry momentum into their next encounter. She's 15-1 since the beginning of August, with titles in Stockholm and New Haven. That lone loss came at the hands of eventual Olympic gold medalist
Elena Dementieva
of Russia. Not bad for the slender sprite who bashed balls against a wall at home with such persistence that her father finally said, "If you want to play, I want to help you.'' Tennis wasn't Piotr Wozniacki's area of expertise -- he's a former professional soccer player who settled in Denmark when his career took him there after stops in Poland and Germany -- but he played recreationally and learned the rest by studying tapes and matches on television. Caroline had been on a youth soccer team and liked it well enough, but "there was always a coach telling you if you can play,'' she said. She preferred to be out making choices and solving problems on her own -- as long as there was ice cream at the end of the day, preferably a mixture of chocolate, vanilla and strawberry.
[+] Enlarge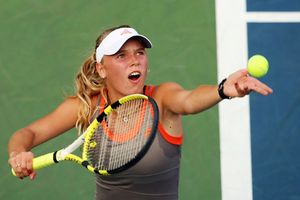 Photo by Elsa/Getty ImagesScorching Caroline Wozniacki is 15-1, including two titles, in her past 16 matches.
Her mother, Anna, a former national team volleyball player, wanted the game to be fun for Caroline even after the stakes got a little higher. She also insisted that her daughter finish high school -- she has a year of correspondence courses left -- after she withdrew from a regular school. Caroline's older brother, a promising soccer player, is taking university courses on the Internet. You would never guess that father and daughter essentially learned the game together. Caroline Wozniacki's groundstrokes are smooth and powerful (she tried to pattern her forehand after Steffi Graf's) and she moves fluidly, her corn-silk-blonde ponytail fanning out behind her as she puts her weight behind each shot. Her serve could use a little more oomph -- "I don't know what happens to it sometimes,'' she admitted -- and she cites her attacking shots as the part of her game that needs the most improvement. "When [the ball] is short, I need to finish it right away,'' she said. Sven Groeneveld, who works with Wozniacki occasionally as part of his corporate coaching gig with adidas, said her father has done an outstanding job, and predicted that the teenager will give Jankovic "a run for her money.'' "She was up a set and a break at Wimbledon,'' said Groeneveld, who helped Wozniacki prepare for that match. "She took her game to her, and she wasn't afraid of her. Unfortunately, she didn't take advantage of the opportunities she created. "She's so determined. She's a girl who works on her weaknesses and she's very mature for her age. I saw her the other day with a camera crew following her around, no parents, no agent, very independent, just doing her own thing. She's not afraid of being on this stage, and that's a gift. If you don't have it, it takes a while to learn.'' Life on the tour may not always be this sweet for Wozniacki, but she projects a sense of equilibrium that should help her handle the game's ups and downs. And she's willing to accept that she might hear the same tune over and over if she continues to play well. "I like it,'' she said of Neil Diamond's golden oldie that got a new life as a Fenway Park standard in recent years. "I think it's a good song.''
Bonnie D. Ford covers tennis and Olympic sports for ESPN.com. She can be reached at bonniedford@aol.com.
Enterprise and Olympic Sports
Bonnie D. Ford is a senior writer for ESPN.com.
U.S. OPEN 2008

Aug. 25-Sept. 7
Defending championsWomen:
Justine Henin
Men:
Roger Federer
USTA
•
Live scores
•&nbsp
Interactive draws
•&nbsp
Schedule of play
•&nbsp
Photo galleries
Tuesday, Sept. 9
•
Ratings down for pushed-back men's final
Monday, Sept. 8
•
Federer wins 5th straight U.S. Open, 13th Slam
•
Garber: Massive effort by Federer
•
Ubha: With new team, Murray has flourished
•
Whittell: Brits' response to Murray mixed
•
Ubha: U.S. Open men's live analysis
•
Watch: Federer wins fifth straight U.S. Open
•
Watch: Advantage Luke Jensen
Sunday, Sept. 7
•
Men
|
Women
•
Ford: Andy Murray descends on game's elite
•
Who will win the U.S. Open men's singles final?
•
Ubha: U.S. Open women's live analysis
•
Black, Huber win women's doubles championship
•
Bodo: Don't discount Jelena
Saturday, Sept. 6
•
Men
•
Who will win the U.S. Open women's singles final?
•
Rain delays Serena-Jankovic final until Sunday
•
Ford: New adventures of old Roger
•
Ubha: Rain wreaks havoc on U.S. Open
Friday, Sept. 5
•
Who will win the U.S. Open women's singles final?
•
Ford: Charisma aplenty for U.S. Open finalists
•
Garber: Men's semifinal preview
•
Ubha: Meet tennis' bad boys
•
Serena, Jankovic to meet in women's final
•
Storm fears force first men's semi to be moved
•
Bryan brothers win men's doubles championship
•
Djokovic goes from cheers to jeers at U.S. Open
Thursday, Sept. 4
•
Garber: Incendiary Djoker comments elicit boos
•
Ford: Roddick finally playing with confidence
•
Garber: Women's semifinals preview
•
Ford: Winning title paramount for Federer
•
Djokovic, Federer to meet in semifinals
•
Paes, Black win mixed doubles championship
•
Serena chasing ninth Slam title, No. 1 rank
•
Racket abuse reaches epic proportions
Wednesday, Sept. 3
•
Men
|
Women
•
Garber: Another empathic Williams sisters battle
•
Paes in men's doubles, mixed doubles finals
•
Garber: Is Djokovic really ailing?
•
Notebook: Scott: Tried to "bridge the gap"
•
Ubha: What we learned Wednesday
•
Star Watch: Dementieva serving lights out
•
Watch: Men's quarterfinal preview
Tuesday, Sept. 2
•
Men
|
Women
•
The great debate: Which Williams sister will win?
•
Ubha: What we learned from Tuesday's Big Five
•
Chip and Charge: U.S. Open edition
•
Star Watch: Murray's progression
•
Garber: Ragged Federer prevails over Robredo
•
Ford: Davydenko has no answers for Muller
•
Watch: Advantage Luke Jensen, Day 9
Monday, Sept. 1
•
Men
|
Women
•
Ford: Querrey put in big performance
•
Five things we learned, long weekend edition
•
Ford: Japanese teenager heats up his game
•
Star Watch: Djokovic, Jankovic, Boyz II Men?
•
Watch: Advantage Luke Jensen, Day 8
•
Watch: A talking Fish
Sunday, Aug. 31
•
Men
|
Women
•
Ford: U.S. Open midway report
•
Garber: Federer resolute in quest for title
•
Notebook: What to look forward to in Week 2
•
Star Watch: Muller lives on
•
Watch: What to expect in Week 2
•
Watch: Andy Roddick wins
•
See all U.S. Open Week 1 stories here
MOST SENT STORIES ON ESPN.COM