Commentary
Underdog Roddick confident he can satisfy home country
Novak Djokovic won't have many allies when he limps, er, walks into a hostile Arthur Ashe Stadium on Thursday night versus a suddenly rejuvenated and confident Andy Roddick.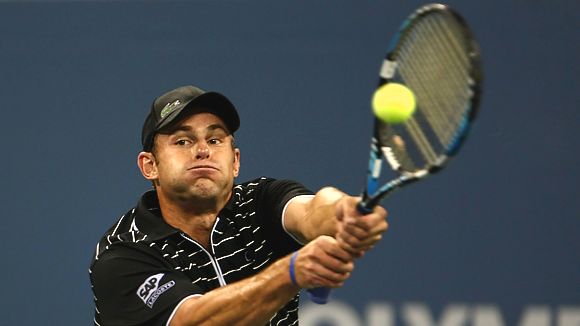 Chris McGrath/Getty ImagesAfter an injury-plagued summer, Andy Roddick finally feels healthy heading into his quarterfinal tangle with Novak Djokovic.
NEW YORK -- So what are we to make of
Andy Roddick
's caustic comedy riff on
Novak Djokovic
, the walking M*A*S*H unit who will face him in Thursday night's U.S. Open quarterfinal?
A reporter noted that Djokovic, his opponent in Thursday's quarterfinals, seems to be a little banged up, and had alluded to a sore right ankle in addition to a tender left one.
"Isn't it both of them?'' Roddick inquired, mock-innocently. "And a back and a hip?'' He was rolling. "And a cramp … Bird flu … SARS … Anthrax,'' he added. "Common cough and cold.'' Some may find Roddick's comments, which came after he clinically dismantled a fellow power hitter, Chile's
Fernando Gonzalez
, a tad cocky. They verge on tempting fate, since Roddick has struggled with shoulder, back and neck injuries himself this season. But he clearly has little sympathy for his next opponent, and that's understandable. A lot of prognosticators picked Roddick to exit this tournament early, while Djokovic was viewed as a favorite who could split the difference between a theoretically tired
Rafael Nadal
and an off-form
Roger Federer
. Roddick's results this summer have not been encouraging, and he was widely discounted. There are few things that delight Roddick more than proving the amorphous "you guys" wrong. He dubbed himself the underdog against Djokovic with a straight face, based on their respective rankings of No. 3 and No. 8, but even he didn't look as if he really bought into it. Exhibit A: Roddick won their last encounter on a hard court (in Dubai). Exhibit B: Djokovic tends to become peevish when faced with a hostile crowd, and Arthur Ashe Stadium promises to be the unfriendliest of confines for this match. In his condition, it might be unwise to expend extra energy on something he can't control. Djokovic is just beginning to deal with what Roddick has been familiar with for a long time -- the communal yearning for uncomplicated heroes instead of flawed human beings. The younger player may be less equipped to handle that pressure at this point in his career. He was one of the First Serbs, a fresh, feel-good tale of players emerging from a long-troubled country with a short tennis tradition. Roddick was the Next American, which is roughly equivalent to being the Next Bob Dylan in a nation with a rich tennis history in both senses of the word, spoiled by a statistically improbable string of charismatic champions in the '70s, '80s and '90s. They've deviated from the desired plot -- Roddick by remaining pinned at one Grand Slam title, and Djokovic because it turned out that, at 21, he is not a saint. Internet discussions about Roddick tend to be spiked with anger about his limitations, as if he purposely encased himself in an invisible straitjacket before he walked out on court to make sure he'd miss backhands and volleys. He's always aware of what's being said and written about him, just as Djokovic counts heads -- or at least voices -- in the stands. But Roddick has more experience now at processing the negative feedback and either ditching it or channeling it constructively. Their service rituals couldn't be more different, Quick Draw versus Slow Hand, and neither could their body language. Roddick views injury as a binary equation. If you're hurt, you're hurt. If you're not hurt, you play, and if you play, you do everything to avoid showing physical weakness. Djokovic's retirements from matches have prompted endless speculation, while Roddick's -- a strained muscle last year in Miami, back spasms this spring in Rome -- have been straightforward and undramatic.
[+] Enlarge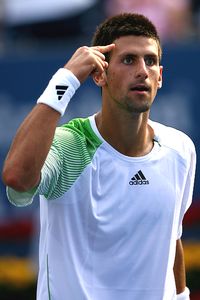 Al Bello/Getty ImagesOstensibly, Novak Djokovic has been hampered by various maladies, but many wonder if it's all a head game.
Roddick said Tuesday that he probably wasn't healthy enough to have played Wimbledon, where he lost disappointingly early for the third year in a row after back-to-back runner-up finishes.
"I was pressing there a lot more,'' Roddick said. "You know, I wanted everything to get better quickly, and I don't know if that was realistic.'' But in the next breath, he added that he would make the same decision again, despite his second-round loss to Janko Tipsarevic, because it's Wimbledon. Roddick celebrates his own athletic hardheadedness. It may have betrayed him at times, but it has also brought him a long way.
"I guess it pissed me off a little bit when I'm going in against [Ernests] Gulbis, and everyone is predicting an upset to a guy one game over .500 for the year, especially here in New York,'' he said of his second-round draw. "In a strange way, that probably helped a lot. Considering my form coming in, it probably wasn't the craziest thing, but I used it how I should have used it, I guess. "I'm just happy I'm playing good tennis again. ... it's been a long time since I played consecutive matches pretty well.'' Oddly enough, Roddick is faring better at this U.S. Open, when little was expected of him, than in a couple of previous editions when commercial campaigns and national hopes were more intensely focused on him. Perhaps that psychic space is freeing him to follow his cannon serve to the net more often. But the bottom line is simply that he's feeling sound, while Djokovic says he isn't. As far as Roddick is concerned, that provides an opening to exploit against a player with an impressive array of tools. These guys are hardly bitter enemies, and let's face it, they're both showmen. Just days ago, during the annual pretournament Arthur Ashe Kids' Day here, the two traded imitations of each other during an exhibition match. Djokovic quivered with nervous energy, let his tongue loll out like a bloodhound's and yanked on his shirt; Roddick bounced the ball a few dozen times before serving. Roddick's weigh-in-style trash talk is just another way of constructing a point, yet there's a case for teasing him right back. No more sandbagging through the draw for Roddick. He's a marked man again.
Bonnie D. Ford covers tennis and Olympic sports for ESPN.com. She can be reached at bonniedford@aol.com.
Enterprise and Olympic Sports
Bonnie D. Ford is a senior writer for ESPN.com.
U.S. OPEN 2008

Aug. 25-Sept. 7
Defending championsWomen:
Justine Henin
Men:
Roger Federer
USTA
•
Live scores
•&nbsp
Interactive draws
•&nbsp
Schedule of play
•&nbsp
Photo galleries
Tuesday, Sept. 9
•
Ratings down for pushed-back men's final
Monday, Sept. 8
•
Federer wins 5th straight U.S. Open, 13th Slam
•
Garber: Massive effort by Federer
•
Ubha: With new team, Murray has flourished
•
Whittell: Brits' response to Murray mixed
•
Ubha: U.S. Open men's live analysis
•
Watch: Federer wins fifth straight U.S. Open
•
Watch: Advantage Luke Jensen
Sunday, Sept. 7
•
Men
|
Women
•
Ford: Andy Murray descends on game's elite
•
Who will win the U.S. Open men's singles final?
•
Ubha: U.S. Open women's live analysis
•
Black, Huber win women's doubles championship
•
Bodo: Don't discount Jelena
Saturday, Sept. 6
•
Men
•
Who will win the U.S. Open women's singles final?
•
Rain delays Serena-Jankovic final until Sunday
•
Ford: New adventures of old Roger
•
Ubha: Rain wreaks havoc on U.S. Open
Friday, Sept. 5
•
Who will win the U.S. Open women's singles final?
•
Ford: Charisma aplenty for U.S. Open finalists
•
Garber: Men's semifinal preview
•
Ubha: Meet tennis' bad boys
•
Serena, Jankovic to meet in women's final
•
Storm fears force first men's semi to be moved
•
Bryan brothers win men's doubles championship
•
Djokovic goes from cheers to jeers at U.S. Open
Thursday, Sept. 4
•
Garber: Incendiary Djoker comments elicit boos
•
Ford: Roddick finally playing with confidence
•
Garber: Women's semifinals preview
•
Ford: Winning title paramount for Federer
•
Djokovic, Federer to meet in semifinals
•
Paes, Black win mixed doubles championship
•
Serena chasing ninth Slam title, No. 1 rank
•
Racket abuse reaches epic proportions
Wednesday, Sept. 3
•
Men
|
Women
•
Garber: Another empathic Williams sisters battle
•
Paes in men's doubles, mixed doubles finals
•
Garber: Is Djokovic really ailing?
•
Notebook: Scott: Tried to "bridge the gap"
•
Ubha: What we learned Wednesday
•
Star Watch: Dementieva serving lights out
•
Watch: Men's quarterfinal preview
Tuesday, Sept. 2
•
Men
|
Women
•
The great debate: Which Williams sister will win?
•
Ubha: What we learned from Tuesday's Big Five
•
Chip and Charge: U.S. Open edition
•
Star Watch: Murray's progression
•
Garber: Ragged Federer prevails over Robredo
•
Ford: Davydenko has no answers for Muller
•
Watch: Advantage Luke Jensen, Day 9
Monday, Sept. 1
•
Men
|
Women
•
Ford: Querrey put in big performance
•
Five things we learned, long weekend edition
•
Ford: Japanese teenager heats up his game
•
Star Watch: Djokovic, Jankovic, Boyz II Men?
•
Watch: Advantage Luke Jensen, Day 8
•
Watch: A talking Fish
Sunday, Aug. 31
•
Men
|
Women
•
Ford: U.S. Open midway report
•
Garber: Federer resolute in quest for title
•
Notebook: What to look forward to in Week 2
•
Star Watch: Muller lives on
•
Watch: What to expect in Week 2
•
Watch: Andy Roddick wins
•
See all U.S. Open Week 1 stories here
MOST SENT STORIES ON ESPN.COM