Commentary
Drama on tap for U.S. Open women's final
Serena Williams and Jelena Jankovic have a date in the U.S. Open final, not only to claim the championship but for the right to be called the world's No. 1 player.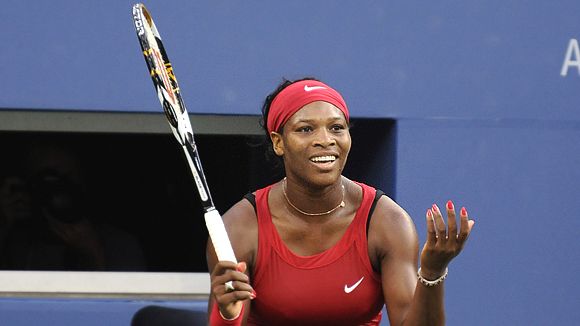 Timothy Clary/Getty ImagesHard to believe, but it's been six years since Serena Williams last reached the U.S. Open final.
NEW YORK -- They say the neon lights are bright on Broadway, but the pair of charismatic performers who will try to upstage one another in the U.S. Open women's championship this weekend can handle the glare.
Serena Williams
, the first American to play in the women's final since she won it six years ago, and
Jelena Jankovic
of Serbia, who reached her first Grand Slam final after four semifinal losses, are natural thespians. Williams has tried her hand at acting and Jankovic said she probably would have gravitated toward studying drama had she quit tennis during a low point in her career two years ago. The second-seeded Jankovic has had enough of being an understudy watching from the wings while her countrywoman,
Ana Ivanovic
, went to three Grand Slam finals and won this year's French Open. "I really want to do this, and, you know, I think it's about time for me to make that step forward to break that barrier and go a long way,'' said Jankovic, 23. "I want to win a Grand Slam, and this is why I came here. Not having injuries, not having some problems, is giving me a good opportunity to be here, so I'm really thankful for that.'' It's hard to imagine two more expressive athletes. An ecstatic Williams jumped up and down Saturday, pumping her fist, to celebrate a 6-3, 6-2 defeat of Russia's
Dinara Safina
that cooled off the woman who has been this summer's hottest hard-court player. Jankovic's soulful eyes filled up with tears on court seconds after she won a war of nerves against another Russian, Olympic gold medalist
Elena Dementieva
, 6-4, 6-4. Jankovic smiles between points, does splits that would tear a normal person in half and warbles theatrically in the low alto range when she's hurting, which has been often this season. At a reporter's request, she took several minutes in her postmatch interview to list her 2008 season ailments, which have included a strained gluteus muscle, back problems, a lengthy sinus infection and a torn meniscus. No one can look more fierce or more glum -- or scream as bloodcurdlingly -- in the midst of a match than Williams, who hates losing and loves winning with equal passion. "I'm going to be No. 1 sooner or later, trust me,'' she declared after getting the best of her sister Venus in an emotional and extraordinarily well-played quarterfinal. That bold resolve wasn't on display after the Safina match; Williams, already in preparatory mode, wasn't in the mood to share her innermost thoughts. "I don't feel expected to win,'' she said in subdued tones. "I feel expected to show up and, you know, do the best that I can do, and I feel like I have nothing to lose. I'm going against someone that's ranked higher than me. She has a lot of pressure to win her first Grand Slam, and I'm just enjoying every moment. The No. 1 ranking, along with $1.5 million in prize money, is on the line in the final, which is scheduled for Saturday night but may be shifted to Sunday afternoon if the remnants of Hurricane Hanna hit the Northeast as expected.
[+] Enlarge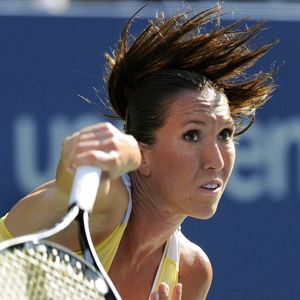 Timothy A. Clary/AFP/Getty ImagesJelena Jankovic would be the third different Serbian player to win a Grand Slam if she can muscle her way past Serena Williams.
If the fourth-seeded Williams ascends to the throne, she'll reclaim a position she last occupied in August of 2003. No other woman has regained the No. 1 ranking after such a long absence. Jankovic, on the other hand, was No. 1 for a week last month, but she backed into the position due to the odd deck-shuffling that's been going on since Justine Henin's retirement earlier this year. Neither woman will be able to sing and dance her way through the next match. Jankovic will need all of her brilliant defensive skills to deal with Williams' fearsome serve and groundstrokes. Last time they played, in the final of the Sony Ericsson Open in Miami, the Serbian admitted she was so intimidated by Williams' power and game face that she tried not to look at her across the net. "Oh my god,'' Jankovic said then when she was asked what it was like to watch Williams wind up to smash an overhead. "Just hit a winner, but away from me. I don't want that ball near my body or anywhere else.'' But Jankovic has weapons too. She's patient, tenacious as a terrier, and used to extricating herself from seemingly doomed situations. Her ability to retrieve balls and extend rallies often goads other players into making mistakes. It took Williams eight match points to close out their final in Miami. Jankovic's accomplishment completed the Serbian Slam. All three of the players who took the tennis world by storm last season --
Novak Djokovic
, Ivanovic and Jankovic -- have now reached Grand Slam finals. Ivanovic was the pioneer, a finalist at the 2007 French Open and the 2008 Australian Open before capturing the title at Roland Garros. Djokovic absorbed a defeat by
Roger Federer
at the 2007 U.S. Open, but won on his next try at the Australian.
Bonnie D. Ford covers tennis and Olympic sports for ESPN.com. She can be reached at bonniedford@aol.com.
Enterprise and Olympic Sports
Bonnie D. Ford is a senior writer for ESPN.com.
SPONSORED HEADLINES
MORE TENNIS HEADLINES
MOST SENT STORIES ON ESPN.COM
U.S. OPEN 2008

Aug. 25-Sept. 7
Defending championsWomen:
Justine Henin
Men:
Roger Federer
USTA
•
Live scores
•&nbsp
Interactive draws
•&nbsp
Schedule of play
•&nbsp
Photo galleries
Tuesday, Sept. 9
•
Ratings down for pushed-back men's final
Monday, Sept. 8
•
Federer wins 5th straight U.S. Open, 13th Slam
•
Garber: Massive effort by Federer
•
Ubha: With new team, Murray has flourished
•
Whittell: Brits' response to Murray mixed
•
Ubha: U.S. Open men's live analysis
•
Watch: Federer wins fifth straight U.S. Open
•
Watch: Advantage Luke Jensen
Sunday, Sept. 7
•
Men
|
Women
•
Ford: Andy Murray descends on game's elite
•
Who will win the U.S. Open men's singles final?
•
Ubha: U.S. Open women's live analysis
•
Black, Huber win women's doubles championship
•
Bodo: Don't discount Jelena
Saturday, Sept. 6
•
Men
•
Who will win the U.S. Open women's singles final?
•
Rain delays Serena-Jankovic final until Sunday
•
Ford: New adventures of old Roger
•
Ubha: Rain wreaks havoc on U.S. Open
Friday, Sept. 5
•
Who will win the U.S. Open women's singles final?
•
Ford: Charisma aplenty for U.S. Open finalists
•
Garber: Men's semifinal preview
•
Ubha: Meet tennis' bad boys
•
Serena, Jankovic to meet in women's final
•
Storm fears force first men's semi to be moved
•
Bryan brothers win men's doubles championship
•
Djokovic goes from cheers to jeers at U.S. Open
Thursday, Sept. 4
•
Garber: Incendiary Djoker comments elicit boos
•
Ford: Roddick finally playing with confidence
•
Garber: Women's semifinals preview
•
Ford: Winning title paramount for Federer
•
Djokovic, Federer to meet in semifinals
•
Paes, Black win mixed doubles championship
•
Serena chasing ninth Slam title, No. 1 rank
•
Racket abuse reaches epic proportions
Wednesday, Sept. 3
•
Men
|
Women
•
Garber: Another empathic Williams sisters battle
•
Paes in men's doubles, mixed doubles finals
•
Garber: Is Djokovic really ailing?
•
Notebook: Scott: Tried to "bridge the gap"
•
Ubha: What we learned Wednesday
•
Star Watch: Dementieva serving lights out
•
Watch: Men's quarterfinal preview
Tuesday, Sept. 2
•
Men
|
Women
•
The great debate: Which Williams sister will win?
•
Ubha: What we learned from Tuesday's Big Five
•
Chip and Charge: U.S. Open edition
•
Star Watch: Murray's progression
•
Garber: Ragged Federer prevails over Robredo
•
Ford: Davydenko has no answers for Muller
•
Watch: Advantage Luke Jensen, Day 9
Monday, Sept. 1
•
Men
|
Women
•
Ford: Querrey put in big performance
•
Five things we learned, long weekend edition
•
Ford: Japanese teenager heats up his game
•
Star Watch: Djokovic, Jankovic, Boyz II Men?
•
Watch: Advantage Luke Jensen, Day 8
•
Watch: A talking Fish
Sunday, Aug. 31
•
Men
|
Women
•
Ford: U.S. Open midway report
•
Garber: Federer resolute in quest for title
•
Notebook: What to look forward to in Week 2
•
Star Watch: Muller lives on
•
Watch: What to expect in Week 2
•
Watch: Andy Roddick wins
•
See all U.S. Open Week 1 stories here