Commentary
Federer shines amid volatile day in New York
Exuding the same dominance we've become accustomed to, Roger Federer disposed of Novak Djokovic in four sets on Saturday at the U.S. Open. Now he merely awaits an opponent.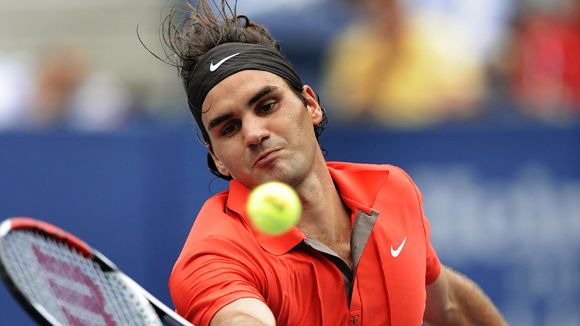 Timothy A Clary//AFP/Getty ImagesAmid a season rife with scrutiny, an energized Roger Federer advanced to his 17th Grand Slam final.
NEW YORK -- Time dissolved in Arthur Ashe Stadium on Saturday. The last 12 months evaporated in the humid, sultry air, gone but not entirely forgotten by the four-time defending U.S. Open champion.
Roger Federer
shifted from fourth to passing gear like a classic sports car that's just had a tune-up, defeating
Novak Djokovic
6-3, 5-7, 7-5, 6-2 in the semifinals to reach his third consecutive Grand Slam final of 2008, and exuded the same aura of dominance he had when he won the title over the same man last year. Saturday's match represented the new adventures of old Roger -- a vintage performance from an athlete who set the tennis world abuzz when he slipped from peerless to merely excellent this season. His chin was up, his game elevated to its familiar level, master of all he surveyed once again. "I had moments out there where I really felt, 'This is how I normally play on hard court,''' Federer said. "Half volleys, passing shots, good serving, putting the pressure on, you know, playing with the wind, using it to my advantage. All those things. "I definitely had moments during today where I thought, 'This is how I would like to play every time. So it was a very nice feeling, actually, to get that feeling back.'' Federer doesn't yet know the identity of his next opponent. The inexorable progress of Tropical Storm Hanna forced suspension of the other semifinal between No. 1
Rafael Nadal
of Spain and sixth-seeded
Andy Murray
of Great Britain with the young Scot up two sets, 6-2, 7-6 (5), and Nadal serving up a break at 3-2 in the third.
Remaining schedule
Sunday:
• 9 p.m. ET -- Women's final: Serena Williams vs. Jelena Jankovic
Monday:
•
5 p.m. ET
-- Men's final: Roger Federer vs. Andy Murray
That match will be completed Sunday afternoon, when the weather forecast is favorable, and the men's final will be delayed to Monday night for the first time in 21 years. In a controversial scheduling decision, tournament officials did not decide to shift the Nadal-Murray match to Louis Armstrong Stadium until after Djokovic won the second set Saturday, and the other two semifinalists took the court about 90 minutes after the first match began, virtually ensuring they would not finish before the rain came. But whomever Federer faces, his surge in self-assurance and form make him the favorite as he attempts to win a fifth straight U.S. Open, a feat that like so many of his previous accomplishments would be unprecedented in the 40 years of the Open era. "He's one or two important moments away from regaining every bit of confidence he lost,'' said former top-10 player Todd Martin, who was in the stands for the match. But while there's much discussion of how a U.S. Open title could redeem Federer's 2008 season, Martin said it would have far more import on 2009. "I don't believe he can afford to be focused on what has happened. This is a great opportunity for him to enjoy some success at the end of the season and get some inspiration and motivation to prepare for next year in November and December.'' Federer and Djokovic teed off at 11 a.m., pushed back an hour to try to squeeze the match in, with threatening weather literally hanging over their heads in the form of scudding, iron-gray clouds and a moderate breeze that blew from one baseline to another. Flights that normally are diverted around the tennis center during the tournament roared overhead at regular intervals, prompting Federer to observe that controllers probably were trying to get as many planes out as possible ahead of the expected remnants of the hurricane system. Meanwhile, Federer played like a man with a plane to catch, losing just four points on his serve in a 25-minute first set. Djokovic showed some grit by breaking Federer twice in the fourth set. After Djokovic forced Federer into swatting a forehand long on set point, the public address announcer told the crowd that the Nadal-Murray match had been moved, eliciting a chorus of boos. However, the odd timing presented a unique chance for the denizens of the sky-scraping, vertigo-inducing seats in Row Z of the upper deck on one side of Arthur Ashe Stadium. Standing in the top row, it was possible to look down at Federer-Djokovic and over into Armstrong Stadium at Nadal-Murray and follow both matches at once, thereby seeing Nos. 1, 2, 3 and 6 in the ATP rankings in action simultaneously. Federer continued to serve extremely well as he took control of the match for good in the third set and showed his patented bursts of creativity as well. "I saw the best shot of my life today,'' Martin said of an "overhead lob" winner Federer hit off a Djokovic smash on the first point of the game in which he served for the set. The Swiss champion closed things out with a businesslike fourth set in which he made only one unforced error. "He reacted in the critical situations the way we've all gotten accustomed to his reacting, and made great decisions,'' Martin added. "He took pace off the ball and played more to Novak's backhand, but without giving him too much to work with.''
[+] Enlarge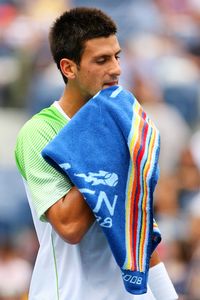 Matthew Stockman/Getty ImagesThe hostile New York crowd was too much for Novak Djokovic, whose error-strewn match consisted of 47 unforced errors and five double faults.
Orleans' "Still The One'' blared out of the public address system seconds after match point, a song title that describes Federer's situation in figurative if not literal terms. Asked whether he'd rather play Nadal or Murray, Federer reverted to his customary regal-playful self, saying, "Who would I prefer? I'd prefer the trophy, that's what I'd prefer.'' A chastened-looking Djokovic said he was exhausted going into the match, both physically and mentally, although he declined to revisit his acrimonious prematch and postmatch verbal dustups with quarterfinal opponent
Andy Roddick
. The crowd's attitude toward him going into the Federer match was an open question, and his five double faults and a few other errors did draw scattered cheers. But Djokovic seemed to realize he had to cut his losses on the public relations front and didn't want any part of critiquing fan behavior. "I think they were pretty fair,'' he said. "It was obvious that they are on his side because he's ex-No. 1 and still the second-best player in the world and he's defending champ here four times and people love him. He deserves that support.'' Djokovic, who had a chance to leapfrog Federer in the rankings had he won the tournament, said the recently deposed No. 1 "served it out really well. There were a couple of games in that third set, as well, when I was, you know, pretty close, 30-all, love-30, you know, deuce. … I wasn't able to get in the point.'' Federer didn't want to wax eloquent about the greater meaning of a potential U.S. Open win in his career, seeing as it's still potential and all, although he did admit on court that it "would mean a helluva lot.'' He fended off one persistent reporter by saying, "Give me 35 hours, and then we'll sit down with something to drink and I'll tell you everything.'' That would be a happy hour for Federer in every sense of the word.
Bonnie D. Ford covers tennis and Olympic sports for ESPN.com. She can be reached at bonniedford@aol.com.
Enterprise and Olympic Sports
Bonnie D. Ford is a senior writer for ESPN.com.
U.S. OPEN 2008

Aug. 25-Sept. 7
Defending championsWomen:
Justine Henin
Men:
Roger Federer
USTA
•
Live scores
•&nbsp
Interactive draws
•&nbsp
Schedule of play
•&nbsp
Photo galleries
Tuesday, Sept. 9
•
Ratings down for pushed-back men's final
Monday, Sept. 8
•
Federer wins 5th straight U.S. Open, 13th Slam
•
Garber: Massive effort by Federer
•
Ubha: With new team, Murray has flourished
•
Whittell: Brits' response to Murray mixed
•
Ubha: U.S. Open men's live analysis
•
Watch: Federer wins fifth straight U.S. Open
•
Watch: Advantage Luke Jensen
Sunday, Sept. 7
•
Men
|
Women
•
Ford: Andy Murray descends on game's elite
•
Who will win the U.S. Open men's singles final?
•
Ubha: U.S. Open women's live analysis
•
Black, Huber win women's doubles championship
•
Bodo: Don't discount Jelena
Saturday, Sept. 6
•
Men
•
Who will win the U.S. Open women's singles final?
•
Rain delays Serena-Jankovic final until Sunday
•
Ford: New adventures of old Roger
•
Ubha: Rain wreaks havoc on U.S. Open
Friday, Sept. 5
•
Who will win the U.S. Open women's singles final?
•
Ford: Charisma aplenty for U.S. Open finalists
•
Garber: Men's semifinal preview
•
Ubha: Meet tennis' bad boys
•
Serena, Jankovic to meet in women's final
•
Storm fears force first men's semi to be moved
•
Bryan brothers win men's doubles championship
•
Djokovic goes from cheers to jeers at U.S. Open
Thursday, Sept. 4
•
Garber: Incendiary Djoker comments elicit boos
•
Ford: Roddick finally playing with confidence
•
Garber: Women's semifinals preview
•
Ford: Winning title paramount for Federer
•
Djokovic, Federer to meet in semifinals
•
Paes, Black win mixed doubles championship
•
Serena chasing ninth Slam title, No. 1 rank
•
Racket abuse reaches epic proportions
Wednesday, Sept. 3
•
Men
|
Women
•
Garber: Another empathic Williams sisters battle
•
Paes in men's doubles, mixed doubles finals
•
Garber: Is Djokovic really ailing?
•
Notebook: Scott: Tried to "bridge the gap"
•
Ubha: What we learned Wednesday
•
Star Watch: Dementieva serving lights out
•
Watch: Men's quarterfinal preview
Tuesday, Sept. 2
•
Men
|
Women
•
The great debate: Which Williams sister will win?
•
Ubha: What we learned from Tuesday's Big Five
•
Chip and Charge: U.S. Open edition
•
Star Watch: Murray's progression
•
Garber: Ragged Federer prevails over Robredo
•
Ford: Davydenko has no answers for Muller
•
Watch: Advantage Luke Jensen, Day 9
Monday, Sept. 1
•
Men
|
Women
•
Ford: Querrey put in big performance
•
Five things we learned, long weekend edition
•
Ford: Japanese teenager heats up his game
•
Star Watch: Djokovic, Jankovic, Boyz II Men?
•
Watch: Advantage Luke Jensen, Day 8
•
Watch: A talking Fish
Sunday, Aug. 31
•
Men
|
Women
•
Ford: U.S. Open midway report
•
Garber: Federer resolute in quest for title
•
Notebook: What to look forward to in Week 2
•
Star Watch: Muller lives on
•
Watch: What to expect in Week 2
•
Watch: Andy Roddick wins
•
See all U.S. Open Week 1 stories here
MOST SENT STORIES ON ESPN.COM