Commentary
Jankovic relishes Grand moment -- maybe too much
Glancing at the big screen, goofy antics, rookie jitters and other histrionics played a role in Jelena Jankovic's U.S. Open loss to Serena Williams.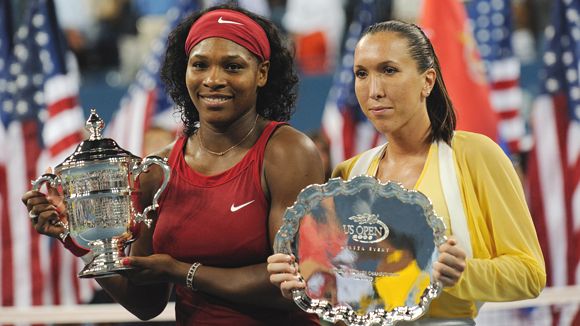 Donald Emmert/Getty ImagesJankovic made a lot of rookie mistakes that may have cost her the U.S. Open championship.
NEW YORK -- Commentator Mary Carillo, who introduced U.S. Open runner-up Jelena Jankovic for her on-court postmatch interview, didn't mind that Jankovic forcibly took the microphone away from her a couple of times, obviously unwilling to relinquish center stage until she absolutely had to.
Jankovic expressed her gratitude to everyone right down to the drivers who transported her to and from the tournament. She did everything but thank the voters of the Academy of Motion Pictures, and later said she thought she deserved an Oscar. She kept talking even when Carillo, trying to pick up the pace of the ceremony, nudged her toward the $750,000 check that awaited her. "How much do I get?" Jankovic asked, apparently sincerely. She kept talking even as she lifted the large silver plate that is the loser's consolation prize. "It's not fair," she pouted aloud. "I lost my No. 1 ranking." It was a bravura performance that acted as the third set of a bravura match, but it leaves a question hanging: Will Jankovic's histrionics take away from her ability to become a Grand Slam winner? Should she have been meditating on a game plan during changeovers instead of glancing up at the giant video screen above the stands, watching her own close-ups and the goofy antics in the stands? Carillo doesn't think so. She finds Jankovic's dramatis personae refreshing and doesn't think there's necessarily a cause-and-effect relationship, although she'd like to see the Serb's tenacity matched by a more effective serve. "If she could get back a fistful of big points and play them with more intensity, I'm sure she would," the former pro said. "I think she can win seven rounds in a row, but she's like
[Novak] Djokovic
at the U.S. Open last year -- she has to learn to get to the championship without spending herself so much in the early rounds. She has to learn to be more efficient." Jankovic, 23, is the third young Serbian player to reach a debut Grand Slam final in the past two seasons. Djokovic blew seven set points in his first chance at Flushing Meadows against
Roger Federer
, but succeeded in his next try, in Australia.
Ana Ivanovic
froze like the proverbial soon-to-be-roadkill in her first Slam final in Paris last year, and wept with frustration after a not-to-be-denied
Maria Sharapova
took care of business in fairly short order at the Australian Open. But Ivanovic recovered from those spankings to win the French Open convincingly this year. Jankovic said she didn't have any rookie jitters and sounded sure of herself when she said her time would come. "I didn't think about, 'Oh, my God, it's my first final, whatever, I need to be nervous, I need to be scared to be there,'" Jankovic said. "I just went out there and I really enjoyed the whole experience. Unfortunately, I didn't win, but, you know, I still have to take the positives out of this tournament. "I have done a great job to even be in the final despite having so many bad things, so many injuries and so many problems. You know, being here, it's a great achievement for me." Four-time U.S. Open champion Martina Navratilova praised Jankovic's level of play after the match, saying just a few key opportunities made the difference. "She got nervous on those serves," said Navratilova, referring to Jankovic's four double faults, one of which cost her a set point in the second set. "There's such a thing as good doubles and bad doubles, and those were bad doubles."
[+] Enlarge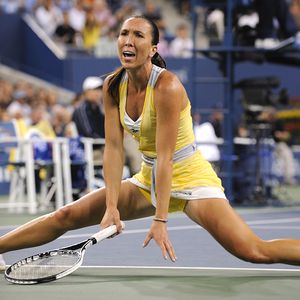 Donald Emmert/Getty ImagesDespite the loss, Jankovic can take solace that this was her first Grand Slam final and plenty more are likely in her future.
But she added that Jankovic still seems to be "in and out" of matches mentally and wondered about her attention span. "She might like the occasion a little too much," Navratilova said. "There was a little too much looking up at the screen. That takes away a lot of energy and focus."
Just then Jankovic walked by, carrying a bouquet, with her face, for once, expressionless. "Good fight," Navratilova said with warmth in her voice.
Jankovic somewhat sarcastically shrugged off the notion that she was distracted, but she did admit she finds the big screen irresistible.
"No, I think they should turn it off, you know," she said. "I cannot focus, because I keep looking at it. I don't know why. Just the -- but you see it. You watch straight, and then your eyes just go up, because you know there's something going up on top. But it's -- whatever. It's just fun." Brides know how hard it can be to enjoy yourself when you're the center of attention, and the fact that Jankovic relishes the moment is a good sign for her future. Now she just has to figure out how to avoid being a bridesmaid and still have a good time.
Bonnie D. Ford covers tennis and Olympic sports for ESPN.com. She can be reached at bonniedford@aol.com.
Olympics
Bonnie D. Ford covers Olympic sports for ESPN.com.
SPONSORED HEADLINES
MORE TENNIS HEADLINES
MOST SENT STORIES ON ESPN.COM
U.S. OPEN 2008

Aug. 25-Sept. 7
Defending championsWomen:
Justine Henin
Men:
Roger Federer
USTA
•
Live scores
•&nbsp
Interactive draws
•&nbsp
Schedule of play
•&nbsp
Photo galleries
Tuesday, Sept. 9
•
Ratings down for pushed-back men's final
Monday, Sept. 8
•
Federer wins 5th straight U.S. Open, 13th Slam
•
Garber: Massive effort by Federer
•
Ubha: With new team, Murray has flourished
•
Whittell: Brits' response to Murray mixed
•
Ubha: U.S. Open men's live analysis
•
Watch: Federer wins fifth straight U.S. Open
•
Watch: Advantage Luke Jensen
Sunday, Sept. 7
•
Men
|
Women
•
Ford: Andy Murray descends on game's elite
•
Who will win the U.S. Open men's singles final?
•
Ubha: U.S. Open women's live analysis
•
Black, Huber win women's doubles championship
•
Bodo: Don't discount Jelena
Saturday, Sept. 6
•
Men
•
Who will win the U.S. Open women's singles final?
•
Rain delays Serena-Jankovic final until Sunday
•
Ford: New adventures of old Roger
•
Ubha: Rain wreaks havoc on U.S. Open
Friday, Sept. 5
•
Who will win the U.S. Open women's singles final?
•
Ford: Charisma aplenty for U.S. Open finalists
•
Garber: Men's semifinal preview
•
Ubha: Meet tennis' bad boys
•
Serena, Jankovic to meet in women's final
•
Storm fears force first men's semi to be moved
•
Bryan brothers win men's doubles championship
•
Djokovic goes from cheers to jeers at U.S. Open
Thursday, Sept. 4
•
Garber: Incendiary Djoker comments elicit boos
•
Ford: Roddick finally playing with confidence
•
Garber: Women's semifinals preview
•
Ford: Winning title paramount for Federer
•
Djokovic, Federer to meet in semifinals
•
Paes, Black win mixed doubles championship
•
Serena chasing ninth Slam title, No. 1 rank
•
Racket abuse reaches epic proportions
Wednesday, Sept. 3
•
Men
|
Women
•
Garber: Another empathic Williams sisters battle
•
Paes in men's doubles, mixed doubles finals
•
Garber: Is Djokovic really ailing?
•
Notebook: Scott: Tried to "bridge the gap"
•
Ubha: What we learned Wednesday
•
Star Watch: Dementieva serving lights out
•
Watch: Men's quarterfinal preview
Tuesday, Sept. 2
•
Men
|
Women
•
The great debate: Which Williams sister will win?
•
Ubha: What we learned from Tuesday's Big Five
•
Chip and Charge: U.S. Open edition
•
Star Watch: Murray's progression
•
Garber: Ragged Federer prevails over Robredo
•
Ford: Davydenko has no answers for Muller
•
Watch: Advantage Luke Jensen, Day 9
Monday, Sept. 1
•
Men
|
Women
•
Ford: Querrey put in big performance
•
Five things we learned, long weekend edition
•
Ford: Japanese teenager heats up his game
•
Star Watch: Djokovic, Jankovic, Boyz II Men?
•
Watch: Advantage Luke Jensen, Day 8
•
Watch: A talking Fish
Sunday, Aug. 31
•
Men
|
Women
•
Ford: U.S. Open midway report
•
Garber: Federer resolute in quest for title
•
Notebook: What to look forward to in Week 2
•
Star Watch: Muller lives on
•
Watch: What to expect in Week 2
•
Watch: Andy Roddick wins
•
See all U.S. Open Week 1 stories here