Commentary
Little sis making big headway on WTA Tour
Roiling emotions and unadulterated talent run in the family. But Dinara Safina has finally escaped the shadow of older brother Marat and is enjoying a breakthrough season.
Updated:
August 28, 2008, 7:01 PM ET
By
Greg Garber
| ESPN.com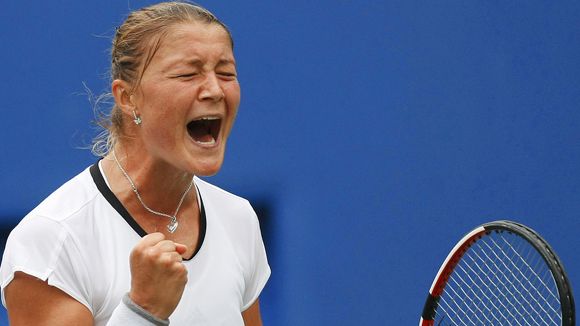 Behrouz Mehri/AFP/Getty ImagesWith the season Dinara Safina is having, it's safe to denote her as the family's best tennis player.
NEW YORK -- Sibling rivalry can be a powerful dynamic, charged with all kinds of weird energy and profound emotions. Often -- setting Cain and Abel aside -- it's a good thing. Sometimes, it can inspire greatness.
Was it a really coincidence that three years after Indianapolis Colts quarterback Peyton Manning won the Super Bowl and was named Most Valuable Player his younger brother Eli, the New York Giants' quarterback, equaled that accomplishment?
Is it mere chance that Dinara Safina finds herself facing the plausible possibility of replicating her brother Marat Safin's incandescent breakthrough at the U.S. Open eight years ago?
"I think this would be my dream come true, the most amazing thing that can happen," Safina said earlier this week.
Safina is into the third round after Thursday's routine 6-4, 6-3 victory over Roberta Vinci of Italy at the Billie Jean King National Tennis Center. The 22-year-old Russian hasn't put together the ridiculous runs of Rafael Nadal, who has won 39 of his past 40 matches, or the 20-match streak of Juan Martin Del Potro. But in the unsettled world of women's tennis, she comes in with the most momentum, having won 17 of 18 matches.
Her breakthrough season, crowned by a finals appearance at the French Open, has already vaulted the siblings Safin/Safina to the top of the modern tennis hierarchy. A victory here would give her a career-first major title and, if things work out, the No. 1 ranking.
It could actually happen. Safina is one of six women with a chance to emerge with the top ranking. If she wins the tournament and Jelena Jankovic fails to reach the final, Safina will mirror her brother's U.S. Open title and ascension to the No. 1 ranking.
Talk about your unlikely sibling symmetry.
On Thursday, Safina credited her coach, Zeljko Krajan, with teaching her to keep her roiling emotions -- a sometimes endearing family trait -- out of view.
"I would play the match and I would show [my emotions] to everybody," she said. "'You see? I'm trying hard, and it's just not going my way.' Then I would kind of show it to everybody.
"He would say, 'You don't need to show me. I can see it. And don't show [it] to your opponent. Just go out there and do what you can.'"
Krajan started out as Safina's hitting partner and second coach last fall, but when Heinz Gunthardt couldn't devote his full attention to Safina, Krajan became her full-time traveling coach in February.
Safina clearly is fond of her brother, but Krajan admits he was a tough act to follow.
"He has great charisma -- people love him," Krajan said. "It was very tough growing up in that shadow, because his shadow is very big. Coming up in juniors people always said, 'Maybe she can do the same thing as Marat.'
"She struggled with it for years. It's always going to be there, but now it is changing. Before, it was, 'This is the sister of Marat.' Now, it's 'This is Dinara Safina.'"
Safina turned professional in 2000 at the age of 14. Within four years, she cracked the top 50 but idled there, making only incremental improvement. She had all the shots but too often she came up short in the thinking game. Most observers trace her new confidence back to Berlin in May when she ran the table, beating Justine Henin, Serena Williams and, in the final, Elena Dementieva.
Krajan says her confidence level began to change a month earlier in Miami, when she beat Lindsay Davenport in straight sets to reach the quarterfinals.
"She was a good player before this year, top 15, but the mental side was the weaker point," Krajan said. "Before she was not believing that she could win five, six matches at the level. Now she knows she can do this."
It all came together at the French Open, where she defeated Maria Sharapova, Svetlana Kuznetsova and Dementieva -- all Russians, all top-10 players -- to reach the final. She lost in straight sets to Ana Ivanovic, but gained another magnitude of confidence.
"Somehow, I started going out there and started to believe I'm a player and I can compete with them," she explained. "Maybe before it was missing. Then, I could not give them answers, but now I go out there and for their game I can always give them my answer, my game."
[+] Enlarge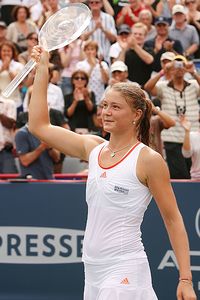 Elsa/Getty ImagesBecause of a dominating summer, Dinara Safina has an outside chance of ending the U.S. Open as the No. 1-ranked player.
Even though he's now ranked only No. 44 in the world, Safin has managed to overshadow his sister here, although a number of experts are picking her to win. He ran afoul of the chair umpire in his first-round match after a disputed foot fault and was enormously entertaining in his postmatch news conference.
When asked about his sister, he said, "I think if she will do everything opposite of what I've been doing throughout the years, she will be No. 1 in the world for a long time. That's as simple as it is."
Safina was only 14 when Marat won his first Grand Slam, a startling, straight-sets destruction of Pete Sampras. She didn't see it; she was in Valencia, Spain, but without cable television. Later, she heard the result from friends.
"This tournament is special for me because of my brother," Safina said. "That's why for me, it's always nice to come back here."
If there is a new pressure at work on Safina, it wasn't evident on Thursday. After her match she sat cross-legged, leaning against a wall outside the women's locker room. Safina had a phone in each hand and was actually working them both at the same time.
After her postmatch interview, she spotted her coach speaking with a reporter. Making the hush sign from behind, she gleefully snuck up on him, grabbed his shoulders and shrieked in his ear.
Krajan, who tried not to smile, shrugged, rolled his eyes and said, "So, as you can see, she's on a roll right now."
She's tired after a long run to the final at the Beijng Olympics, where she lost to Dementieva, and hasn't played particularly well in her first two matches. But with a level women's field that has seen no one separate herself from the peloton, Safina has as good a chance as anyone.
And if she wins? If she lifts her first Grand Slam trophy and earns the No. 1 ranking?
"I'm still the little sister," Safina said. "Doesn't matter. I think forever I'm going to be his little sister."
Greg Garber is a senior writer for ESPN.com.
Writer, Reporter
Greg Garber joined ESPN in 1991 and provides reports for NFL Countdown and SportsCenter. He is also a regular contributor to Outside the Lines and a senior writer for ESPN.com.
SPONSORED HEADLINES
MORE TENNIS HEADLINES
MOST SENT STORIES ON ESPN.COM
U.S. OPEN 2008

Aug. 25-Sept. 7
Defending championsWomen:
Justine Henin
Men:
Roger Federer
USTA
•
Live scores
•&nbsp
Interactive draws
•&nbsp
Schedule of play
•&nbsp
Photo galleries
Tuesday, Sept. 9
•
Ratings down for pushed-back men's final
Monday, Sept. 8
•
Federer wins 5th straight U.S. Open, 13th Slam
•
Garber: Massive effort by Federer
•
Ubha: With new team, Murray has flourished
•
Whittell: Brits' response to Murray mixed
•
Ubha: U.S. Open men's live analysis
•
Watch: Federer wins fifth straight U.S. Open
•
Watch: Advantage Luke Jensen
Sunday, Sept. 7
•
Men
|
Women
•
Ford: Andy Murray descends on game's elite
•
Who will win the U.S. Open men's singles final?
•
Ubha: U.S. Open women's live analysis
•
Black, Huber win women's doubles championship
•
Bodo: Don't discount Jelena
Saturday, Sept. 6
•
Men
•
Who will win the U.S. Open women's singles final?
•
Rain delays Serena-Jankovic final until Sunday
•
Ford: New adventures of old Roger
•
Ubha: Rain wreaks havoc on U.S. Open
Friday, Sept. 5
•
Who will win the U.S. Open women's singles final?
•
Ford: Charisma aplenty for U.S. Open finalists
•
Garber: Men's semifinal preview
•
Ubha: Meet tennis' bad boys
•
Serena, Jankovic to meet in women's final
•
Storm fears force first men's semi to be moved
•
Bryan brothers win men's doubles championship
•
Djokovic goes from cheers to jeers at U.S. Open
Thursday, Sept. 4
•
Garber: Incendiary Djoker comments elicit boos
•
Ford: Roddick finally playing with confidence
•
Garber: Women's semifinals preview
•
Ford: Winning title paramount for Federer
•
Djokovic, Federer to meet in semifinals
•
Paes, Black win mixed doubles championship
•
Serena chasing ninth Slam title, No. 1 rank
•
Racket abuse reaches epic proportions
Wednesday, Sept. 3
•
Men
|
Women
•
Garber: Another empathic Williams sisters battle
•
Paes in men's doubles, mixed doubles finals
•
Garber: Is Djokovic really ailing?
•
Notebook: Scott: Tried to "bridge the gap"
•
Ubha: What we learned Wednesday
•
Star Watch: Dementieva serving lights out
•
Watch: Men's quarterfinal preview
Tuesday, Sept. 2
•
Men
|
Women
•
The great debate: Which Williams sister will win?
•
Ubha: What we learned from Tuesday's Big Five
•
Chip and Charge: U.S. Open edition
•
Star Watch: Murray's progression
•
Garber: Ragged Federer prevails over Robredo
•
Ford: Davydenko has no answers for Muller
•
Watch: Advantage Luke Jensen, Day 9
Monday, Sept. 1
•
Men
|
Women
•
Ford: Querrey put in big performance
•
Five things we learned, long weekend edition
•
Ford: Japanese teenager heats up his game
•
Star Watch: Djokovic, Jankovic, Boyz II Men?
•
Watch: Advantage Luke Jensen, Day 8
•
Watch: A talking Fish
Sunday, Aug. 31
•
Men
|
Women
•
Ford: U.S. Open midway report
•
Garber: Federer resolute in quest for title
•
Notebook: What to look forward to in Week 2
•
Star Watch: Muller lives on
•
Watch: What to expect in Week 2
•
Watch: Andy Roddick wins
•
See all U.S. Open Week 1 stories here