Commentary
Querrey crashes into fourth round of U.S. Open
Ho-hum & the Williams sisters demolished their opponents Saturday at the U.S. Open. But American Sam Querrey, an unusual suspect, was not to be outdone.
Updated:
August 30, 2008, 7:09 PM ET
By
Greg Garber
| ESPN.com
NEW YORK -- It was another routine All-American middle Saturday at the U.S. Open. The usual suspects, under mostly sunny skies, made their way into the second week here with very few hiccups.
Venus Williams blew Alona Bondarenko off the Arthur Ashe Stadium court in 56 minutes, winning 6-2, 6-1. Later, younger sister Serena trounced Japan's Ai Sugiyama by the same score, but needed 10 more minutes. Much earlier, in a match that began Friday but ended in Saturday's morning darkness, Andy Roddick sent young Latvian Ernests Gulbis on his way. Saturday's late-night match between Americans James Blake and Mardy Fish will deliver either the second- or third-ranked U.S. man into the fourth round.
Yawn. Ho-hum. Whatever.
To review, the two highest-ranked American women and two of the three highest-ranked men are all safely in the fourth round.
Which brings us to Sam Querrey -- this year's refreshingly unusual suspect.
[+] Enlarge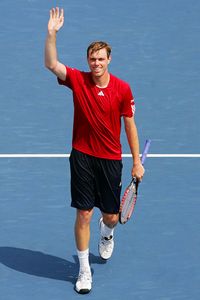 Jim McIsaac/Getty ImagesSam Querrey is making his maiden trip to the fourth round of a Grand Slam event.
Querrey served out No. 14 seed
Ivo Karlovic
7-6 (5), 7-6 (5), 6-2 with astonishing ease. At 20 years, 10 months, Querrey is the youngest American male to reach the fourth round here since (cue the dramatic music) … Roddick slashed and burned his way into the 2002 quarterfinals.
"First time in the fourth round, first time in the second week -- it's pretty exciting," Querrey said. "I made it to the CBS weekend. That was the goal."
Querrey's deadpan sarcasm eludes some people. The Californian has a reputation for being kind of goofy, and his 6-foot-6 frame is undeniably gangly. But the kid is a quick study and doesn't seem to be uncomfortable suddenly thrust into the company of Roddick and the Williams sisters.
"He's very mature," explained his coach, Grant Doyle. "Anytime you make the fourth round of any Slam, you're playing great. Just to be mentioned in the same breath with those guys … he's just showing he can be up there with them."
Coming in, Karlovic led all players with a staggering 70 aces in three matches. The 6-foot-10 Croatian had 24 more Saturday, but Querrey came through with 20 bombs of his own. Karlovic was asked later what made his opponent's serve so tough.
"His height," Karlovic answered.
Truth is, Querrey was better in the big points. He won the first two sets in tiebreakers, then broke Karlovic for the first time in the first game of the third set. A double fault, just as it had been in the second-set tiebreaker, was the difference.
Querrey is a relatively late bloomer and seems to have an enormous upside. He didn't turn pro until 2006, when he was 19, and played a lowly Challenger in Sacramento as recently as 11 months ago.
"I've played every tournament now, two, three times," Querrey said. "My backhand, I think, is 10 times better. My transition game, coming to the net and being aggressive, is better than it used to be. It's starting to show in my matches."
At the beginning of the year, Querrey had two goals: win a tournament, and push his ranking into the 30s. He achieved both, winning at Las Vegas back in March and reaching No. 38 a month later. Since then, he has slipped to No. 55.
"My real goal now is to end the year in the top 32," Querrey said. "I'd love to be seeded at the Australian Open next year to start the year. That's kind of the goal I set for myself."
This was Querrey's first career Grand Slam win over a top-20 player, and it was achieved in only his ninth appearance in a major. His next assignment will be a far sterner test: the No. 1 player, Rafael Nadal.
Querrey has already played Nadal -- in only his 13th professional match, back in 2006 in Cincinnati. Querrey actually won the first set before falling in three. Turns out, he had some motivation.
"I was playing at 2 o'clock and I knew ESPN went on the air at 3," Querrey said. "I wanted to make it to 3 to get some ESPN time, which I did."
Informed that he received a few bonus minutes from CBS on Saturday morning before Venus Williams' match, Querrey smiled.
"All right. Good," he said, trying to sound enthusiastic. "That's pretty important to me. I like the TV time, you know."
We know, we know. Based on his career trajectory, there will be much more air time where that came from.
"Obviously, Monday's going to be a huge day for him," Doyle said. "I'm sure he's going to enjoy it. Knowing Sam, he's probably going to go out and have a swing and see what happens."
Even if he loses, Querrey will see his ranking rise to around No. 45.
Doyle was asked if Querrey has the stuff to be a top-10 player.
"That's our goal, obviously, to be a top-10 player," Grant said. "The most important thing is to become a better tennis player, then the rest of it will take care of itself. He's certainly got the weapons to do it, but he's only been out on tour for a few years.
"Pete Sampras told us last year: 'You always end up where you think you belong.' I think Sam thinks he belongs a little bit more each day."
After his news conference, perhaps the best-attended session of his career, Querrey was asked if he could be a top-10 layer. He did not hesitate.
"Yeah," he said. "Definitely. I have the game for it. In the next year or two, I just have to put up the results and get there."
Greg Garber is a senior writer for ESPN.com.
Writer, Reporter
Greg Garber joined ESPN in 1991 and provides reports for NFL Countdown and SportsCenter. He is also a regular contributor to Outside the Lines and a senior writer for ESPN.com.
U.S. OPEN 2008

Aug. 25-Sept. 7
Defending championsWomen:
Justine Henin
Men:
Roger Federer
USTA
•
Live scores
•&nbsp
Interactive draws
•&nbsp
Schedule of play
•&nbsp
Photo galleries
Tuesday, Sept. 9
•
Ratings down for pushed-back men's final
Monday, Sept. 8
•
Federer wins 5th straight U.S. Open, 13th Slam
•
Garber: Massive effort by Federer
•
Ubha: With new team, Murray has flourished
•
Whittell: Brits' response to Murray mixed
•
Ubha: U.S. Open men's live analysis
•
Watch: Federer wins fifth straight U.S. Open
•
Watch: Advantage Luke Jensen
Sunday, Sept. 7
•
Men
|
Women
•
Ford: Andy Murray descends on game's elite
•
Who will win the U.S. Open men's singles final?
•
Ubha: U.S. Open women's live analysis
•
Black, Huber win women's doubles championship
•
Bodo: Don't discount Jelena
Saturday, Sept. 6
•
Men
•
Who will win the U.S. Open women's singles final?
•
Rain delays Serena-Jankovic final until Sunday
•
Ford: New adventures of old Roger
•
Ubha: Rain wreaks havoc on U.S. Open
Friday, Sept. 5
•
Who will win the U.S. Open women's singles final?
•
Ford: Charisma aplenty for U.S. Open finalists
•
Garber: Men's semifinal preview
•
Ubha: Meet tennis' bad boys
•
Serena, Jankovic to meet in women's final
•
Storm fears force first men's semi to be moved
•
Bryan brothers win men's doubles championship
•
Djokovic goes from cheers to jeers at U.S. Open
Thursday, Sept. 4
•
Garber: Incendiary Djoker comments elicit boos
•
Ford: Roddick finally playing with confidence
•
Garber: Women's semifinals preview
•
Ford: Winning title paramount for Federer
•
Djokovic, Federer to meet in semifinals
•
Paes, Black win mixed doubles championship
•
Serena chasing ninth Slam title, No. 1 rank
•
Racket abuse reaches epic proportions
Wednesday, Sept. 3
•
Men
|
Women
•
Garber: Another empathic Williams sisters battle
•
Paes in men's doubles, mixed doubles finals
•
Garber: Is Djokovic really ailing?
•
Notebook: Scott: Tried to "bridge the gap"
•
Ubha: What we learned Wednesday
•
Star Watch: Dementieva serving lights out
•
Watch: Men's quarterfinal preview
Tuesday, Sept. 2
•
Men
|
Women
•
The great debate: Which Williams sister will win?
•
Ubha: What we learned from Tuesday's Big Five
•
Chip and Charge: U.S. Open edition
•
Star Watch: Murray's progression
•
Garber: Ragged Federer prevails over Robredo
•
Ford: Davydenko has no answers for Muller
•
Watch: Advantage Luke Jensen, Day 9
Monday, Sept. 1
•
Men
|
Women
•
Ford: Querrey put in big performance
•
Five things we learned, long weekend edition
•
Ford: Japanese teenager heats up his game
•
Star Watch: Djokovic, Jankovic, Boyz II Men?
•
Watch: Advantage Luke Jensen, Day 8
•
Watch: A talking Fish
Sunday, Aug. 31
•
Men
|
Women
•
Ford: U.S. Open midway report
•
Garber: Federer resolute in quest for title
•
Notebook: What to look forward to in Week 2
•
Star Watch: Muller lives on
•
Watch: What to expect in Week 2
•
Watch: Andy Roddick wins
•
See all U.S. Open Week 1 stories here