Commentary
One year later, Djokovic's game and image are still evolving
A year ago, Novak Djokovic charmed the crowd at Flushing Meadows with his imitations. But has he gone from class clown to crass clown? Garber
Updated:
September 2, 2008, 9:40 PM ET
By
Greg Garber
| ESPN.com
NEW YORK -- A year ago, he was the 20-year-old, ascendant, fresh-faced darling of the crowd here at the Billie Jean King National Tennis Center.
His hilarious, dead-on impressions of Maria Sharapova and Rafael Nadal, enabled by USA Network reporter Michael Barkann, had a night audience on its feet, cheering and laughing so hard that some had tears in their eyes. Novak Djokovic, ranked behind Roger Federer and Rafael Nadal, became a YouTube phenomenon and a "Tonight Show" guest. He made no bones about his all-consuming ambition to be No. 1. "I'm happy that people remember me in a good way -- more for my imitations than for my tennis, but it's all right," Djokovic said after his first-round win over Arnaud Clement. "It's good to be back." Later, he expounded further on the subject. "But, you know, I always want people to remember me, of course, as a tennis player, as a great tennis player, a champion, whatever," Djokovic said. "I don't want them to remember me as a clown." On Tuesday, Djokovic was pressed to his absolute limit in defeating Tommy Robredo 4-6, 6-2, 6-3, 5-7, 6-3 in a fourth-round match that went 3 hours and 44 minutes. Afterward, his mother, Dijana, stood in the stands and joyously pounded her heart. Djokovic acknowledged her, thumping his heart right back -- and then his head, his arm and his legs. During the match, he suffered a tweaked right hip, a rolled right ankle, and, as it progressed, struggled mightily for air. "It's just probably mixed emotions after the match, just trying to show them how much effort I put into this match," Djokovic explained. "If we start talking about things that are bothering me, we'll chat for a long time."
[+] Enlarge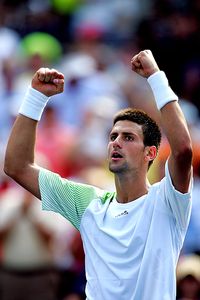 Matthew Stockman/Getty ImagesNovak Djokovic survived his match, despite various physical woes.
Djokovic lost to Federer in the 2007 U.S. Open final, but it was the turning point of his career. Even though it was in straight sets, it was close. For the first time, he truly began to believe he could win a major title. His time came swiftly, perhaps quicker than anyone imagined, when Djokovic defeated Federer in the semifinals of the Australian Open in January. He followed it with his first Grand Slam championship, beating Jo-Wilfried Tsonga in the final. The last two major finals have seen Nadal defeat Federer, prompting one reporter to ask Djokovic his thoughts on a rematch here in the final. "I'll make sure they don't have it," Djokovic said, smiling, as laughter rose around him. It was a telling moment. Clearly, Djokovic -- who has a terrific command of English -- was aiming for a certain level of humor. At the same time, the remark just as clearly reflected his true feelings. This is a fine line that Djokovic has drifted across a number of times in the past year. Those impersonations, for example, didn't go over very well in the locker room. Is it a coincidence that Djokovic has lost to Nadal in four of six matches since his exaggerated, uh, imitation of Nadal's signature shorts shift? Among the big three, Djokovic is probably last on the list in terms of popularity here. (Picture one of those downward arrows.) Class clown is too strong an image, but perhaps crass clown isn't far from the mark. Nadal's victory over Federer at Wimbledon has thrust him to a whole new level of exposure. The chance to win three of the year's four majors has many people rooting hard for him. Federer's sudden vulnerability has made him a more sympathetic character; when the USTA rolled out the past champions on opening night, Federer got the warmest reception. And Djokovic? His comments suggest there will be no more impersonations anytime soon, and the crowds here have been respectful but hardly fawning or even close to over the top. His parents taught him to believe in himself. But when does confidence congeal into arrogance? The family, apparently, has developed a thin skin with respect to criticism of Djokovic. Back in May, father Srdjan was home in Belgrade listening to the RTS radio broadcast of his son's semifinal match against Nadal in Hamburg. The commentators, calling the match off a monitor in Belgrade, profusely complimented Nadal during the course of his three-set win. Srdjan, incensed at what he perceived to be a lack of patriotic fervor, drove to the broadcast facility -- during the match -- to register his displeasure. Later, Djokovic's uncle called to complain. That self-righteous attitude might have trickled down. Since winning in Melbourne, Djokovic seems to have missed an opportunity to make friends and influence people. For some, his attitude of increasing entitlement has worn thin. There are times when Djokovic appears to give in too easily to frustration, occasions when he seems to be impatient at best -- and, at worst, irritated. Throughout his third-round match with Marin Cilic, Djokovic's body language was less than healthy and when the match ended after four sets, he lashed the ball into the crowd with a surprising vehemence. Maybe it was relief. He aspires to be the best, and his public comments to that effect create a certain pressure. "No, no," disagreed Benito Perez-Barbadillo, Djokovic's press agent. "I don't think so. He knows his time will come." Said Djokovic, "I'm only 21. I had a lot of success, but still there is many years to come, hopefully, if I'm healthy enough. I want to win more Grand Slams." Djokovic did not hide his ravenous hunger for success in Beijing. Playing Nadal in the semifinals in Beijing, he leveled the match at one set each with a convincing 6-1 second set. Then, serving to stay in the match at 4-5, he blew an easy overhead on match point. He wept openly as he left the court. And make no mistake, he really, really wants to take it one step further here at the U.S. Open. It's a plausible scenario. Next up in the quarterfinals is the Andy Roddick-Fernando Gonzalez winner. If the higher seeds prevail, it would be Federer in the semifinals and Nadal in the final. Who would have imagined a year ago that Djokovic might win two of the season's four major titles? To have two young players -- Djokovic is 21 and Nadal is 22 -- overtake Federer, one of the game's greatest ever in the blink of an eye, would set up a fascinating sequel in 2009. "If Djokovic wins the U.S. Open," said ESPN.com contributor Peter Bodo of Tennis Magazine, "this is the most exciting year in men's tennis -- ever. You can't write a richer story line" Djokovic lost the first set to Robredo and seemed to be on a treadmill -- maximum incline -- for the entire match. After the match, he had this unsolicited on-court comment for Barkann: "To be honest," Djokovic said, "the crowd was way more for Tommy today." Barkann, taken aback, responded, "Why do you need to keep track?" "Well," Djokovic said, "maybe they will be on my side for the next match." Later, after receiving treatment for an hour in the locker room, Djokovic was asked how in one year he could go from crowd favorite to the sometimes tepid applause he received on Tuesday. "I don't know," he said, shrugging. "I can't really affect … that too much. Maybe they don't like the way I throw the racket in one point. "I just really don't know. Maybe they don't like me anymore."
Greg Garber is a senior writer for ESPN.com.
Writer, Reporter
Greg Garber joined ESPN in 1991 and provides reports for NFL Countdown and SportsCenter. He is also a regular contributor to Outside the Lines and a senior writer for ESPN.com.
U.S. OPEN 2008

Aug. 25-Sept. 7
Defending championsWomen:
Justine Henin
Men:
Roger Federer
USTA
•
Live scores
•&nbsp
Interactive draws
•&nbsp
Schedule of play
•&nbsp
Photo galleries
Tuesday, Sept. 9
•
Ratings down for pushed-back men's final
Monday, Sept. 8
•
Federer wins 5th straight U.S. Open, 13th Slam
•
Garber: Massive effort by Federer
•
Ubha: With new team, Murray has flourished
•
Whittell: Brits' response to Murray mixed
•
Ubha: U.S. Open men's live analysis
•
Watch: Federer wins fifth straight U.S. Open
•
Watch: Advantage Luke Jensen
Sunday, Sept. 7
•
Men
|
Women
•
Ford: Andy Murray descends on game's elite
•
Who will win the U.S. Open men's singles final?
•
Ubha: U.S. Open women's live analysis
•
Black, Huber win women's doubles championship
•
Bodo: Don't discount Jelena
Saturday, Sept. 6
•
Men
•
Who will win the U.S. Open women's singles final?
•
Rain delays Serena-Jankovic final until Sunday
•
Ford: New adventures of old Roger
•
Ubha: Rain wreaks havoc on U.S. Open
Friday, Sept. 5
•
Who will win the U.S. Open women's singles final?
•
Ford: Charisma aplenty for U.S. Open finalists
•
Garber: Men's semifinal preview
•
Ubha: Meet tennis' bad boys
•
Serena, Jankovic to meet in women's final
•
Storm fears force first men's semi to be moved
•
Bryan brothers win men's doubles championship
•
Djokovic goes from cheers to jeers at U.S. Open
Thursday, Sept. 4
•
Garber: Incendiary Djoker comments elicit boos
•
Ford: Roddick finally playing with confidence
•
Garber: Women's semifinals preview
•
Ford: Winning title paramount for Federer
•
Djokovic, Federer to meet in semifinals
•
Paes, Black win mixed doubles championship
•
Serena chasing ninth Slam title, No. 1 rank
•
Racket abuse reaches epic proportions
Wednesday, Sept. 3
•
Men
|
Women
•
Garber: Another empathic Williams sisters battle
•
Paes in men's doubles, mixed doubles finals
•
Garber: Is Djokovic really ailing?
•
Notebook: Scott: Tried to "bridge the gap"
•
Ubha: What we learned Wednesday
•
Star Watch: Dementieva serving lights out
•
Watch: Men's quarterfinal preview
Tuesday, Sept. 2
•
Men
|
Women
•
The great debate: Which Williams sister will win?
•
Ubha: What we learned from Tuesday's Big Five
•
Chip and Charge: U.S. Open edition
•
Star Watch: Murray's progression
•
Garber: Ragged Federer prevails over Robredo
•
Ford: Davydenko has no answers for Muller
•
Watch: Advantage Luke Jensen, Day 9
Monday, Sept. 1
•
Men
|
Women
•
Ford: Querrey put in big performance
•
Five things we learned, long weekend edition
•
Ford: Japanese teenager heats up his game
•
Star Watch: Djokovic, Jankovic, Boyz II Men?
•
Watch: Advantage Luke Jensen, Day 8
•
Watch: A talking Fish
Sunday, Aug. 31
•
Men
|
Women
•
Ford: U.S. Open midway report
•
Garber: Federer resolute in quest for title
•
Notebook: What to look forward to in Week 2
•
Star Watch: Muller lives on
•
Watch: What to expect in Week 2
•
Watch: Andy Roddick wins
•
See all U.S. Open Week 1 stories here
MOST SENT STORIES ON ESPN.COM