Commentary
Olympic fatigue catching up with Federer and the field
Worn out. Taxed. Battered. Did anyone say the Olympics wouldn't hamper the players? Just ask Roger Federer, who needed five grueling sets to defeat Igor Andreev at the U.S. Open.
Updated:
September 4, 2008, 12:14 AM ET
By
Greg Garber
| ESPN.com
NEW YORK -- Before this U.S. Open, most tennis players played down the Beijing Effect.
Typically, they would shrug and say that they are citizens of the world and that travel -- even halfway around the world -- is nothing special.
But midway through the second week, as the unforced errors have mounted, the line at the trainers' table has lengthened and the word "exhausted" has begun to appear regularly in interview transcripts, it is clear that something is at work here.
Call it … the China Syndrome.
On Tuesday, No. 3 seed Novak Djokovic was extended almost beyond his physical limits in a 3-hour, 44-minute, five-set victory over Tommy Robredo. No. 5 seed Nikolay Davydenko wasn't so lucky. He fell to qualifier Gilles Muller -- who did not journey to the Far East - 6-4, 4-6, 6-3, 7-6 (10), a significant upset.
And then there was the case of Roger Federer. Seeded No. 2, Federer had won all nine of his previous sets, but Russia's Igor Andreev nearly took down the four-time defending champion. Federer prevailed 6-7 (5), 7-6 (5), 6-3, 3-6, 6-3. Some 3 hours and 32 minutes after the last match of the day session ended in prime time, at 8:23 p.m. ET, Federer turned to his box, pumped both his fists in unison -- and exulted.
[+] Enlarge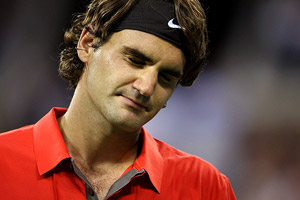 Nick Laham/Getty ImagesRoger Federer played only his second five-set U.S. Open match since his reign as four-time champion began in 2004.
Federer was uncommonly emotional during the entire match and almost giddy afterward. The tennis was, at times, thrilling. It was also ragged and sloppy. Federer finished with 67 winners and 60 unforced errors.
"Down a set and a tiebreak in the second, obviously there's danger written all over that situation," Federer noted. "It was really exciting, not only for the fans. I don't remember if I ever played a five-set match on that [Arthur Ashe] court. I don't usually give myself the opportunity.
"It's fun for a change"
All eight of the women's quarterfinalists and four of the seven men (not including the last quarterfinalist yielded from the Andy Roddick-Fernando Gonzalez match), played in Beijing.
Twice, No. 2 seed Jelena Jankovic has been extended to three sets. Meanwhile, No. 6 seed Dinara Safina, a pretournament favorite in some eyes, has been the poster child for early-fall fatigue.
She was extended to three sets by
Timea Bacsinszky
(who lost in the first round at Beijing) in the third round, then survived qualifier
Anna-Lena Groenefeld
in the fourth.
"Honestly, going on the court I didn't expect that I'm going to win because I was just so exhausted," said Safina, who lost to Elena Dementieva in the gold-medal match. "I finish the warm-up and I just said, 'I cannot push myself anymore.'"
On the men's side, where they play best-of-five, instead of the women' best-of-three format, fatigue has played even more of a factor. A number of the men remaining in the tournament have been severely tested by lesser players on their journey to the quarterfinals.
Roddick was forced to scuffle against Ernests Gulbis in the second round, and on Monday young American Sam Querrey challenged No. 1 seed Rafael Nadal.
"The Olympics maybe didn't help me right now for this tournament, no?" Nadal said. "Probably I am not in the freshest moment in my life."
Safe to say Federer was not at his freshest in the fifth set against Andreev. He fell into a hole, losing the first set in a tiebreaker, and could never seem to break free from the 25-year-old Russian, ranked 21 spots below him.
The match was consolidated when Federer, serving at 4-2, fought off four break points and escaped the six-deuce game when Andreev couldn't handle a fiery serve.
"I'm happy with the way I played when the pressure was the highest," Federer said.
Much was made of the choice by Roddick and fellow American Mardy Fish to skip the Olympics. Now that difficult decision looks prescient. Fish faces a depleted Nadal in one quarterfinal and if Roddick beats Gonzalez -- who reached the men's final in Beijing and played a tough match with Jarkko Nieminen -- he'll get Djokovic, who concedes that whoever he plays will be the fitter player.
In the end, Roddick is likely to experience his own version of the China Syndrome. After the Davis Cup semifinals in Spain, he is scheduled to play the China Open -- in Beijing.
Greg Garber is a senior writer for ESPN.com.
Writer, Reporter
Greg Garber joined ESPN in 1991 and provides reports for NFL Countdown and SportsCenter. He is also a regular contributor to Outside the Lines and a senior writer for ESPN.com.
SPONSORED HEADLINES
MORE TENNIS HEADLINES
MOST SENT STORIES ON ESPN.COM
U.S. OPEN 2008

Aug. 25-Sept. 7
Defending championsWomen:
Justine Henin
Men:
Roger Federer
USTA
•
Live scores
•&nbsp
Interactive draws
•&nbsp
Schedule of play
•&nbsp
Photo galleries
Tuesday, Sept. 9
•
Ratings down for pushed-back men's final
Monday, Sept. 8
•
Federer wins 5th straight U.S. Open, 13th Slam
•
Garber: Massive effort by Federer
•
Ubha: With new team, Murray has flourished
•
Whittell: Brits' response to Murray mixed
•
Ubha: U.S. Open men's live analysis
•
Watch: Federer wins fifth straight U.S. Open
•
Watch: Advantage Luke Jensen
Sunday, Sept. 7
•
Men
|
Women
•
Ford: Andy Murray descends on game's elite
•
Who will win the U.S. Open men's singles final?
•
Ubha: U.S. Open women's live analysis
•
Black, Huber win women's doubles championship
•
Bodo: Don't discount Jelena
Saturday, Sept. 6
•
Men
•
Who will win the U.S. Open women's singles final?
•
Rain delays Serena-Jankovic final until Sunday
•
Ford: New adventures of old Roger
•
Ubha: Rain wreaks havoc on U.S. Open
Friday, Sept. 5
•
Who will win the U.S. Open women's singles final?
•
Ford: Charisma aplenty for U.S. Open finalists
•
Garber: Men's semifinal preview
•
Ubha: Meet tennis' bad boys
•
Serena, Jankovic to meet in women's final
•
Storm fears force first men's semi to be moved
•
Bryan brothers win men's doubles championship
•
Djokovic goes from cheers to jeers at U.S. Open
Thursday, Sept. 4
•
Garber: Incendiary Djoker comments elicit boos
•
Ford: Roddick finally playing with confidence
•
Garber: Women's semifinals preview
•
Ford: Winning title paramount for Federer
•
Djokovic, Federer to meet in semifinals
•
Paes, Black win mixed doubles championship
•
Serena chasing ninth Slam title, No. 1 rank
•
Racket abuse reaches epic proportions
Wednesday, Sept. 3
•
Men
|
Women
•
Garber: Another empathic Williams sisters battle
•
Paes in men's doubles, mixed doubles finals
•
Garber: Is Djokovic really ailing?
•
Notebook: Scott: Tried to "bridge the gap"
•
Ubha: What we learned Wednesday
•
Star Watch: Dementieva serving lights out
•
Watch: Men's quarterfinal preview
Tuesday, Sept. 2
•
Men
|
Women
•
The great debate: Which Williams sister will win?
•
Ubha: What we learned from Tuesday's Big Five
•
Chip and Charge: U.S. Open edition
•
Star Watch: Murray's progression
•
Garber: Ragged Federer prevails over Robredo
•
Ford: Davydenko has no answers for Muller
•
Watch: Advantage Luke Jensen, Day 9
Monday, Sept. 1
•
Men
|
Women
•
Ford: Querrey put in big performance
•
Five things we learned, long weekend edition
•
Ford: Japanese teenager heats up his game
•
Star Watch: Djokovic, Jankovic, Boyz II Men?
•
Watch: Advantage Luke Jensen, Day 8
•
Watch: A talking Fish
Sunday, Aug. 31
•
Men
|
Women
•
Ford: U.S. Open midway report
•
Garber: Federer resolute in quest for title
•
Notebook: What to look forward to in Week 2
•
Star Watch: Muller lives on
•
Watch: What to expect in Week 2
•
Watch: Andy Roddick wins
•
See all U.S. Open Week 1 stories here