Commentary
History on the line for Rafael Nadal at the U.S. Open
Evolving from the king of clay to grass master and Olympic gold medalist, a U.S. Open championship for Rafael Nadal would be one of the greatest seasons in tennis history.
Updated:
September 5, 2008, 10:16 PM ET
By
Greg Garber
| ESPN.com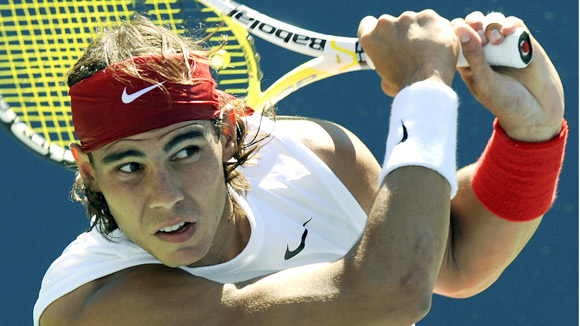 Timothy Clary/Getty Images Rafael Nadal has won 19 consecutive Grand Slam matches dating back to the French Open.
NEW YORK -- Standing just behind the baseline, where he makes his living,
Rafael Nadal
screamed and threw a few savage uppercuts.
It was early Thursday morning and his emphatic victory over Mardy Fish had just taken him to a new place -- the semifinals of the U.S. Open. In this season of mounting astonishment, what else is new?
"I think I'm with very special motivation," Nadal said afterward. "For sure, you want to play good in all places, no?
"Very happy to be in the semifinals. Play the semifinals in all Grand Slams in the same season. That's very good and very important for me."
You get the idea that the 22-year-old Nadal is running through a career checklist:
• Become game's best clay-court player. ... Check. Nadal has won the past four titles at Roland Garros and has never lost a match there.
• Improve game on grass. ... Check. After reaching two finals at Wimbledon, where he lost to Roger Federer, Nadal produced a landmark five-set championship victory back in July.
• Become the No. 1-ranked player. ... Check. After sitting in the No. 2 spot for three years, Nadal passed Federer in the world rankings before the U.S. Open.
• Win the Olympic gold medal in Beijing. ... Check. Last month, Nadal defeated Fernando Gonzalez in the final.
• Improve results on hard courts. ... Check. Nadal's best previous effort here at the Billie Jean King National Tennis Center was a quarterfinal berth in 2006, when he lost to Mikhail Youzhny.
Lost in all the drama we've seen over the past dozen days -- the collision of the Williams sisters, the ever-ending Novak Djokovic saga and all those late-night matches -- is this tantalizing thought: Nadal could be on the verge of one of the greatest seasons in history.
If he manages to beat Andy Murray in the semifinal scheduled for Saturday -- heavy rain threatens to push that match to Sunday -- and prevail over the Djokovic-Federer winner in the final, Nadal will have won three of the season's four majors, plus the Olympics. Only Rod Laver, Pete Sampras and Federer have won three consecutive Grand Slams in the Open era.
If that happens, how "special" will Nadal's motivation be come January and the Australian Open? No, it's not a ridiculous stretch to imagine a clean sweep; call it the Rafa Golden Slam.
"That," said USA Network analyst Jim Courier, "would be impressive. Rafa has worked hard to improve his game."
Keeping the focus on 2008, where would Nadal's success so far this season fall in the context of the greatest seasons ever?
"Hmmm," said Courier, thinking. "Probably as good as any of Roger Federer's triple-Slam years. I mean, if the Olympics had been held the last two years, he would have won that tournament, too."
Fair enough. The gold-standard of the Open era, of course, is Steffi Graf's Golden Slam of 1988, when she won tennis' five most important titles. Laver won all four majors in 1969, but tennis was not an Olympic sport at that time.
Federer's three-Slam seasons came in 2004, 2006 and 2007. Let's break them down:
In 2004, he won the Australian, Wimbledon and the U.S. Open, but lost in the third round at Roland Garros to three-time champion Gutavo Kuerten in the third round. He also fell to Tomas Berdych in the second round of the Olympics in Athens. In 2006 and 2007, it was Nadal who personally prevented a Federer Grand Slam, knocking him off in the final of the French Open each time.
Nadal arrived at the U.S. Open carrying a lot of baggage, in the form of fatigue. His five matches here ran his season total to 83 -- far ahead of Djokovic (70), Federer (64) and Murray (53), the other semifinalists. Still, he has dropped only two sets, and looked convincingly like a top seed.
Murray, 21, is starting to play like a future Grand Slam champion. Still only 21, he reached his first major quarterfinal at Wimbledon -- where he lost to Nadal in straight sets. Now Murray has advanced to his first Grand Slam semifinal and Nadal is waiting for him again.
Nadal owns the head-to-head record, 5-0, and has won his past 10 sets against Murray.
"The one thing I need to improve is to return better," Murray said. "That's the only thing that I need to do. The match at Wimbledon, if I take that away, the times I've played him on hard courts, I've had quite a few close sets, really tough matches."
[+] Enlarge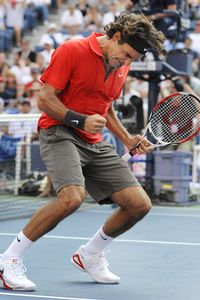 Timothy A. Clary/AFP/Getty ImagesDespite a season of travails, Roger Federer is a win away from his third straight Grand Slam final.
And who would emerge from the other semifinal? It's truly a 50-50 match, since Federer and Djokovic have split their past four matches. They also split their past two Grand Slam matches, with Federer prevailing in last year's U.S. Open final and Djokovic returning the favor four months later in the semifinals in Melbourne.
Federer made no secret of his hope that Andy Roddick would be his semifinal opponent -- maybe that's because he has won 15 of 17 matches against the 26-year-old American. The last time he met Djokovic was at Monte Carlo, when Djokovic retired in the middle of the second set.
"I hope this time around it's going to be something similar to the [2007] U.S. Open, hard-fought tennis from the baseline," Federer said. "He's definitely gained in experience. He's played in bigger matches, deep into tournaments. So things have changed for him, no doubt.
"He's never won in the U.S. Open, so I have that over him."
Indeed, Federer is the four-time defending champion here, but he has struggled all season to throw off the effects of mononucleosis. If the No. 3-ranked Djokovic prevails, he would trade places with No. 2 Federer in the rankings and destabilize an already volatile dynamic at the top.
Nadal, still tired from playing in Beijing, has expressed unhappiness with his form. That doesn't mean he's not happy to be alive here.
"If I'm not happy and I'm in the semifinals of [the] U.S. Open, I'm going to be very stupid, no?" Nadal said. "I'm not playing at the same level like Beijing.
"But if I'm in the semifinals, for sure, I'm doing well. Important thing: I have another match to try and improve a little bit more."
And if he does, his seventh and final match on the Arthur Ashe Stadium court will be filled with superb possibility. History will be watching from the front row.
Greg Garber is a senior writer for ESPN.com.
Writer, Reporter
Greg Garber joined ESPN in 1991 and provides reports for NFL Countdown and SportsCenter. He is also a regular contributor to Outside the Lines and a senior writer for ESPN.com.
U.S. OPEN 2008

Aug. 25-Sept. 7
Defending championsWomen:
Justine Henin
Men:
Roger Federer
USTA
•
Live scores
•&nbsp
Interactive draws
•&nbsp
Schedule of play
•&nbsp
Photo galleries
Tuesday, Sept. 9
•
Ratings down for pushed-back men's final
Monday, Sept. 8
•
Federer wins 5th straight U.S. Open, 13th Slam
•
Garber: Massive effort by Federer
•
Ubha: With new team, Murray has flourished
•
Whittell: Brits' response to Murray mixed
•
Ubha: U.S. Open men's live analysis
•
Watch: Federer wins fifth straight U.S. Open
•
Watch: Advantage Luke Jensen
Sunday, Sept. 7
•
Men
|
Women
•
Ford: Andy Murray descends on game's elite
•
Who will win the U.S. Open men's singles final?
•
Ubha: U.S. Open women's live analysis
•
Black, Huber win women's doubles championship
•
Bodo: Don't discount Jelena
Saturday, Sept. 6
•
Men
•
Who will win the U.S. Open women's singles final?
•
Rain delays Serena-Jankovic final until Sunday
•
Ford: New adventures of old Roger
•
Ubha: Rain wreaks havoc on U.S. Open
Friday, Sept. 5
•
Who will win the U.S. Open women's singles final?
•
Ford: Charisma aplenty for U.S. Open finalists
•
Garber: Men's semifinal preview
•
Ubha: Meet tennis' bad boys
•
Serena, Jankovic to meet in women's final
•
Storm fears force first men's semi to be moved
•
Bryan brothers win men's doubles championship
•
Djokovic goes from cheers to jeers at U.S. Open
Thursday, Sept. 4
•
Garber: Incendiary Djoker comments elicit boos
•
Ford: Roddick finally playing with confidence
•
Garber: Women's semifinals preview
•
Ford: Winning title paramount for Federer
•
Djokovic, Federer to meet in semifinals
•
Paes, Black win mixed doubles championship
•
Serena chasing ninth Slam title, No. 1 rank
•
Racket abuse reaches epic proportions
Wednesday, Sept. 3
•
Men
|
Women
•
Garber: Another empathic Williams sisters battle
•
Paes in men's doubles, mixed doubles finals
•
Garber: Is Djokovic really ailing?
•
Notebook: Scott: Tried to "bridge the gap"
•
Ubha: What we learned Wednesday
•
Star Watch: Dementieva serving lights out
•
Watch: Men's quarterfinal preview
Tuesday, Sept. 2
•
Men
|
Women
•
The great debate: Which Williams sister will win?
•
Ubha: What we learned from Tuesday's Big Five
•
Chip and Charge: U.S. Open edition
•
Star Watch: Murray's progression
•
Garber: Ragged Federer prevails over Robredo
•
Ford: Davydenko has no answers for Muller
•
Watch: Advantage Luke Jensen, Day 9
Monday, Sept. 1
•
Men
|
Women
•
Ford: Querrey put in big performance
•
Five things we learned, long weekend edition
•
Ford: Japanese teenager heats up his game
•
Star Watch: Djokovic, Jankovic, Boyz II Men?
•
Watch: Advantage Luke Jensen, Day 8
•
Watch: A talking Fish
Sunday, Aug. 31
•
Men
|
Women
•
Ford: U.S. Open midway report
•
Garber: Federer resolute in quest for title
•
Notebook: What to look forward to in Week 2
•
Star Watch: Muller lives on
•
Watch: What to expect in Week 2
•
Watch: Andy Roddick wins
•
See all U.S. Open Week 1 stories here
MOST SENT STORIES ON ESPN.COM