Commentary
Federer's emphatic statement at U.S. Open salvages deflated season
So close, yet so far. That was the theme of Roger Federer's season from the outset. But after a massive effort versus Andy Murray at the U.S. Open, the Swiss proved he is still a force to be reckoned with.
Updated:
September 9, 2008, 11:14 AM ET
By
Greg Garber
| ESPN.com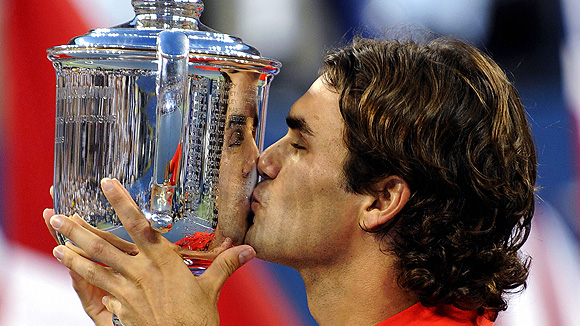 Timothy A. Clary/Getty ImagesThe U.S. Open title was the perfect -- and only -- antidote to Federer's otherwise gloomy season.
NEW YORK -- He has been variously described as vulnerable, beatable and, in extreme cases, finished.
All season long, going back to the Australian Open, Roger Federer has taken it in and refused to make excuses. The mononucleosis virus that infested him is gone, but the effects clearly lingered well into the summer.
Something was missing: His elegant, well-oiled movement, the crackling volleys, the sizzle on his forehand, the scintillation of his serve.
On Monday evening, the vintage champion returned. Like Carl Sandburg's "Fog," he rolled in on little cat feet; his footwork was extraordinary. His running forehand was again a velvet hammer, his volleys sang and his serve was sometimes impossible to read.
Federer throttled 21-year-old Andy Murray 6-2, 7-5, 6-2 to win his fifth consecutive U.S. Open title, something that was last achieved 84 years ago by Bill Tilden.
It was over in 1 hour, 51 minutes -- 13 minutes shorter than the two-set women's final -- the sporting equivalent of a bloodless coup. Spectators Jorge Posada and Johan Santana, even Tom Brokaw and Tony Bennett, surely, were never better than this.
And when his last overhead could not be returned, Federer fell to his knees, screaming with joy. He pitched forward, rolled over to his back, struggled to locate his box, then fell back, covering his face with his hands. When he took them away, the score hadn't changed. He had won his first Grand Slam in the last major of the year.
"I would have been disappointed losing today," Federer said. "You feel you missed an entire year, being so close and yet so far, because semis and finals don't help me a whole lot anymore in my career. That's why this is huge -- this is massive, really.
"It's a different type of flavor, this one, no doubt."
And what did Murray tell Federer when he congratulated him at the net?
Most Grand Slams, All Time
| | |
| --- | --- |
| Player | Grand Slams |
| Pete Sampras | 14 |
| Roger Federer | 13 |
| Roy Emerson | 12 |
| Bjorn Borg | 11 |
| Rod Laver | 11 |
| Bill Tilden | 10 |
"I said that I agreed with everyone that he's had a terrible year," Murray said, drawing laughter. "I told him that he had a phenomenal year, regardless of what anyone said."
The victory salvaged what has been Federer's most difficult season. He lost to Novak Djokovic in the semifinals in Melbourne, then watched Djokovic win the first Grand Slam of his career. Federer lost in the finals of the French Open and Wimbledon to Rafael Nadal, then saw him wrest away his No. 1 ranking.
This title doesn't change any of that, but it will be immensely satisfying, nevertheless. Federer, who came into the season thinking he might equal or break Pete Sampras' all-time record of 14 major titles, now finds himself just one behind. At the age of 27, he is the first man to win five successive titles at two different Grand Slams.
"It's been a tough summer," Federer said. "The French Open loss was brutal. Wimbledon, I was proud to be part of such a great match, but at the same time it just sort of made me sad, not having won that epic match. I lost quite a few matches I should never have lost.
"To bounce back, straightaway, after losing the No. 1 ranking, is the best scenario ever."
Murray won the boys singles title here in 2004, the same year Federer won his first title in New York, beating Lleyton Hewitt in a straight-sets annihilation that included two bagels. This wasn't quite as bad, but considering Murray's skills and his semifinal victory over Nadal, it was efficiently emphatic.
"I'm disappointed right now," Murray said. "Wish I'd done a few things differently."
Murray, who had won two of three previous matches against Federer, was working against the heavy weather of history. The last British man to win a Grand Slam title was Fred Perry, here in 1936.
Thanks to Tropical Storm Hanna, this was the first U.S. Open men's final to get pushed to Monday since 1987, when Ivan Lendl defeated Mats Wilander.
Federer benefited from the deluge, receiving 28 more hours of rest than Murray, who was forced to complete his semifinal match Sunday. Federer came out for the match focused and firing. His serve was so surgically precise that he won the opening game by hitting only two balls from the baseline.
Federer's footwork has long been overlooked and he has rarely been praised as the terrific defensive player he is. And yet, his break of Murray in the sixth game could be traced back to defense. Federer made a superb get, ranging far to his right. Not only did he get to the ball, but he hit it deep enough to force an errant forehand from Murray. That made it 4-2 and led to a capture of the first set in only 26 minutes.
"I didn't feel like I was [previously] moving that well," Federer said. "On hard courts, my coordination was missing a little bit. Here, as the tournament went on, I felt I was moving better and better. That also gave me a lot of confidence being able to know I could play defense and offense."
The match might have pivoted on a single point in the second set, with Federer serving at 2-all. Murray raced out to a love-40 lead before Federer saved the first break point. At 15-40, Federer hit a forehand that appeared long, but wasn't called by the linesman. A few strokes later, Federer hit a forehand winner to make it 30-40. A subsequent replay showed the ball to be well long, but because Murray didn't challenge the call immediately, the point remained Federer's. If it had been called out as it should have been, Murray would have earned a break and the complexion of the match might have changed dramatically.
"It was tough at the time," Murray said. "I mean, partly my fault, I didn't challenge the call."
Should a player have to challenge, just to get the correct call -- or should the system be tweaked to make all calls?
[+] Enlarge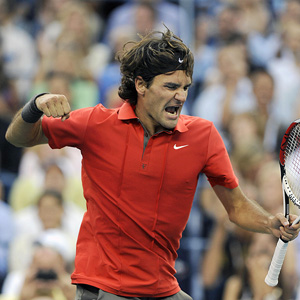 Timothy A. Clary/Getty ImagesRoger Federer became the first player since Bill Tilden in 1924 to win five consecutive U.S. Open titles.
"No," Murray said. "I think it works pretty well. Sometimes in a point it's rough to stop the point when you're in it, just to have a look."
As it was, Federer broke Murray at 5-6, lacing a running forehand down the line as Murray stood frozen at the net. The third set wasn't even remotely close.
On court, Murray called Federer the greatest player ever. Afterward, he provided evidence.
"I was watching on the TV against [Igor] Andreev," Murray said. "They said when he wins the first set, he's won 144 matches and lost four. In the big tournaments, he never has early losses. He's been so dominant in terms of ranking."
Federer reiterated what has become his mantra in recent months -- in the constant face of doubters -- that he never lost faith in his ability to win the major tournaments.
"I don't think it got to me, but I was aware of it," Federer said. "I'm a bit disappointed. Sometimes to a point a bit annoyed because all sorts of crazy people started writing to me, telling me I need some help, either mentally or physically. It's just a pain.
"For me, this sort of puts them to rest a little bit, calms down the phones at my parents' a bit, which I'm happy about."
In his on-court interview, Federer said, "I really feel tennis is in a great place."
He isn't kidding. Going forward, the 2009 season suddenly holds wonderful promise.
Can Nadal retain the No. 1 ranking, and can he make the final leap to a U.S. Open title? How much did that bout with mononucleosis really cost the No. 2-ranked Federer, who still managed to reach three of four major finals and the semifinal in the other? Will Djokovic, currently No. 3, add to his first career Grand Slam? And will Murray, now ranked No. 4, continue to raise the level of his game and make it the big four?
One helpful hint: In your calculations, do not again overlook Federer.
"I know I can play better," he said, "but it was good enough to win here at the U.S. Open. At the moment, obviously, I'm very confident."
Greg Garber is a senior writer for ESPN.com.
Writer, Reporter
Greg Garber joined ESPN in 1991 and provides reports for NFL Countdown and SportsCenter. He is also a regular contributor to Outside the Lines and a senior writer for ESPN.com.
SPONSORED HEADLINES
MORE TENNIS HEADLINES
MOST SENT STORIES ON ESPN.COM
U.S. OPEN 2008

Aug. 25-Sept. 7
Defending championsWomen:
Justine Henin
Men:
Roger Federer
USTA
•
Live scores
•&nbsp
Interactive draws
•&nbsp
Schedule of play
•&nbsp
Photo galleries
Tuesday, Sept. 9
•
Ratings down for pushed-back men's final
Monday, Sept. 8
•
Federer wins 5th straight U.S. Open, 13th Slam
•
Garber: Massive effort by Federer
•
Ubha: With new team, Murray has flourished
•
Whittell: Brits' response to Murray mixed
•
Ubha: U.S. Open men's live analysis
•
Watch: Federer wins fifth straight U.S. Open
•
Watch: Advantage Luke Jensen
Sunday, Sept. 7
•
Men
|
Women
•
Ford: Andy Murray descends on game's elite
•
Who will win the U.S. Open men's singles final?
•
Ubha: U.S. Open women's live analysis
•
Black, Huber win women's doubles championship
•
Bodo: Don't discount Jelena
Saturday, Sept. 6
•
Men
•
Who will win the U.S. Open women's singles final?
•
Rain delays Serena-Jankovic final until Sunday
•
Ford: New adventures of old Roger
•
Ubha: Rain wreaks havoc on U.S. Open
Friday, Sept. 5
•
Who will win the U.S. Open women's singles final?
•
Ford: Charisma aplenty for U.S. Open finalists
•
Garber: Men's semifinal preview
•
Ubha: Meet tennis' bad boys
•
Serena, Jankovic to meet in women's final
•
Storm fears force first men's semi to be moved
•
Bryan brothers win men's doubles championship
•
Djokovic goes from cheers to jeers at U.S. Open
Thursday, Sept. 4
•
Garber: Incendiary Djoker comments elicit boos
•
Ford: Roddick finally playing with confidence
•
Garber: Women's semifinals preview
•
Ford: Winning title paramount for Federer
•
Djokovic, Federer to meet in semifinals
•
Paes, Black win mixed doubles championship
•
Serena chasing ninth Slam title, No. 1 rank
•
Racket abuse reaches epic proportions
Wednesday, Sept. 3
•
Men
|
Women
•
Garber: Another empathic Williams sisters battle
•
Paes in men's doubles, mixed doubles finals
•
Garber: Is Djokovic really ailing?
•
Notebook: Scott: Tried to "bridge the gap"
•
Ubha: What we learned Wednesday
•
Star Watch: Dementieva serving lights out
•
Watch: Men's quarterfinal preview
Tuesday, Sept. 2
•
Men
|
Women
•
The great debate: Which Williams sister will win?
•
Ubha: What we learned from Tuesday's Big Five
•
Chip and Charge: U.S. Open edition
•
Star Watch: Murray's progression
•
Garber: Ragged Federer prevails over Robredo
•
Ford: Davydenko has no answers for Muller
•
Watch: Advantage Luke Jensen, Day 9
Monday, Sept. 1
•
Men
|
Women
•
Ford: Querrey put in big performance
•
Five things we learned, long weekend edition
•
Ford: Japanese teenager heats up his game
•
Star Watch: Djokovic, Jankovic, Boyz II Men?
•
Watch: Advantage Luke Jensen, Day 8
•
Watch: A talking Fish
Sunday, Aug. 31
•
Men
|
Women
•
Ford: U.S. Open midway report
•
Garber: Federer resolute in quest for title
•
Notebook: What to look forward to in Week 2
•
Star Watch: Muller lives on
•
Watch: What to expect in Week 2
•
Watch: Andy Roddick wins
•
See all U.S. Open Week 1 stories here