Commentary
Nadal has an arduous task ahead to complete a dream season
From the Golden Boy, Rafael Nadal, to Elena Dementieva, the Beijing stars have plenty of reason to be exultant. But we can only surmise how that success will carry over to the U.S. Open.
Updated:
August 20, 2008, 1:41 PM ET
By
Sandra Harwitt
| Special to ESPN.com
BEIJING -- For the hottest properties on the tennis scene, the road to the U.S. Open this year did not wind through the United States as usual. Instead, the journey was highlighted by the sights and sounds of China, as in the Beijing 2008 Olympics. As has been the case since tennis returned to the Olympics at the Seoul 1988 Games, the results did not always run true to form, but that is what the Olympics are all about -- surprising outcomes, nationalistic pride and the world attempting to come together for one common cause of sporting greatness.
Now that the Games are over as far as the tennis is concerned, it's a perfect time to see where some of the Olympic medalists might stand at the U.S. Open as they board flights from Beijing to New York.
The Men

Spain's sensational matador: There's no denying that Rafael Nadal is the big man on campus these days, beginning his reign as world No. 1 on Monday. He seems to be able to do no wrong, and further proof of that was his ability to become the Golden Boy at the Olympics. He arrived in Beijing dog-tired from a long season of success and a lengthy trip from Cincinnati where he fell to Novak Djokovic in the semifinals. He signed up for a first day of practice with Tommy Robredo upon arrival, but after a little tennis and a little soccer a la tennis ball, he just sat courtside, trying to rejuvenate himself by sipping a drink under an umbrella. On that day he spoke to a few reporters in attendance and sounded concerned about his prospects for the Games. He needn't have worried, as he added Olympic gold to his recent fourth consecutive French Open title and first Wimbledon success. The U.S. Open has been Roger Federer's backyard court for the past four years, but the Swiss star also owned Wimbledon until Nadal showed his muscles last month. Somehow Rafa seems to defy logic and have an endless reserve of energy. While New York has never been a favorite forum for the Spaniard, he is having the season of his life and will go in as the top seed and the guy to beat.
[+] Enlarge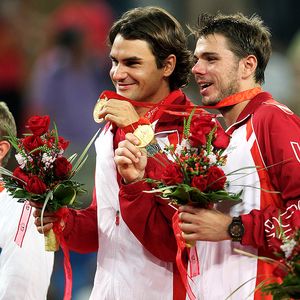 US PresswireThough his singles run in Beijing was a disappointment, Roger Federer, left, won the gold medal in doubles with partner Stanislas Wawrinka.
Swiss pride comes in doubles:
Who would've believed that a glorious moment of gold for Federer would be all about doubles instead of singles? When the great one -- on the eve of his first departure from the world No. 1 ranking since February 2004 -- fell in the singles quarterfinal, he looked disconsolate. But he put that loss out of his mind and became rabid about scoring gold in doubles with fellow top-tenner
Stanislas Wawrinka
. Fed was teary-eyed during the medal ceremony, but ritualistic. In a bizarre on-court celebration after their last two matches, Federer appeared to play the faith healer, making Wawrinka lie on the court while he seemed to pray and then run his hand over and just above his partner's body. There was a bit of an odd explanation of the scene from Federer, but it makes no matter. The doubles gold saved Federer's gloomy year, and there wasn't a happier guy in town. What Federer would like to do now is further salvage his year by winning a fifth consecutive U.S. Open trophy, which, surprisingly, would be his first Grand Slam trophy for the year. Federer goes into the Open knowing that Nadal is 2008's runaway train, and he might not be able to pull the emergency-stop lever. So whether the gold in doubles can make Federer golden at the Open shouldn't be written in stone, but it certainly is helping his confidence and spirit.
Drop the attitude: The biggest problem that Novak Djokovic has these days isn't his talent but his attitude. Last year his charming demeanor and humorous imitations made him something of the darling of the tour. This year he seems to be a little too arrogant. Case in point: Although tennis players aren't used to the Olympic concept of mixed zones, where reporters hang around an area right off the playing field to ask immediate questions of the athletes, most of the players, whether reluctantly or not, do their bit. Not Djokovic -- the best he'll say is "I don't do mixed zones" as he breezes by. That was a decision that reflected poorly on the Serb, most notably after his quarterfinal win versus Gael Monfils. Nevertheless, Djokovic took a bronze Olympic medal home, the first for Serbia in tennis. And he won't be forgetting that medal or the fact that he reached the U.S. Open final last year and won the Australian Open this year -- all on his preferred hard courts -- when he arrives in New York.
Medal momentum: Fernando Gonzalez has Olympic success written all over him. He arrived in Beijing as the reigning bronze medalist in singles and the gold medalist in doubles. He didn't go away empty-handed from this Olympics, going one better in singles to reel in the silver in a match where he offered some challenges to Nadal. The Chilean has a big game that he hasn't always been able to consistently handle, but he'll have momentum and belief at Flushing Meadows.
The Women

[+] Enlarge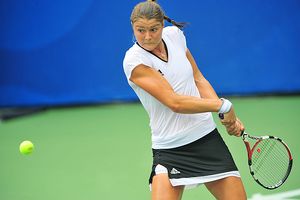 Sipa/AP ImagesDinara Safina's 15-match win streak was snapped in the Beijing final by Elena Dementieva.
Russians rule:
It seems like women's tennis is back to being dominated by Russians, if the Olympics tell the tale accurately.
Elena Dementieva
finally had her starring day at the Games, having lost out on the gold to
Venus Williams
in Sydney. Now her silver medal from 2000 will have to move over to make room for gold, after she beat out the red-hot
Dinara Safina
in the women's final. Safina had the more arduous schedule, playing singles and doubles, and couldn't perform to the standard she'd been setting leading into the Olympics. Reaching the French Open final and winning Los Angeles and Montreal, there was no doubt Safina was playing the best tennis of anyone on tour. But at the Olympics she had to settle for second-best.
Vera Zvonareva
, who only landed in the singles draw when
Maria Sharapova
pulled out of the competition with a shoulder injury, made good on her last-minute spot by scoring bronze over China's Li Na. The questionable Russian turned out to be 2004 U.S. Open champion
Svetlana Kuznetsova
, who went out to Li in the first round. If the Russians stay on course they could take a U.S. Open title home to Moscow, along with all their Olympic medals.
Family pact: It seems Serena and Venus Williams are playing the "If you do it, I'll do it" game, and not always for the best. The Olympics was just another example of that. On the busiest day of upsets at the Games, Serena and Venus made quarterfinal departures on the heels of Federer. It was the second time this year the sisters both exited a major event in the same round on the same day -- they performed that uninspiring trick in the third round at the French Open, too. But they certainly sent out a rallying cry to win a second gold medal in doubles. For Venus, who won gold in singles and doubles in Sydney, her doubles victory in China placed her into the record books as the only woman to win three gold medals in tennis. While the sisters looked happy, Venus, usually the more demure of the two, was clearly delighted by the achievement. Despite the early loss in singles, Venus looks in good shape for the U.S. Open. Serena, however, seems to be off her game.
Slumping Serbians: Representing Serbia, the top two players in the world were unsuccessful at Beijing. Ana Ivanovic was so bothered by a right thumb injury that she disappointedly decided she had to chuck the Olympic experience after attempting a few practices. The injury, which emerged at Wimbledon, is likely to be a factor at the Open, if she even takes to the courts. As for Jelena Jankovic, she played with a leg injury to the quarterfinals, where Safina sent her packing. Jankovic tends to be fragile, and while she is a battler on court, the Slams have not been friendly to her in the past. Expect Djokovic to have the best showing for the Serbs rather than the injured Ivanovic and Jankovic.
Sandra Harwitt is a freelance tennis writer for ESPN.com.
Sandra Harwitt is a freelance tennis writer for ESPN.com.
U.S. OPEN 2008

Aug. 25-Sept. 7
Defending championsWomen:
Justine Henin
Men:
Roger Federer
USTA
•
Live scores
•&nbsp
Interactive draws
•&nbsp
Schedule of play
•&nbsp
Photo galleries
Tuesday, Sept. 9
•
Ratings down for pushed-back men's final
Monday, Sept. 8
•
Federer wins 5th straight U.S. Open, 13th Slam
•
Garber: Massive effort by Federer
•
Ubha: With new team, Murray has flourished
•
Whittell: Brits' response to Murray mixed
•
Ubha: U.S. Open men's live analysis
•
Watch: Federer wins fifth straight U.S. Open
•
Watch: Advantage Luke Jensen
Sunday, Sept. 7
•
Men
|
Women
•
Ford: Andy Murray descends on game's elite
•
Who will win the U.S. Open men's singles final?
•
Ubha: U.S. Open women's live analysis
•
Black, Huber win women's doubles championship
•
Bodo: Don't discount Jelena
Saturday, Sept. 6
•
Men
•
Who will win the U.S. Open women's singles final?
•
Rain delays Serena-Jankovic final until Sunday
•
Ford: New adventures of old Roger
•
Ubha: Rain wreaks havoc on U.S. Open
Friday, Sept. 5
•
Who will win the U.S. Open women's singles final?
•
Ford: Charisma aplenty for U.S. Open finalists
•
Garber: Men's semifinal preview
•
Ubha: Meet tennis' bad boys
•
Serena, Jankovic to meet in women's final
•
Storm fears force first men's semi to be moved
•
Bryan brothers win men's doubles championship
•
Djokovic goes from cheers to jeers at U.S. Open
Thursday, Sept. 4
•
Garber: Incendiary Djoker comments elicit boos
•
Ford: Roddick finally playing with confidence
•
Garber: Women's semifinals preview
•
Ford: Winning title paramount for Federer
•
Djokovic, Federer to meet in semifinals
•
Paes, Black win mixed doubles championship
•
Serena chasing ninth Slam title, No. 1 rank
•
Racket abuse reaches epic proportions
Wednesday, Sept. 3
•
Men
|
Women
•
Garber: Another empathic Williams sisters battle
•
Paes in men's doubles, mixed doubles finals
•
Garber: Is Djokovic really ailing?
•
Notebook: Scott: Tried to "bridge the gap"
•
Ubha: What we learned Wednesday
•
Star Watch: Dementieva serving lights out
•
Watch: Men's quarterfinal preview
Tuesday, Sept. 2
•
Men
|
Women
•
The great debate: Which Williams sister will win?
•
Ubha: What we learned from Tuesday's Big Five
•
Chip and Charge: U.S. Open edition
•
Star Watch: Murray's progression
•
Garber: Ragged Federer prevails over Robredo
•
Ford: Davydenko has no answers for Muller
•
Watch: Advantage Luke Jensen, Day 9
Monday, Sept. 1
•
Men
|
Women
•
Ford: Querrey put in big performance
•
Five things we learned, long weekend edition
•
Ford: Japanese teenager heats up his game
•
Star Watch: Djokovic, Jankovic, Boyz II Men?
•
Watch: Advantage Luke Jensen, Day 8
•
Watch: A talking Fish
Sunday, Aug. 31
•
Men
|
Women
•
Ford: U.S. Open midway report
•
Garber: Federer resolute in quest for title
•
Notebook: What to look forward to in Week 2
•
Star Watch: Muller lives on
•
Watch: What to expect in Week 2
•
Watch: Andy Roddick wins
•
See all U.S. Open Week 1 stories here
MOST SENT STORIES ON ESPN.COM