Commentary
Scalding Del Potro has his sights set on U.S. Open
A bevy of struggling men and ailing women may allow some dark horses to inflict damage at the U.S. Open.
Updated:
August 21, 2008, 6:49 PM ET
By
Ravi Ubha
| Special to ESPN.com
Combining singles and doubles in a packed schedule at the Olympics in steamy Beijing is going to prevent a few pros from having ideal preparation for the U.S. Open, the season's final Grand Slam.
Apart from Rafael Nadal and Novak Djokovic, most of the big names on the men's tour are struggling, and most of the elite women are either hurt or returning from injuries.
There may be, then, a few upsets in New York, and here are a few who might do the damage.
Men

Juan Martin Del Potro: Don't include the Davis Cup and Argentina didn't have much to cheer about prior to July -- the injury-prone David Nalbandian has been the biggest disappointment by far. Del Potro is changing things, fast.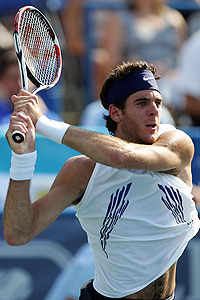 Jim McIsaac/Getty ImagesJuan Martin del Potro has won 19 consecutive matches and is the only teenager ranked inside the top 20.
The 19-year-old has won 19 consecutive matches and four straight tournaments -- two on clay and two on hard courts.
While he hasn't faced a top-five player during the streak, Del Potro did have to beat Richard Gasquet, out of his slump by then, and crowd favorite Jurgen Melzer to collect titles in Germany and Austria, respectively. In Los Angeles, Andy Roddick was his victim in the final. Del Potro's been touted as one of the game's future stars for a while.
Gilles Simon: Given its depth, it's little surprise that France always seems to have one guy playing relatively well. Jo-Wilfried Tsonga (come back soon) was a revelation at the Australian Open, Gael Monfils thrilled Les Bleus at Roland Garros and veteran Arnaud Clement was one of the feel-good stories of Wimbledon, reaching the quarters to resurrect his singles career. Simon is the latest to carry the baton, winning his first hard-court title at the Indianapolis Tennis Championships, then extending Roger Federer's misery at the Toronto Masters. He keeps the ball in play, moves effortlessly on the baseline and can change the pace.
Fernando Verdasco: The talented left-hander hasn't had the greatest summer hard-court season, though much of that must be due to fatigue. Verdasco has played nonstop since the French Open, winning his first title in four years, on clay, in Umag, Croatia, and was the top seed at this week's Pilot Pen event in New Haven, Conn.
If he's suitably refreshed, it's about time the 24-year-old makes a Grand Slam quarterfinal. The Spaniard was close at the French Open and Wimbledon, losing in the fourth round both times. In the latter, Verdasco blew a two-set lead to Mario Ancic.
Getting coaching help from his father, he went 13-3 in a monthlong stretch that began in mid-June.
Robby Ginepri: Ginepri held a 2-5 record entering this week's Pilot Pen, not exactly inspiring confidence. But the Georgia resident played world No. 3 Djokovic relatively tough in the opening round of the Olympics, did the same against world No. 4 David Ferrer in Toronto, and failed to serve it out against Federer in the second round in Cincinnati.
Ginepri's best result in a Grand Slam came at Flushing Meadows three years ago -- he reached the semifinals and lost an epic five-set duel to Andre Agassi. With the crowd behind Ginepri, the top seeds won't want to face the 25-year-old in the early rounds.
Women

Dominika Cibulkova: A tiny Slovak with a big heart, 5-foot-3 Cibulkova said one of her goals in 2008 was to start consistently beating players inside the top 30. The 19-year-old has done that and more, notching four victories over top-10 foes, getting the ball rolling with a straight-sets win over Wimbledon champ Venus Williams in Doha, Qatar, in February and upsetting the likes of Jelena Jankovic and Elena Dementieva as she reached her first Tier I final this month at Montreal's Rogers Cup.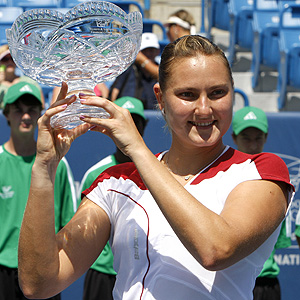 AP Photo/David KohlAfter a prolonged title drought, Nadia Petrova won her first tournament of the year in Cincinnati.
Nadia Petrova:
Russian women weren't celebrating only in Beijing last week. Petrova captured her first title in a year and a half, claiming Cincinnati's Western & Southern Financial Group Women's Open, dropping just one set. Indeed it's only a Tier III event and all the big guns were in China, but the victory maintained the combustible 26-year-old's momentum post Roland Garros. (Take away January's Australian Open and Petrova began 2008 with six straight losses.) Don't forget Petrova was a serious Grand Slam contender before a hip injury surfaced prior to the French Open two years ago.
Li Na: Li gave fans a glimpse of what she can do when healthy, eliminating a rusty Venus Williams in front of her home fans in Beijing. After losing in the quarterfinals 7-5, 7-5, Williams proclaimed Li played the "match of her life."
Unfortunately, the 26-year-old hasn't been healthy that often, missing the second half of 2007 with a rib injury and much of the first half of 2008 with a knee injury that necessitated surgery.
A power baseliner prone to lapses in concentration, Li became China's first singles Grand Slam quarterfinalist at Wimbledon two years ago.
Aleksandra Wozniak: Wozniak gave Canadian tennis a much-needed boost last month by winning California's Bank of the West Classic, becoming the fifth Canuck to claim a WTA singles title and the first in 20 years.
The former junior No. 3 rode her luck, benefiting from a Serena Williams retirement in the semifinals and facing an injured Marion Bartoli in the finale, although she may have earned it: Wozniak had to qualify and thus won a staggering eight matches that week. Not too surprisingly, the 20-year-old managed to take just one game in her next match days later.
Following a disappointing Rogers Cup on home soil, Wozniak responded by reaching the quarterfinals in Cincinnati, losing to eventual finalist Nathalie Dechy.
Ravi Ubha is a frequent contributor to ESPN.com.
U.S. OPEN 2008

Aug. 25-Sept. 7
Defending championsWomen:
Justine Henin
Men:
Roger Federer
USTA
•
Live scores
•&nbsp
Interactive draws
•&nbsp
Schedule of play
•&nbsp
Photo galleries
Tuesday, Sept. 9
•
Ratings down for pushed-back men's final
Monday, Sept. 8
•
Federer wins 5th straight U.S. Open, 13th Slam
•
Garber: Massive effort by Federer
•
Ubha: With new team, Murray has flourished
•
Whittell: Brits' response to Murray mixed
•
Ubha: U.S. Open men's live analysis
•
Watch: Federer wins fifth straight U.S. Open
•
Watch: Advantage Luke Jensen
Sunday, Sept. 7
•
Men
|
Women
•
Ford: Andy Murray descends on game's elite
•
Who will win the U.S. Open men's singles final?
•
Ubha: U.S. Open women's live analysis
•
Black, Huber win women's doubles championship
•
Bodo: Don't discount Jelena
Saturday, Sept. 6
•
Men
•
Who will win the U.S. Open women's singles final?
•
Rain delays Serena-Jankovic final until Sunday
•
Ford: New adventures of old Roger
•
Ubha: Rain wreaks havoc on U.S. Open
Friday, Sept. 5
•
Who will win the U.S. Open women's singles final?
•
Ford: Charisma aplenty for U.S. Open finalists
•
Garber: Men's semifinal preview
•
Ubha: Meet tennis' bad boys
•
Serena, Jankovic to meet in women's final
•
Storm fears force first men's semi to be moved
•
Bryan brothers win men's doubles championship
•
Djokovic goes from cheers to jeers at U.S. Open
Thursday, Sept. 4
•
Garber: Incendiary Djoker comments elicit boos
•
Ford: Roddick finally playing with confidence
•
Garber: Women's semifinals preview
•
Ford: Winning title paramount for Federer
•
Djokovic, Federer to meet in semifinals
•
Paes, Black win mixed doubles championship
•
Serena chasing ninth Slam title, No. 1 rank
•
Racket abuse reaches epic proportions
Wednesday, Sept. 3
•
Men
|
Women
•
Garber: Another empathic Williams sisters battle
•
Paes in men's doubles, mixed doubles finals
•
Garber: Is Djokovic really ailing?
•
Notebook: Scott: Tried to "bridge the gap"
•
Ubha: What we learned Wednesday
•
Star Watch: Dementieva serving lights out
•
Watch: Men's quarterfinal preview
Tuesday, Sept. 2
•
Men
|
Women
•
The great debate: Which Williams sister will win?
•
Ubha: What we learned from Tuesday's Big Five
•
Chip and Charge: U.S. Open edition
•
Star Watch: Murray's progression
•
Garber: Ragged Federer prevails over Robredo
•
Ford: Davydenko has no answers for Muller
•
Watch: Advantage Luke Jensen, Day 9
Monday, Sept. 1
•
Men
|
Women
•
Ford: Querrey put in big performance
•
Five things we learned, long weekend edition
•
Ford: Japanese teenager heats up his game
•
Star Watch: Djokovic, Jankovic, Boyz II Men?
•
Watch: Advantage Luke Jensen, Day 8
•
Watch: A talking Fish
Sunday, Aug. 31
•
Men
|
Women
•
Ford: U.S. Open midway report
•
Garber: Federer resolute in quest for title
•
Notebook: What to look forward to in Week 2
•
Star Watch: Muller lives on
•
Watch: What to expect in Week 2
•
Watch: Andy Roddick wins
•
See all U.S. Open Week 1 stories here
MOST SENT STORIES ON ESPN.COM