Commentary
Time is ripe for Safina to take advantage of ailing tour members
A majority of the game's top stars will limp into the U.S. Open, leaving the door wide open for red-hot Dinara Safina to claim her first major.
Updated:
August 21, 2008, 9:15 PM ET
By
Ravi Ubha
| Special to ESPN.com
Tournament: U.S. Open
Surface: Hard
Draw: 128
Top seeds: Ana Ivanovic, Jelena Jankovic, Svetlana Kuznetsova, Serena Williams
Who's on first? Ana Ivanovic, for the time being, in what's turned out to be a wacky season in the women's game.
Ivanovic missed the Olympics with a thumb injury, fellow Serb Jelena Jankovic's is dealing with a calf strain and the Williams sisters have gimpy knees. Much like the Olympics, it's a battle of the fittest.
Jankovic, if healthy, won't have a better chance to reach a first Grand Slam final. Almost all of the major contenders are in Ivanovic's top half.
[+] Enlarge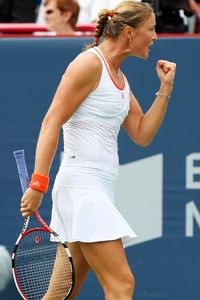 Elsa/Getty ImagesDinara Safina has won three titles this summer and was a silver medalist in Beijing.
First quarter: Safina in pole position
After winning a silver medal at the Olympics,
Dinara Safina
lavished heavy praise on her coach, Zeljko Krajan.
"I have to thank God that I met him,'' Safina said.
Imagine her words if the Russian can win a Grand Slam.
Safina, who, not surprisingly, admitted she was tired following a hectic three months, is still the hottest player in the women's game -- and vitally, healthy.
There's little early danger for the Russian. In fact, French teen Alize Cornet, better on clay, appears to be her only road block before the quarterfinals.
Ivanovic is meant to be waiting, though the thumb injury puts that into question. Big-hitting Aussie Casey Dellacqua looms in the second round, sentimental favorite Amelie Mauresmo might surface in the third and dark horse Nadia Petrova is a potential opponent in the fourth.
Prediction: Safina
Second quarter: Williams & Williams
We could be in store for a first Grand Slam quarterfinal meeting between sisters Venus and Serena Williams. Both show up in this section.
Like Safina, Serena, who blew a set and break lead to eventual champion Elena Dementieva in the Olympic quarterfinals, has an easy looking first three rounds. Ukraine's Julia Vakulenko, a possible second-round foe and one of the breakout performers of 2007, has gone 3-10 in 2008 thanks largely to a wrist injury.
Venus starts against the attacking Samantha Stosur -- Serena crushed the Aussie in Beijing -- and is slated to face 27th seed Alona Bondarenko, a doubles opponent in China, in the third round. Bondarenko has cooled in the second half of 2008.
To the fourth round, then, and if Venus is off her game slightly (remember, she hasn't won a non-grass-court major since 2001), Pole Agnieszka Radwanska or feisty Slovak Dominika Cibulkova, two teenagers, could knock her off.
Serena over Cibulkova in the fourth round.
Prediction: Serena Williams
Third quarter: It's up to Elena
Here's what Dementieva had to say after winning gold in China: "That was the biggest goal in my career. I don't know what to dream about [now]. There is nothing compared to the gold medal, nothing.''
Hmm. You think she'll be motivated for New York?
If not, Italian wall Francesca Schiavone should fancy her chances in the third round. If yes, Dementieva should ease into the quarterfinals. Her only serious threat is the slumping third-seed Svetlana Kuznetsova, last year's finalist. Other seeds in the not-so-packed section are Schiavone, Shahar Peer, Anna Chakvetadze, Patty Schnyder, Maria Kirilenko and Katarina Srebotnik.
Peer and the inconsistent Kirilenko face tough first-round opponents in Li Na and Tamira Paszek, respectively.
Prediction: Kuznetsova
Fourth quarter: Jelena's gift
A few dark horses lurk in Jankovic's quarter, but the No. 2 should cope -- again, assuming the calf is better.
Jankovic, so nearly a U.S. Open finalist two years ago, potentially faces Chinese battler Zheng Jie in the third round. In the fourth, it could be either Victoria Azarenka or fellow teen Caroline Wozniacki, on the other side of the net at Wimbledon when Jankovic fell badly and hurt her knee.
Another sentimental favorite, Lindsay Davenport, the 1998 champion hindered by a knee injury herself, has a tough start against rising Canadian Aleksandra Wozniak.
Given her path, Vera Zvonareva, seeded eighth, has a decent shot of following up her Olympic bronze with a fourth-round showing.
Prediction: Jankovic
Semifinals
Kuznetsova, the 2004 U.S. Open champion, has had trouble winning big matches the last two years; Jankovic is in the same boat.
Just imagine how much fun watching this one would be.
For what it's worth, Kuznetsova leads their head-to-heads 3-2. Safina downed Williams the last time they met, on clay this year, which won't hurt her confidence. At this point, she's also the steadier.
Prediction: Safina, Jankovic to advance
Final
Safina got her feet wet at the French Open, when the tennis gods were seemingly on her side, by reaching a first Grand Slam final. Instead of suffering a letdown, she's only improved. If Safina is on her game, Jankovic will struggle, as she does with other big hitters.
Prediction: Safina
Ravi Ubha is a frequent contributor to ESPN.com.
SPONSORED HEADLINES
MORE TENNIS HEADLINES
MOST SENT STORIES ON ESPN.COM
U.S. OPEN 2008

Aug. 25-Sept. 7
Defending championsWomen:
Justine Henin
Men:
Roger Federer
USTA
•
Live scores
•&nbsp
Interactive draws
•&nbsp
Schedule of play
•&nbsp
Photo galleries
Tuesday, Sept. 9
•
Ratings down for pushed-back men's final
Monday, Sept. 8
•
Federer wins 5th straight U.S. Open, 13th Slam
•
Garber: Massive effort by Federer
•
Ubha: With new team, Murray has flourished
•
Whittell: Brits' response to Murray mixed
•
Ubha: U.S. Open men's live analysis
•
Watch: Federer wins fifth straight U.S. Open
•
Watch: Advantage Luke Jensen
Sunday, Sept. 7
•
Men
|
Women
•
Ford: Andy Murray descends on game's elite
•
Who will win the U.S. Open men's singles final?
•
Ubha: U.S. Open women's live analysis
•
Black, Huber win women's doubles championship
•
Bodo: Don't discount Jelena
Saturday, Sept. 6
•
Men
•
Who will win the U.S. Open women's singles final?
•
Rain delays Serena-Jankovic final until Sunday
•
Ford: New adventures of old Roger
•
Ubha: Rain wreaks havoc on U.S. Open
Friday, Sept. 5
•
Who will win the U.S. Open women's singles final?
•
Ford: Charisma aplenty for U.S. Open finalists
•
Garber: Men's semifinal preview
•
Ubha: Meet tennis' bad boys
•
Serena, Jankovic to meet in women's final
•
Storm fears force first men's semi to be moved
•
Bryan brothers win men's doubles championship
•
Djokovic goes from cheers to jeers at U.S. Open
Thursday, Sept. 4
•
Garber: Incendiary Djoker comments elicit boos
•
Ford: Roddick finally playing with confidence
•
Garber: Women's semifinals preview
•
Ford: Winning title paramount for Federer
•
Djokovic, Federer to meet in semifinals
•
Paes, Black win mixed doubles championship
•
Serena chasing ninth Slam title, No. 1 rank
•
Racket abuse reaches epic proportions
Wednesday, Sept. 3
•
Men
|
Women
•
Garber: Another empathic Williams sisters battle
•
Paes in men's doubles, mixed doubles finals
•
Garber: Is Djokovic really ailing?
•
Notebook: Scott: Tried to "bridge the gap"
•
Ubha: What we learned Wednesday
•
Star Watch: Dementieva serving lights out
•
Watch: Men's quarterfinal preview
Tuesday, Sept. 2
•
Men
|
Women
•
The great debate: Which Williams sister will win?
•
Ubha: What we learned from Tuesday's Big Five
•
Chip and Charge: U.S. Open edition
•
Star Watch: Murray's progression
•
Garber: Ragged Federer prevails over Robredo
•
Ford: Davydenko has no answers for Muller
•
Watch: Advantage Luke Jensen, Day 9
Monday, Sept. 1
•
Men
|
Women
•
Ford: Querrey put in big performance
•
Five things we learned, long weekend edition
•
Ford: Japanese teenager heats up his game
•
Star Watch: Djokovic, Jankovic, Boyz II Men?
•
Watch: Advantage Luke Jensen, Day 8
•
Watch: A talking Fish
Sunday, Aug. 31
•
Men
|
Women
•
Ford: U.S. Open midway report
•
Garber: Federer resolute in quest for title
•
Notebook: What to look forward to in Week 2
•
Star Watch: Muller lives on
•
Watch: What to expect in Week 2
•
Watch: Andy Roddick wins
•
See all U.S. Open Week 1 stories here