Commentary
U.S. Open rife with drama, stellar play and controversy
While Roger Federer and Serena Williams vindicated their previously deflated seasons, there was plenty more that went down at the U.S. Open.
Updated:
September 9, 2008, 7:23 PM ET
By
Ravi Ubha
| Special to ESPN.com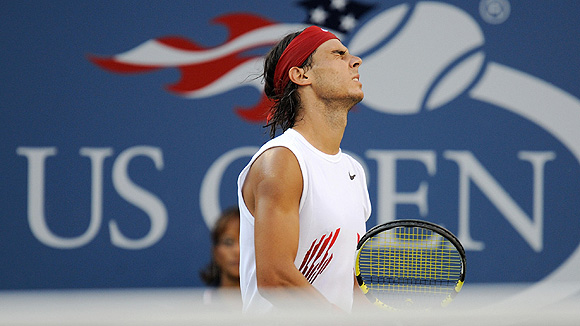 Don Emmert/Getty ImagesA clearly jaded Rafael Nadal had a memorable season despite his U.S. Open semifinals loss.
There was no way
Roger Federer
could go an entire season without winning a major, right? So it was proved at this year's eventful U.S. Open. Likewise,
Serena Williams
salvaged her campaign by taking the women's crown without dropping a set.
Before we look forward to such venues as Madrid, Paris, Tokyo and Moscow in the fall, here are a few things this U.S. Open taught us.
Federer is "still the one"
Or at least the Arthur Ashe stadium DJ thinks so.
At least three times last week, Federer was greeted with the tune following victories, something he took note of.
"It's great," the Swiss gushed. "The guy putting on the music being my fan, right?"
Federer had more backers than the DJ. On opening night, he received a standing ovation and the loudest cheers in the parade of champions.
Perhaps too many pounced on Federer when he was down, but how many will now say he's back? Novak Djokovic was jaded in the semis, Andy Murray was pooped in the final and Rafael Nadal was tired a long time ago.
Nadal ain't a robot
Murray sizzled against Nadal in the semis, but anyone who witnessed it knew the Spaniard was off form.
Take the first set: Almost unheard of, Nadal was minus-6 in the winners to unforced errors count. He played a shockingly bad second-set tiebreaker, too, punctuated by a pair of ghastly second-serve returns.
The problem for Nadal lingers: How does he fix his schedule to make sure he's fresh for the U.S. Open?
"Every year you guys ask me the same questions," he said. "If you want to be in the top positions you have [little chance to play less]. Do you think?"
Novak has some growing up to do
Last year at the Open, Djokovic was a hit. His tennis was breathtaking and his impersonations of Maria Sharapova and Nadal, among others, had the crowd cracking up. No one can blame him for being more serious -- he's a Grand Slam champion now -- but his "world is against me" attitude isn't flattering.
Then there are the injuries and injury timeouts, something opponents have brought up well before the recent fortnight.
Djokovic is a smart individual. Expect him to sort himself out in the future.
Roddick is a fighter
Andy Roddick limped into the Open.
He had little match practice, hampered by neck and shoulder injuries, and split with his coach, brother John, just before the event.
Still, faced with a tough draw that included baby-faced assassin Ernests Gulbis in the second round, Roddick battled his way to the quarterfinals. If he serves out the fourth set against Djokovic, and he led 30-0, the Nebraska native probably takes the fifth and is into the semis.
Let's see what Roddick does about his coaching situation.
Murray's got it
For those of you who only tuned in to the U.S. Open final, Murray can do much more than she showed. No matter what he says publicly, not having a day off between the semis and final, while Federer did, put the 21-year-old Scot at a major disadvantage in his first Grand Slam final.
He can do almost everything on the court -- rally from the baseline, come to the net, vary the pace, serve huge, potentially -- and it's only a matter of time before he puts it all together.
Serena doesn't lie
Without much thought for her opponents, you'll often hear Serena Williams say that if she plays her game, no one can stop her. It may sound cocky, but it's probably true.
Williams proved it by dismantling the hottest player on the circuit, Dinara Safina, in the semifinals, and outlasting sister Venus in the quarters.
"I've been practicing so hard all year," Serena said. "Sometimes I wake up at like 6 in the morning to go practice and it was too dark. I would have to wait until it gets light. It's just paying off."
Back at No. 1 following a five-year absence, we'll see how many majors Serena racks up in 2009.
[+] Enlarge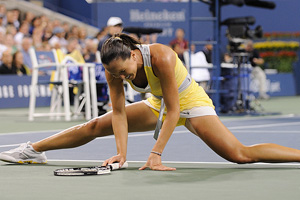 Don Emmert/Getty ImagesIf tennis doesn't work out for Jelena Jankovic, a future in acting is not a far stretch.
Jelena is made for Broadway
Has there ever been a more entertaining trophy presentation than what we witnessed Sunday evening?
Jelena Jankovic lost the women's final against Serena but stole the show by clowning around with emcee Mary Carillo. She joked about not knowing how much the runners-up check was worth, took an eternity to thank anyone and everyone and didn't want to leave the court.
The Serb was criticized by second-round opponent Sofia Arvidsson for not playing fair, she had to rally past Danish teen Caroline Wozniacki in the fourth round and she droned about her injury woes in 2008.
"I thought, you know, I should have gotten an Oscar for all this drama throughout the week," she said. "Despite getting a trophy, I should have gotten, you know, a trophy for the acting."
Williams vs. Williams keeps getting better
Jankovic is indeed all drama, but even she couldn't match the Williams versus Williams spectacle in New York.
Serena's 7-6 (6), 7-6 (8) win over Venus was so good that in the second tiebreaker, an appreciative crowd gave the pair a standing ovation following another tremendous rally. No other women come close to the sisters when it comes to athleticism.
Their other two matches this season weren't bad, either. Serena prevailed in a third-set tiebreaker at the Bangalore Open in March, and Venus took a high-quality Wimbledon final in July.
And notice that those postmatch hugs at the net are diminishing? It's all business now.
Weather forecasts mean nothing …
When it comes to U.S. Open officials, that is. They insisted they were closely monitoring Tropical Storm Hanna. Really?
Most everyone knew rain was coming Saturday, early in the afternoon, but top brass still decided not to start both men's semifinals at 11 a.m. ET.
Federer got the early nod and polished off Djokovic by 1:55 p.m. Nadal and Murray only started at 12:40 and were forced off about two hours later as the heavens opened. They had to resume Sunday.
The match took 3 hours, 30 minutes to finish, so had they begun Saturday at 11, it would have been done before the downpour and it would have been a more competitive final.
Ravi Ubha is a frequent contributor to ESPN.com.
U.S. OPEN 2008

Aug. 25-Sept. 7
Defending championsWomen:
Justine Henin
Men:
Roger Federer
USTA
•
Live scores
•&nbsp
Interactive draws
•&nbsp
Schedule of play
•&nbsp
Photo galleries
Tuesday, Sept. 9
•
Ratings down for pushed-back men's final
Monday, Sept. 8
•
Federer wins 5th straight U.S. Open, 13th Slam
•
Garber: Massive effort by Federer
•
Ubha: With new team, Murray has flourished
•
Whittell: Brits' response to Murray mixed
•
Ubha: U.S. Open men's live analysis
•
Watch: Federer wins fifth straight U.S. Open
•
Watch: Advantage Luke Jensen
Sunday, Sept. 7
•
Men
|
Women
•
Ford: Andy Murray descends on game's elite
•
Who will win the U.S. Open men's singles final?
•
Ubha: U.S. Open women's live analysis
•
Black, Huber win women's doubles championship
•
Bodo: Don't discount Jelena
Saturday, Sept. 6
•
Men
•
Who will win the U.S. Open women's singles final?
•
Rain delays Serena-Jankovic final until Sunday
•
Ford: New adventures of old Roger
•
Ubha: Rain wreaks havoc on U.S. Open
Friday, Sept. 5
•
Who will win the U.S. Open women's singles final?
•
Ford: Charisma aplenty for U.S. Open finalists
•
Garber: Men's semifinal preview
•
Ubha: Meet tennis' bad boys
•
Serena, Jankovic to meet in women's final
•
Storm fears force first men's semi to be moved
•
Bryan brothers win men's doubles championship
•
Djokovic goes from cheers to jeers at U.S. Open
Thursday, Sept. 4
•
Garber: Incendiary Djoker comments elicit boos
•
Ford: Roddick finally playing with confidence
•
Garber: Women's semifinals preview
•
Ford: Winning title paramount for Federer
•
Djokovic, Federer to meet in semifinals
•
Paes, Black win mixed doubles championship
•
Serena chasing ninth Slam title, No. 1 rank
•
Racket abuse reaches epic proportions
Wednesday, Sept. 3
•
Men
|
Women
•
Garber: Another empathic Williams sisters battle
•
Paes in men's doubles, mixed doubles finals
•
Garber: Is Djokovic really ailing?
•
Notebook: Scott: Tried to "bridge the gap"
•
Ubha: What we learned Wednesday
•
Star Watch: Dementieva serving lights out
•
Watch: Men's quarterfinal preview
Tuesday, Sept. 2
•
Men
|
Women
•
The great debate: Which Williams sister will win?
•
Ubha: What we learned from Tuesday's Big Five
•
Chip and Charge: U.S. Open edition
•
Star Watch: Murray's progression
•
Garber: Ragged Federer prevails over Robredo
•
Ford: Davydenko has no answers for Muller
•
Watch: Advantage Luke Jensen, Day 9
Monday, Sept. 1
•
Men
|
Women
•
Ford: Querrey put in big performance
•
Five things we learned, long weekend edition
•
Ford: Japanese teenager heats up his game
•
Star Watch: Djokovic, Jankovic, Boyz II Men?
•
Watch: Advantage Luke Jensen, Day 8
•
Watch: A talking Fish
Sunday, Aug. 31
•
Men
|
Women
•
Ford: U.S. Open midway report
•
Garber: Federer resolute in quest for title
•
Notebook: What to look forward to in Week 2
•
Star Watch: Muller lives on
•
Watch: What to expect in Week 2
•
Watch: Andy Roddick wins
•
See all U.S. Open Week 1 stories here