Commentary
Djokovic beats Roddick on court, trashes him off it
Novak Djokovic's racket did the talking in a four-set win over Andy Roddick on Thursday night, but it was his on-court rhetoric afterward that stirred the Big Apple crowd.
Updated:
September 5, 2008, 8:32 AM ET
By
Greg Garber
| ESPN.com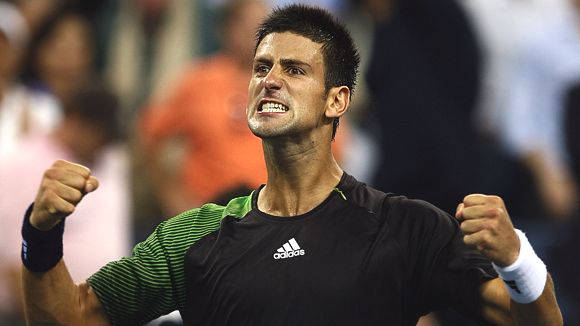 Chris McGrath/Getty ImagesIf tennis is looking for its unabashed bad boy, look no further than Novak Djokovic.
NEW YORK -- There was a nasty, physical smackdown Thursday night in the New York metropolitan area, but it wasn't the NFL season opener.
Just a few dozen miles from Giants Stadium, where the Giants quietly dispatched the Redskins, a serious beatdown occurred at the Billie Jean King National Tennis Center.
Novak Djokovic, stoked by quotes from Andy Roddick that suggested he was faking a variety of injuries, throttled Roddick 6-2, 6-3, 3-6, 7-6 (5) in the last men's quarterfinal match.
Minutes afterward, Djokovic trashed Roddick a second time in an on-court interview.
"You know, Andy was saying I have 16 injuries in the last match," Djokovic said stridently. "Obviously, I don't -- right?"
Then the boos, which had been reasonably restrained to that point, started to cascade from the pro-Roddick spectators at Arthur Ashe Stadium.
USA Network reporter Michael Barkann told Djokovic there was no reason to turn the crowd against him.
"They're already against me because they think I'm faking everything, so it's all right," Djokovic said, growing pricklier as the boos intensified.
"That's not nice, anyhow, to say in front of the crowd that I have 16 injuries and that I'm faking it," Djokovic continued.
The incendiary postmatch comments overshadowed a serious meltdown on Roddick's part that prevented a fifth set.
On Tuesday, Roddick had chided Djokovic about his many ailments -- two rolled ankles, a hyperextended hip, consistently labored breathing and a stomachache -- wondering aloud whether he had contracted the bird flu or SARS or perhaps come into contact with anthrax.
"He's either quick to call the trainer, or he's the most courageous guy of all time," Roddick told reporters. "I think it's up for you guys to decide."
Late Thursday night, Roddick said "I decided to make light of the situation. I'm sorry he took it that way. I don't think I was over the line. It wasn't my intention.
"Maybe I did him a favor tonight."
Roddick, citing Djokovic's antic impressions of Rafael Nadal and Maria Sharapova, added, "If you're going to joke and imitate other people, then you should take it. Take it with a smile -- that's the only part I don't get."
Later, Djokovic -- clearly emotional and seemingly genuine in his attempt to explain his remarks -- actually returned the apology to Roddick.
"Unfortunately, Andy made a statement," Djokovic said. "I don't think it was intentional. I don't blame it on him. I did react on the court. Maybe I reacted bad in that moment. I apologize. It was impulsive.
"I made maybe a mistake by saying that in front of 20,000 people in his city and his favorite tournament."
Djokovic, who really seemed affected by the boos, blamed his outburst on a rough couple of days.
"I had the very, very tough day yesterday," he said. "Physically, I was feeling very exhausted and empty. I wasn't able to practice.
"Mentally, a lot of pressure. I had a lot of emotions in the last two days. It's not nice when you get that from the media and players. I never made medical timeout because I wanted [to] distract the player or make the result look worse."
According to Djokovic, he and Roddick spoke in the locker room. He did not disclose the nature of their conversation, but his tone -- and Roddick's, too -- suggested that the two players had come to something of an understanding.
But back to that fourth-set brain cramp:
Serving for the set at 5-4, Roddick won the first two points with aces of 142 and 143 mph. He was two points from an ultimate set, but seemed to shrink from the moment. At 30-15, he double-faulted -- twice. Then, on break point, he rushed the net and helplessly watched Djokovic execute a perfect topspin lob to force 5-all.
"I doubled twice, but you know what, I don't think they were super-tight doubles. Just missed them. He hit a really good shot in break point. I was playing pretty high-risk/high-reward tennis to that point.
In retrospect, the match turned on that eye-blink fast three-point meltdown.
Considering the way it started, it was something of an upset that it even came to that. Twenty-seven minutes into the match, Djokovic did not seem exhausted or empty. He blew Roddick off the court, winning six of eight games. The odd thing: Roddick's serve, his calling card, was nonexistent.
[+] Enlarge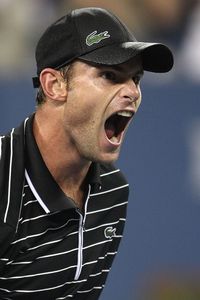 Nick Laham/Getty ImagesAndy Roddick was broken five times in a four-set loss to Novak Djokovic.
Coming into the match, Roddick had seen his serve broken three times in four matches. Djokovic broke Roddick three times in his first four service games. Although Roddick was hitting offerings upward of 130 miles an hour, Djokovic returned well. This seemed to unnerve Roddick, who finished the set with two awkward forehands, the first long and the second into the net.
The second set wasn't much better. Roddick was broken only once, but another weak forehand handed Djokovic a 5-3 lead. An unreturnable serve, of all things, gave Djokovic the set and, 62 minutes into the match, Roddick probably was considering his own call to the trainer.
But then Roddick seemed to find equilibrium. He settled down and started serving better. Djokovic's level fell off, and Roddick broke him in the fourth and eighth games of the third set and crawled back, ever so slightly, into the match before crashing out in the fourth.
For Roddick, it's an encouraging end to a long summer of undistinguished results. He's 26 now, and has gone five years without a major title after breaking through here in 2003.
For Djokovic, it's the ticket into Saturday's semifinals, where he'll play Roger Federer in a rematch of last year's U.S. Open final. A win in the final would give him two of the year's Grand Slams -- and, incredibly, the No. 2 ranking ahead of Federer.
Roddick was asked whether he wanted to handicap the Djokovic-Federer match.
He paused and, amid laughter from the assembled media, said, "I'm not touching anything."
Greg Garber is a senior writer for ESPN.com.
Writer, Reporter
Greg Garber joined ESPN in 1991 and provides reports for NFL Countdown and SportsCenter. He is also a regular contributor to Outside the Lines and a senior writer for ESPN.com.
SPONSORED HEADLINES
MORE TENNIS HEADLINES
MOST SENT STORIES ON ESPN.COM
U.S. OPEN 2008

Aug. 25-Sept. 7
Defending championsWomen:
Justine Henin
Men:
Roger Federer
USTA
•
Live scores
•&nbsp
Interactive draws
•&nbsp
Schedule of play
•&nbsp
Photo galleries
Tuesday, Sept. 9
•
Ratings down for pushed-back men's final
Monday, Sept. 8
•
Federer wins 5th straight U.S. Open, 13th Slam
•
Garber: Massive effort by Federer
•
Ubha: With new team, Murray has flourished
•
Whittell: Brits' response to Murray mixed
•
Ubha: U.S. Open men's live analysis
•
Watch: Federer wins fifth straight U.S. Open
•
Watch: Advantage Luke Jensen
Sunday, Sept. 7
•
Men
|
Women
•
Ford: Andy Murray descends on game's elite
•
Who will win the U.S. Open men's singles final?
•
Ubha: U.S. Open women's live analysis
•
Black, Huber win women's doubles championship
•
Bodo: Don't discount Jelena
Saturday, Sept. 6
•
Men
•
Who will win the U.S. Open women's singles final?
•
Rain delays Serena-Jankovic final until Sunday
•
Ford: New adventures of old Roger
•
Ubha: Rain wreaks havoc on U.S. Open
Friday, Sept. 5
•
Who will win the U.S. Open women's singles final?
•
Ford: Charisma aplenty for U.S. Open finalists
•
Garber: Men's semifinal preview
•
Ubha: Meet tennis' bad boys
•
Serena, Jankovic to meet in women's final
•
Storm fears force first men's semi to be moved
•
Bryan brothers win men's doubles championship
•
Djokovic goes from cheers to jeers at U.S. Open
Thursday, Sept. 4
•
Garber: Incendiary Djoker comments elicit boos
•
Ford: Roddick finally playing with confidence
•
Garber: Women's semifinals preview
•
Ford: Winning title paramount for Federer
•
Djokovic, Federer to meet in semifinals
•
Paes, Black win mixed doubles championship
•
Serena chasing ninth Slam title, No. 1 rank
•
Racket abuse reaches epic proportions
Wednesday, Sept. 3
•
Men
|
Women
•
Garber: Another empathic Williams sisters battle
•
Paes in men's doubles, mixed doubles finals
•
Garber: Is Djokovic really ailing?
•
Notebook: Scott: Tried to "bridge the gap"
•
Ubha: What we learned Wednesday
•
Star Watch: Dementieva serving lights out
•
Watch: Men's quarterfinal preview
Tuesday, Sept. 2
•
Men
|
Women
•
The great debate: Which Williams sister will win?
•
Ubha: What we learned from Tuesday's Big Five
•
Chip and Charge: U.S. Open edition
•
Star Watch: Murray's progression
•
Garber: Ragged Federer prevails over Robredo
•
Ford: Davydenko has no answers for Muller
•
Watch: Advantage Luke Jensen, Day 9
Monday, Sept. 1
•
Men
|
Women
•
Ford: Querrey put in big performance
•
Five things we learned, long weekend edition
•
Ford: Japanese teenager heats up his game
•
Star Watch: Djokovic, Jankovic, Boyz II Men?
•
Watch: Advantage Luke Jensen, Day 8
•
Watch: A talking Fish
Sunday, Aug. 31
•
Men
|
Women
•
Ford: U.S. Open midway report
•
Garber: Federer resolute in quest for title
•
Notebook: What to look forward to in Week 2
•
Star Watch: Muller lives on
•
Watch: What to expect in Week 2
•
Watch: Andy Roddick wins
•
See all U.S. Open Week 1 stories here