Commentary
Del Potro ready for Federer test?
Updated:
September 14, 2009, 12:53 PM ET
By
Greg Garber
| ESPN.com
NEW YORK -- Juan Martin del Potro stood in the middle of Arthur Ashe Stadium and tried to process all the thoughts and emotions coursing through his angular 6-foot-6 body.
"I think," the 20-year-old from Tandil, Argentina, said in a tremulous voice, "this is the best moment of my life."
It goes without saying that his mind-numbing 6-2, 6-2, 6-2 U.S. Open semifinal victory over No. 3 seed Rafael Nadal on Sunday afternoon was the finest of his brief career.
"Yes, I think so," said del Potro, the No. 6 seed. "I was so focused every moment. Rafa can run for five hours, six hours. I'm not very strong, but I do my best."
His opponent in Monday afternoon's U.S. Open final may be familiar. Roger Federer is seeking his sixth consecutive title at the Billie Jean King National Tennis Center after dispatching Novak Djokovic 7-6 (3), 7-5, 7-5 in the second semifinal.
Federer, who has won 40 consecutive matches here, made a spectacular running between-the-legs passing-shot winner past a flat-footed Djokovic to bring him to match point. He practices the shot, Federer said in an on-court interview, but it never works.
"[Del Potro] played wonderful today against Rafa," Federer said. "He's proved he's a Grand Slam contender. I'm looking forward to playing him."
Djokovic, as the score suggests, was extremely competitive. Federer, though, was better in the big moments. He won the first-set tiebreaker and broke Djokovic in the second and third sets when he was serving to reach another tiebreaker.
Del Potro's best previous Slam performance came earlier this year in Paris. He won two of the first three sets against Federer in the semifinals, but wilted on the red clay. But del Potro's strident game plays much better on the fast courts, and he is playing with unprecedented confidence.
Del Potro's best was responsible for Nadal's worst Grand Slam result ever. He'd won only seven games in a 2008 Australian Open semifinal against Jo-Wilfried Tsonga, but this was something entirely different.
Tweet, tweet
Don't miss a moment of the latest tennis coverage from around the world. Follow us on Twitter and stay informed. Join »
Nadal, who had failed to defend his French Open and Wimbledon titles earlier this year because of tendinitis in his knees, was suffering from an abdominal muscle tear that affected all parts of his game, particularly the serve. But the way del Potro was playing -- his forehand was so unhittable, like a pea coming from a slingshot, that it was hard to see -- Nadal might not have had a chance if he was completely healthy.
The word del Potro used to describe his game was "unbelievable."
It was powerfully reminiscent of the surprising ascendance of another 20-year-old here, Russian Marat Safin, who torched then-four-time champion Pete Sampras in the 2000 final. For the record, Sampras won 10 games.
Think this was a surprise? The Argentine has beaten Nadal three straight times since March and taken six straight sets.
When Rafa was asked about the role his abdominal injury played in the loss, he grimaced.
"[I'm] going to repeat: He played much better than me, and for that reason he beat me," he said. "Later, it sounds like an excuse, no?"
[+] Enlarge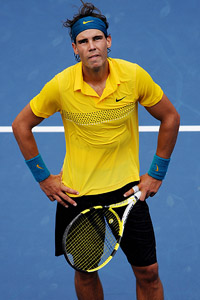 Stan Honda/Getty ImagesJuan Martin del Potro handed Rafael Nadal his worst career Grand Slam loss.
Nadal detailed his injury for the first time, saying he sustained a muscle strain on the right side in Montreal that evolved into a tear in Cincinnati.
"Was tough to play [a] few matches like this," he said. "But at same time … it's one of the most important tournaments of the year, and I had to try."
Del Potro came out of nowhere last summer, winning four consecutive tournaments and reaching the quarters here. That performance, at age 19, marked him as a potential Grand Slam winner.
He is athletic and agile, especially for his size, but del Potro has improved dramatically in two areas during the past six months:
• His serve has gotten so much bigger.
Against Nadal, he won 44 of 56 points on his first serve. He hit one 134 miles per hour and was not broken.
• His fitness level has changed the way he plays points. According to ESPN analyst Darren Cahill, previously, del Potro -- fearing long rallies -- would impatiently try for low-percentage shots to end points quickly. Now, he is comfortable rallying longer and works more deftly toward the winning stroke.
"You just don't see this on a tennis court, someone so big and so smooth," observed seven-time Grand Slam champion John McEnroe, adding that if he continues to improve, del Potro could win "multiple" Slams.
After losing to Lleyton Hewitt in the second round at Wimbledon, del Potro has won 17 of 18 matches. The only loss came in Montreal to Andy Murray, a finalist a year ago here.
Now, it's del Potro who has a chance to win his first major against a favored opponent. He is the youngest finalist here since Djokovic in 2007.
"It's part of my dream," del Potro said. "I'm very close to do it, but this moment is so nice.
"I hope to be [emotionally] quiet for tomorrow and enjoy the moment, but could be difficult for me, because I never play a Grand Slam final. But I have the game to win tomorrow."
Greg Garber is a senior writer for ESPN.com.
Writer, Reporter
Greg Garber joined ESPN in 1991 and provides reports for NFL Countdown and SportsCenter. He is also a regular contributor to Outside the Lines and a senior writer for ESPN.com.
2009 U.S. Open

2009 championsWomen's singles:
Kim Clijsters, Belgium
Men's singles:

Juan Martin del Potro, Argentina
Men's doubles:
Lukas Dlouhy, Czech Republic and Leander Paes, India
Women's doubles:
Serena and Venus Williams, United States
Mixed doubles:
Carly Gullickson and Travis Parrott, United States
Scoreboard
Slam Tracker
Follow us on Twitter
ESPN360.com
Slam Central
USTA
Latest news
Audio & Video
Photo gallery
U.S. Open shop
---
Day 15
Day 14
Day 13
Day 12
Day 11
Day 10
Day 9
Day 8
Day 7