Commentary
Vetting the women's Slam season
Originally Published:
September 16, 2009
By
Kamakshi Tandon
| Special to ESPN.com
The state of disarray on the WTA Tour was only exacerbated when unseeded Kim Clijsters, who took two years off from professional tennis, won the U.S. Open.
But it was an exciting season, nonetheless, with breakthroughs from a couple of burgeoning teenagers and the enhancement of the "is Dinara Safina worthy of the No. 1 ranking?" debate.
Here's where the top names in the game stand after the four majors:
Serena Williams: Triumph and a twist
Serena's Slam season ended in ignominy with her "foot default" against Clijsters in the U.S. Open semifinal, but stepping back from the drama of that incident reveals a record in the majors that stands well above the anarchic field.
The 27-year-old American was the only player on tour to win more than one Grand Slam this season, triumphing at the Australian Open and Wimbledon to bring her career tally to 11 majors. At the two Slams she didn't win, she lost to the eventual champion.
Tweet, tweet
Don't miss a moment of the latest tennis coverage from around the world. Follow us on Twitter and stay informed. Join »
On Saturday in New York, an up-and-down Serena was on the brink of defeat against the more consistently high-level Clijsters before melting down over an ill-timed foot fault call. The tirade resulted in a point penalty on match point and unleashed a storm of controversy over her behavior.
Did it sting more or less than if she had been definitively defeated by the new mom, who was playing just her third tournament after more than two years away?
Only Serena knows.
Dinara Safina: Scared of heights
What to make of Safina's downward spiral? She froze in the Australian Open final against Serena Williams, choked in the French Open final against Svetlana Kuznetsova, was numb in the Wimbledon semifinal against Venus Williams, and looked positively terror-stricken by the time Petra Kvitova put her out her misery in the third round of the U.S. Open.
The pressure and scrutiny of being a Slamless No. 1 really seems to have got to the Russian, who (apart from coach Zeljko Krajan) is her own harshest critic. Though reaching two finals means her results were technically better this year than last year, that last hurdle gets higher every time she falls short.
Venus Williams: The last stand?
Venus lost her last remaining stronghold when the two-time defending Wimbledon champion fell in the final this year. The fact that sister Serena was the one to beat her had to be some comfort, but the other three majors held no such consolation.
Venus fell to Carla Suarez Navarro in the second round of the Australian Open, Agnes Szavay in the third round of the French Open and Clijsters in the fourth round of the U.S. Open.
The seven-time Grand Slam champ remains a tough out and can never be completely discounted, but she hasn't won a major off grass since 2001. Always prone to injuries and now a real veteran at 29, she seems to have more down moments than hot streaks these days.
Elena Dementieva: Out of sync
Dementieva has faced Serena five times this year. Three times they have met at non-major events, and all three times Dementieva has won. Twice they have met in Slams, and both times Serena has won. And that has made all the difference between an excellent and average season for Dementieva.
[+] Enlarge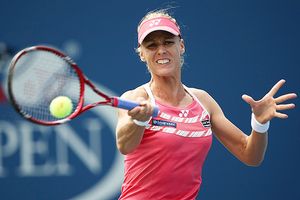 Al Bello/Getty ImagesElena Dementieva still remains one of the most accomplished players to have never won a Grand Slam title.
The Russian came out flat in their semifinal meeting at the Australian Open, and missed winning their three-set epic in the Wimbledon semis by an inch -- Serena saved match point with a volley that clipped the net before going over. Dementieva would have had a real chance to win her first Grand Slam title if she had won either of those contests, facing a nervous Safina or a hobbled Venus in the final.
Wimbledon aside, the 27-year-old didn't bring her best tennis to the big events. She has faded in and out this season, losing motivation in the spring leading up to the French Open and speculating that she may have "overplayed" coming into the U.S. Open. The result both times was an early-round loss.
Svetlana Kuznetsova: One and done
Like Dementieva, the 24-year-old Kuznetsova has met Serena twice in the Grand Slams this year. Unlike Dementieva, however, Kuznetsova managed to win one of those encounters and ended up going all the way to the title.
After blowing a big lead against Serena in Australia, Kuznetsova held on for a tight three-set win in Paris and went on to collect her first major title since her surprise title run at the U.S. Open in 2004.
But the Russian seemed to relax after her big win. She showed up poorly prepared at Wimbledon and made little impact during the hard-court summer swing, losing the chance to build momentum from her French victory.
The others
Breakouts: Supermom Clijsters may be the story of the year, ending a two-year retirement this summer to win the U.S. Open in just her third tournament back. U.S. Open finalist Caroline Wozniacki separated herself from the pack of young guns by becoming the first of the 20-and-unders to reach a Grand Slam final.
One good Slam: Dominika Cibulkova and Yanina Wickmayer were surprise semifinalists at the French and U.S. opens, respectively. Jelena Dokic, Vera Zvonareva and Sabine Lisicki also made deep runs before injury/illness derailed their seasons.
Letdowns: Plenty of nominees for this category. Jelena Jankovic didn't make a single Grand Slam quarterfinal this year, and compatriot Ana Ivanovic fared even worse, posting her first first-round loss at a major during the U.S. Open. Maria Sharapova's comeback from shoulder surgery has been shaky. Amelie Mauresmo looked to be on the cusp of a resurgence but quickly fell back with yet another first-round loss in Paris. And though Miami champ Victoria Azarenka posted some solid results at the majors, she must have been hoping for better than a pair of quarterfinal appearances.
Kamakshi Tandon is a freelance tennis writer for ESPN.com.
2009 U.S. Open

2009 championsWomen's singles:
Kim Clijsters, Belgium
Men's singles:

Juan Martin del Potro, Argentina
Men's doubles:
Lukas Dlouhy, Czech Republic and Leander Paes, India
Women's doubles:
Serena and Venus Williams, United States
Mixed doubles:
Carly Gullickson and Travis Parrott, United States
Scoreboard
Slam Tracker
Follow us on Twitter
ESPN360.com
Slam Central
USTA
Latest news
Audio & Video
Photo gallery
U.S. Open shop
---
Day 15
Day 14
Day 13
Day 12
Day 11
Day 10
Day 9
Day 8
Day 7
MOST SENT STORIES ON ESPN.COM