U.S. Open beefs up on-court security
Updated:
September 9, 2009, 10:57 PM ET
Associated Press
NEW YORK -- Stadium security was bulked up for Wednesday night's matches at the U.S. Open, a day after a man was arrested for running onto the court to kiss Rafael Nadal.
The total number of on-court private security personnel -- guards and supervisors -- was being increased from six to nine because of what happened Tuesday night.
Prosecutors said Noam U. Aorta of New York City dashed out of the stands at Arthur Ashe Stadium after Nadal's fourth-round win and then hugged and kissed the Spanish star as he was changing shirts on the sideline.
[+] Enlarge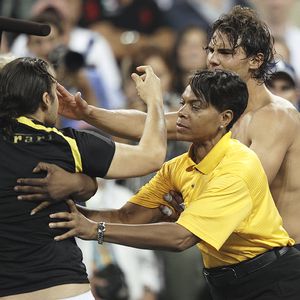 AP Photo/Charles KrupaAfter making his way oncourt toward Rafael Nadal, a man is rushed by a security guard at the U.S. Open.
Aorta will be charged with trespassing and faces possible jail time if convicted, prosecutors said.
"There was a breakdown," U.S. Open spokesman Chris Widmaier said.
Nadal, for his part, laughed off the episode, saying: "For me, it wasn't a problem. The guy was really nice. He said 'I love you' and he kissed me."
District Attorney Richard Brown, however, called it "particularly disturbing" because Aorta made physical contact with Nadal. Brown noted that Monica Seles was stabbed in the back in 1993 by a spectator on a tennis court in Hamburg, Germany.
Aorta, 23, of Queens, will be charged with third-degree criminal trespass and interfering with a professional sporting event, prosecutors said. If convicted, he faces a maximum one year in jail and $5,000 in fines.
Attorney information for Aorta wasn't immediately available.

Copyright 2009 by The Associated Press
2009 U.S. Open

2009 championsWomen's singles:
Kim Clijsters, Belgium
Men's singles:

Juan Martin del Potro, Argentina
Men's doubles:
Lukas Dlouhy, Czech Republic and Leander Paes, India
Women's doubles:
Serena and Venus Williams, United States
Mixed doubles:
Carly Gullickson and Travis Parrott, United States
Scoreboard
Slam Tracker
Follow us on Twitter
ESPN360.com
Slam Central
USTA
Latest news
Audio & Video
Photo gallery
U.S. Open shop
---
Day 15
Day 14
Day 13
Day 12
Day 11
Day 10
Day 9
Day 8
Day 7
MOST SENT STORIES ON ESPN.COM