Commentary
Wozniacki's game clean as a whistle
Updated:
September 6, 2010, 9:41 PM ET
By
Greg Garber
| ESPN.com
NEW YORK -- Maria Sharapova, a three-time Grand Slam singles winner, has made a career of thriving in the big moments. Mental toughness has been her calling card.
We take you now to the fourth game of Monday's fourth-round match with No. 1 seed Caroline Wozniacki. The willowy Russian was serving to level the match that had yet to find a rhythm, and she had a game point on her racket. And then, incredibly:
Double fault.
Double fault.
Double fault.
For comprehensive coverage of the Australian Open, check out Slam Central and stay informed with everything going on in Melbourne. More »
Six straight serves failed to find the mark and Wozniacki took a 3-1 lead that was never seriously challenged.
The 20-year-old Dane, who reached the finals here a year ago, would seem to have a clear path to return there after beating Sharapova 6-3, 6-4 at Arthur Ashe Stadium.
Her opponent in the quarterfinals is Dominika Cibulkova, who surprised 2004 U.S. Open champion Svetlana Kuznetsova 7-5, 7-6 (4). Her semifinals opponent would be either No. 7 seed Vera Zvonareva or No. 31 Kaia Kanepi, assuming Wozniacki gets that far.
It's been that kind of fortuitous year for Wozniacki, who has dropped only 10 games through four rounds here.
Sharapova made a dazzling array of mistakes for a match that was over in less than two hours. She had nine double faults -- including the break point that ruined her second set -- was a woeful 1-for-9 on break points and made 36 unforced errors.
Well, don't tell that to Wozniacki.
"I made her do those errors," Wozniacki said afterward. "I felt like I was playing well out there."
Indeed she was, playing as clean a game as you could wish for. Wozniacki's signature trait is not beating herself -- not giving away free points. On this evening, she was the anti-Sharapova, throwing in only 10 unforced errors and serving stronger than usual.
"I felt like I played a couple of good points and then, make an easy error, hit a return long or miss a first serve, give her many looks at second-serve returns," Sharapova said. "Didn't feel like I put too much pressure on her.
"Obviously, she's at the top of her game, playing her best tennis of her career. Never go into a match underestimating her ability."
And yet this has happened consistently as Wozniacki has risen to the top of the game.
[+] Enlarge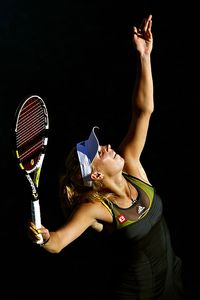 Clive Brunskill/Getty ImagesCaroline Wozniacki committed just 10 unforced errors versus Maria Sharapova.
A year ago, tennis writer Bud Collins dubbed her the Golden Retriever. It's an apt name, because Wozniacki is quick -- and pursues the ball relentlessly. One of the points against Sharapova required 29 strokes.
"For me it was important to keep as many balls in the court but still try to move her around and try to dictate as well," Wozniacki said. "I think I'm a really tough player. I never give up. Doesn't matter what the score is."
For Sharapova it was a disappointing conclusion to the Grand Slam season. She missed nine months with a shoulder injury and, at one point last year, fell to No. 126. This year she's gradually recovered her service speed, but has fallen short in the majors. She lost in the first round of the Australian Open and the third round at Roland Garros before reaching the fourth at Wimbledon -- losing to eventual champion Serena Williams. That performance, along with two finals appearances, in Stanford and Cincinnati, moved some people to pick her as the winner here.
"I think [my game] just needs to be more stable, and not so up and down -- especially against an opponent like her," Sharapova said. "I need to string a few more things together."
Two years ago, a 17-year-old Wozniacki met Sharapova in the fourth round at Rome. After dropping the first set, the Dane ran out to a 5-1 lead in the second -- and lost in a tiebreaker.
"It's two years ago," Wozniacki said. "It's a long time. I definitely believe that I am playing better than I was a year ago."
There's that word -- belief.
"I believe in myself more," Wozniacki said. "I believe I can do it.
"I feel like everything is possible."
Greg Garber is a senior writer for ESPN.com.
Writer, Reporter
Greg Garber joined ESPN in 1991 and provides reports for NFL Countdown and SportsCenter. He is also a regular contributor to Outside the Lines and a senior writer for ESPN.com.
U.S. Open 2010

2010 champions
Women's singles:
Kim Clijsters
Men's singles:
Rafael Nadal
Women's doubles:
Vania King and Yaroslava Shvedova
Men's doubles:
Bob and Mike Bryan
Mixed doubles:
Liezel Huber and Bob Bryan
The Pulse »
Slam Central »
Follow us on Twitter »
Watch: ESPN3.com
Slam Tracker »
Day 15
Day 14
Day 13
Day 12
Day 11
Day 10
Day 9
Day 8
Day 7
More
MORE FROM ESPN NEW YORK

Check out ESPN New York, your destination for sports coverage in the Big Apple.
MOST SENT STORIES ON ESPN.COM