Commentary
Sloppy Davydenko evokes past scandal
Updated:
September 2, 2010, 11:27 PM ET
By
LZ Granderson
| ESPN.com
NEW YORK -- When I looked at the area surrounding Richard Gasquet's chair during his second-round match against Nikolay Davydenko, I couldn't help but think: Man, what a slob.
Slam Central
For comprehensive coverage of the U.S. Open, check out Slam Central and stay informed about everything going on in Queens. More »
There were balled-up socks in small piles, a pair of shorts flung on a nearby chair, shoes, puddles of sweat -- and it got worse after the match started. It was a 180 from Davydenko, who meticulously placed everything back in its proper place at the end of each changeover.
Unfortunately, for the Russian, that neatness didn't translate to the match, as he committed 32 unforced errors to only 23 winners en route to a 6-3, 6-4, 6-2 defeat.
It was the "slob" who prevailed with absolutely beautiful play. With perhaps the best one-handed backhand on tour, Gasquet routinely took the ball early and crushed winners all over the court as Davydenko was left either scrambling hoping just to get a racket on the ball or simply standing in disbelief.
Equally as unbelievable were the number of drop shots No. 6 Davydenko dumped into the net, particularly in big moments. The result: 0-8 on break-point chances for Davydenko and 4-7 for Gasquet.
This was a battle between two players whose respective careers have been somewhat tainted by controversy. It was a pair of players whose integrity has been questioned by the tennis world. Gasquet was suspended three months last year for testing positive for cocaine. Davydenko was fined for not trying hard enough in an October 2007 match; he appealed and the fine was later rescinded. Earlier that year, he was accused of throwing a match in connection to a $7 million betting scandal.
Although Davydenko denied any wrongdoing, the ATP launched a lengthy match-fixing investigation. And to be quite honest, there were moments of sloppiness during his U.S. Open match when I wondered if Davydenko was indeed giving his all. Unfair, I know, but that's the problem when your name has been linked to potential wrongdoing. It doesn't matter if you've been cleared of intentional drug use, as was the case with Gasquet, or of match fixing, as with Davydenko. The fact is the accusation will always linger.
[+] Enlarge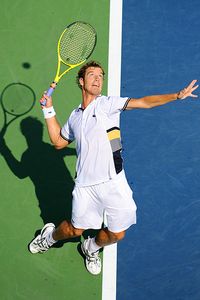 Stan Honda/AFP/Getty ImagesRichard Gasquet had not won a single Grand Slam match since the 2009 Australian Open.
I heard the whispers in the stands as the two played, and I'm sure those whispers will continue to dog the players for the rest of their time on tour -- and maybe even in retirement. The only thing that could silence the talk is perhaps an unlikely Grand Slam title.
Even though Davydenko did not play well, the fact is the 24-year-old Gasquet looked as if he could've beaten anybody this day, showing the same top-10 form he had in 2007, when he made the semifinals at Wimbledon.
Is that good enough to get him to championship Sunday? Probably not. But considering his career was essentially left for dead last spring, being able to win a single match -- never mind two -- in a Slam for the first time since last year's Australian Open has to be a huge confidence-booster. Besides, he's still young enough to turn his immense talent into a Grand Slam win, and with it, perhaps vindication.
The same can't be said for the 29-year-old Davydenko, whose window of opportunity just closed a few more inches in disappointing fashion. I guess that's why he just meekly kept his head down, neatly packed up his things and headed out with all of his baggage.
And by "all of his baggage," unfortunately for him, I mean all of his baggage.
LZ Granderson is a senior writer for ESPN The Magazine and a regular contributor to ESPN.com. He can be reached at lzgranderson@yahoo.com.
Senior Writer, ESPN The Magazine
Edited NBA and tennis for ESPN The Magazine
Columnist at The Atlanta Journal Constitution
Fellow at Hechinger Institute, Columbia University
SPONSORED HEADLINES
MORE TENNIS HEADLINES
MOST SENT STORIES ON ESPN.COM
U.S. Open 2010

2010 champions
Women's singles:
Kim Clijsters
Men's singles:
Rafael Nadal
Women's doubles:
Vania King and Yaroslava Shvedova
Men's doubles:
Bob and Mike Bryan
Mixed doubles:
Liezel Huber and Bob Bryan
The Pulse »
Slam Central »
Follow us on Twitter »
Watch: ESPN3.com
Slam Tracker »
Day 15
Day 14
Day 13
Day 12
Day 11
Day 10
Day 9
Day 8
Day 7
More