Commentary
Marriage is good for Federer's game
Updated:
September 4, 2010, 9:23 AM ET
By
LZ Granderson
| ESPN.com
I was with a group of friends, discussing athletes and their romantic lives, when Roger Federer appeared on a television in the background, playing in an early match at the U.S. Open.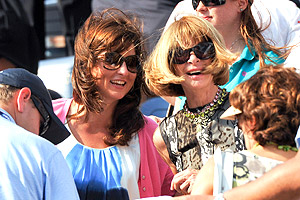 AP Photo/Evan AgostiniHaving Mirka Federer in his life has been good for Roger Federer -- and his tennis game.
Now, anyone who has ever seen Roger playing on television knows what came next: a quick cutaway shot of his wife, Mirka Federer, in the stands.
I have had the pleasure of seeing Roger play -- both in person and on television -- countless times over the past seven years. I have attended the same events as him and even had the pleasure of having dinner with him. Through it all, Mirka is always there -- in the stands, in the room and especially in his heart.
Now, clearly I'm a tad biased when I say the two are one of the warmest couples I have ever had the pleasure of being around. They seem to genuinely love each other. But more importantly, as this relates to the topic of infidelity in sports, I repeat: Mirka is always there.
I'm not saying they don't have problems in their marriage; only they know that for sure. But if Roger were cheating, he'd have to be sneaking out through a wormhole in the continuum of time and space, because as far as I can tell, his wife is always by his side.
Lovingly, not begrudgingly.
In fact, it is news when she's not in the stands, as was the case in Cincinnati a couple of weeks ago.
For some, that dynamic in their relationship might seem like a bit much -- as if she is smothering him, doesn't trust him or doesn't have a life of her own. But for those who truly understand the nomadic lifestyle professional athletes have, particularly those who play an individual sport like tennis, having a familiar face in a strange land can be more than just comforting; it could be soul anchoring.
While baseball and basketball players have long seasons away from home, as former pro Brian Vahaly points out, they have teammates. Tennis is essentially a year-round solo sport.
"For 99 percent of the players, it's not financially possible to bring your family and friends with you to each tournament," he said. "Sure you see your family during the Grand Slams, but what about the other 30 weeks a year? You're lucky if you're at the ranking where you can afford a coach."
Most players go it alone.
That's why, when the world is yanking your identity between one hyperbolic extreme and the next, having someone there who actually knows who you really are can help mute all the noise and distractions, freeing you to focus on the things you can control. Like your athletic performance.
Slam Central
For comprehensive coverage of the U.S. Open, check out Slam Central and stay informed about everything going on in Queens. More »
Roger has been on one of the most incredible journeys in all of sports, and he's been able to achieve his success in large part because of his wife, Mirka. She might not get the headlines, but because she has unselfishly allowed him to focus primarily on tennis, he has been able to rewrite the books with his best friend, his soul mate, his anchor alongside him each step of the way. That is something to be envied, not ridiculed.
And I'm not alone in that thinking.
U.S. Open it-boy of the moment, Mardy Fish, gives a lot of credit to his new wife, Stacey Fish, for his career resurgence, saying she gives him something more to play for. ESPN analyst and former player Brad Gilbert said when he was Andre Agassi's coach, he noticed Agassi's best tennis came after the Hall of Famer married Steffi Graf, and that "my best moments as a player came when I had a wife and son to come home to."
"It just balanced everything for me," he said.
We're so accustomed to seeing athletes through the lens of boys being boys that we're no longer capable of recognizing when men are being men. Or maybe the country's divorce rate has made us all a bit leery of making huge personal sacrifices so our spouses can accomplish their goals -- like working full time while the other goes to school, leaving a career to raise children or, in Mirka's case, walking away from a career to help her husband build his.
People forget Mirka was an Olympic tennis player before hitting the road with Roger. It isn't clear whether she would've been hugely successful had she stayed with the sport, but as Gilbert points out, it's obvious Roger greatly benefitted because she didn't.
"They have a great situation, they are great partners and their relationship is a key to his success," Gilbert said.
For years to come, tennis aficionados will debate whether or not Roger's is the game's greatest, as Rafael Nadal and the next generation of hard-hitting studs come along to challenge the records he has set.
But the one thing that cannot be questioned is the role Mirka has played in his setting those records -- first as a friend when they were teenagers, then as his business manager, girlfriend, wife and now mother of his children.
The cynic would say she is nothing without Roger. I would add this: Roger would be nothing without Mirka. Not in a behind-every-great-man-there's-a-great-woman sort of way but in a partners-in-life way. The way we hear sung about in song but few of us ever experience.
For the past two years, we have been trying to write Roger's eulogy. Yet last week, he walked into Flushing Meadows a favorite for the seventh consecutive year.
True, he's lost a step, but he still has Mirka. We've recently seen him lose his cool from time to time, but Mirka is always there. We are nearing the end of an era, but he and Mirka will go on to write a new beginning in life. Together.
Go ahead and make your crude jokes about her lording over him. I just see a good old-fashioned love story with a few Grand Slam titles sprinkled in to add to the plot.
Tweet, tweet
Don't miss a moment of the latest tennis coverage from around the world. Follow us on Twitter and stay informed. Join »
I can still remember something Roger said to me the first time I interviewed him years ago. I was trying to get a sense of the person he is off the court and asked him a question I've asked hundreds of athletes: What do you love?
Now, in the past I've heard everything from "I love horror movies," to chocolates to fast cars and, of course, winning. Roger simply smiled and said, "I love Mirka." At the time, she was across the room, so I'm sure he didn't say that just so she could hear it. Not that it mattered. By the way he appears to live his life, that's hardly a secret.
LZ Granderson is a senior writer for ESPN The Magazine and a regular contributor to ESPN.com. He can be reached at lzgranderson@yahoo.com.
Senior Writer, ESPN The Magazine
Edited NBA and tennis for ESPN The Magazine
Columnist at The Atlanta Journal Constitution
Fellow at Hechinger Institute, Columbia University
U.S. Open 2010

2010 champions
Women's singles:
Kim Clijsters
Men's singles:
Rafael Nadal
Women's doubles:
Vania King and Yaroslava Shvedova
Men's doubles:
Bob and Mike Bryan
Mixed doubles:
Liezel Huber and Bob Bryan
The Pulse »
Slam Central »
Follow us on Twitter »
Watch: ESPN3.com
Slam Tracker »
Day 15
Day 14
Day 13
Day 12
Day 11
Day 10
Day 9
Day 8
Day 7
More
MOST SENT STORIES ON ESPN.COM