Roger Federer, Novak Djokovic roll
Updated:
September 7, 2010, 2:09 AM ET
ESPN.com news services
NEW YORK -- With another straight-set victory out of the way at the U.S. Open, Roger Federer can start thinking about a rematch with Robin Soderling.
Five-time champion Federer beat 13th-seeded Jurgen Melzer of Austria 6-3, 7-6 (4), 6-3 Monday night to reach the quarterfinals at a 26th Grand Slam tournament in a row and set up an intriguing matchup. Next up for the second-seeded Federer is No. 5 Soderling, the man who ended his streak of 23 consecutive Grand Slam semifinals with an upset in this year's French Open quarterfinals.
"He's always been a dangerous player," Federer said in an on-court interview. "This is obviously a tough draw for me in the quarters, playing Robin."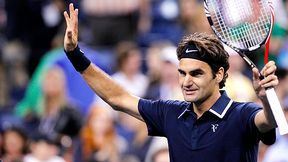 AP Photo/Mike GrollRoger Federer thanked a celebrity-filled crowd after advancing to yet another Grand Slam quarterfinal on Monday.
With rock-star couple Gwen Stefani and Gavin Rossdale sitting in his guest box Monday, and before a full house that included New York Yankees third baseman Alex Rodriguez and actress Cameron Diaz, Federer delivered a crowd-pleasing performance that included 41 winners.
"Haven't lost a set, so obviously, I'm very happy," Federer said. "It doesn't matter too much how you play, really. I'd love to play wonderful every time I come on the court. Guys make it tough. They play and make it the way you don't want it to be."
As if he needed any extra help, Federer got some from the net in the second-set tiebreaker, twice hitting balls that hit the tape and trickled over to end points.
"It's a pity that I didn't win at least one set. I think I deserved the second set. I think I was the more dangerous player," said Melzer, a semifinalist at this year's French Open. "You couldn't be more lucky in a tiebreaker than was in this tiebreaker."
The first came at 1-1, when Federer hit a forehand approach shot as he moved forward. The ball danced along the top of the net before falling over. Melzer, a semifinalist at this year's French Open, threw his head back in dismay. The second came at 4-4, off a forehand return, and Melzer wouldn't earn another point in that set.
When Federer, owner of a record 16 Grand Slam championships, smacked a cross-court forehand winner to close the tiebreaker, he screamed, "Come on!" -- and Melzer looked up at his entourage and yelled, too.
"I wasn't happy with my fortune. Let's put it that way," Melzer said later.
Federer's take? "Tiebreakers are always crucial," he said.
Recovering quickly from that, Melzer broke serve to open the third set. But his 1-0 lead lasted only briefly, because Federer broke right back to 1-all, then again to go ahead 4-2.
Federer and Melzer, both 29, have known each other for more than a decade, and they even played doubles together as juniors. But they never faced off as professionals until this summer at Wimbledon, where they also played in the fourth round -- and Federer also won in straight sets.
Federer's domination followed that of Novak Djokovic.
Complete results
You can check out the scores from any match played today at the U.S. Open or talk about the tournament action.
The Pulse: Scores and chat
The third-seeded Djokovic routed No. 19-seeded American Mardy Fish, 6-3, 6-4, 6-1 on Monday, sapping the energy from both his opponent and nearly packed Arthur Ashe Stadium and leaving only one American man in the draw at the U.S. Open.
Djokovic, eyeing his third straight U.S. Open semifinal, will play No. 17 Gael Monfils in the quarters. Earlier, Monfils beat fellow Frenchman Richard Gasquet 6-4, 7-5, 7-5.
Since a five-set scare in the first round, Djokovic hasn't dropped a set. Against Fish, who has played two five-setters in addition to doubles over the first week, the Serb was the better, fresher player.
"I'm playing with a lot of confidence," Djokovic said. "It's definitely great to raise the level of performance toward the end of the tournament. It's been a great couple years for me in New York. Hopefully, I can go on."
With Fish's exit, No. 20 Sam Querrey is the only American left in the men's draw. Querrey faces No. 25 Stanislas Wawrinka on Tuesday in the fourth round and is the last hope for the United States to break a seven-year drought without a champion at the U.S. Open. His quarter of the draw is without a player seeded in the top 10.
[+] Enlarge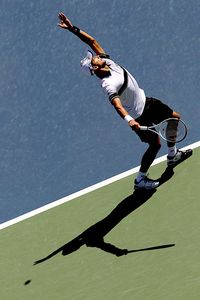 Matthew Stockman/Getty ImagesNovak Djokovic beat Mardy Fish in straight sets to reach the U.S. Open quarterfinals.
"He seems like he's in a great spot right now," Fish said.
With countrymen Andy Roddick and John Isner already gone, Fish was hoping to make Labor Day something memorable for his country -- an underdog trying to get some momentum, and the crowd, on his side early, maybe channel his inner Jimmy Connors and turn the stadium into his own, personal cheering section.
That never came close to happening against Djokovic, who dictated most points from the baseline and wound up with 30 winners to 13 for Fish. The occasional shout of "Don't give up, Mardy" echoed from the stands, but mostly, this was a flat afternoon and Fish couldn't do much to perk things up.
Midway through the final set in the windblown stadium, Fish changed tactics and tried coming to the net more often. That didn't go well, either. He went 2-for-6 on serve-and-volley points and won only half the 22 points he played at the net.
"I felt so many times today, like even off my first serves, I was sort of fighting to neutralize the point," Fish said. "I was on my back foot quite a bit, even when I was with the wind."
Djokovic's next opponent is Monfils, who brings his own special flair -- and his dreadlocks -- to the court.
The Frenchman, who has long professed his love for New York, got the crowd in Armstrong Stadium behind him, then overcame a break in the third set to close out his win over Gasquet in straight sets.
"He [doesn't] like to see the opponent show emotions," Monfils said. "Just play with that, play a bit with his mind, and that was it."
Now Federer will take on another familiar foe in Soderling, who advanced earlier Monday by eliminating No. 21 Albert Montanes of Spain 4-6, 6-3, 6-2, 6-3.
Looking ahead, Soderling said: "It's always a very nice feeling to play against the world's best. It's matches like that you train for. It's matches like that I've been dreaming of playing since I started playing tennis -- playing at the big courts in the big tournaments. It's very fun."
Federer owns a 12-1 career record against Soderling, but that lone loss came in their most recent meeting, at Roland Garros on June 1. Before that, Federer had won 117 matches in a row -- 117! -- in the first five rounds at major tournaments, dating to a loss to Gustavo Kuerten in the third round at the French Open on May 29, 2004 (Federer advanced twice when opponents withdrew).
Federer has won 44 of his past 45 matches at the U.S. Open, the only defeat coming in last year's final against Juan Martin del Potro.
Soderling will try to hand Federer another rare loss.
"Well, I played him so many times; I know his game and he knows mine," Soderling said. "I'm pretty sure how I need to play to have a chance to win."
Information from The Associated Press was used in this report.
U.S. Open 2010

2010 champions
Women's singles:
Kim Clijsters
Men's singles:
Rafael Nadal
Women's doubles:
Vania King and Yaroslava Shvedova
Men's doubles:
Bob and Mike Bryan
Mixed doubles:
Liezel Huber and Bob Bryan
The Pulse »
Slam Central »
Follow us on Twitter »
Watch: ESPN3.com
Slam Tracker »
Day 15
Day 14
Day 13
Day 12
Day 11
Day 10
Day 9
Day 8
Day 7
More
MORE FROM ESPN NEW YORK

Check out ESPN New York, your destination for sports coverage in the Big Apple.
MOST SENT STORIES ON ESPN.COM