Coaches help players use what they know
Updated:
June 16, 2004, 9:04 PM ET
By
Greg Garber
| ESPN.com
Somehow, back in the day, tennis players managed without coaches.
Rod Laver, without a technical advisor, swept all four major events in 1962. Suzanne Lenglen, coachless, won four straight French Opens in the 1920s. Bill Tilden won six straight U.S. Opens in the same decade -- each of them without a coach.
How on earth did they do it?
"If I had showed up on the court with a coach, I'd have been laughed at," Cliff Drysdale says, laughing himself. "Today, we ask 'How can you not have a coach?' "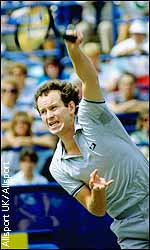 John McEnroe played without a coach during the most successful part of his career.
Drysdale, despite his vast experience in tennis, is not an old-school, knee-jerk curmudgeon. He was a six-time title-winner and made the final of the 1965 U.S. Open and reached the quarterfinals at Wimbledon. Today he is an analyst for ESPN.
Drysdale sees both sides.
"There's no doubt that there's a case for a coach who can play any role -- from the designer of mechanics to hitting partner to dinner guest," he said. "But there is also some advantage to having to figure out things for yourself, as Roger Federer has alluded to."
Federer made $4 million last year in ATP official winnings -- not to mention endorsement and appearance fees. Jonas Bjorkman, No. 10 on the 2003 prize money list, cleared $1 million. No. 100, Christophe Rochus, came in at $208,211.
A closer look at coaching
ESPN.com takes a look at the intimate relationship between a top tennis player and his or her coach.

Wednesday: Why is Wimbledon title contender Tim Henman having such success? Look no further than coach Paul Annacone. Many players are making the switch to a new coach.


Players didn't have coaches until Bjorn Borg started the trend. Today, they're a part of a larger entourage.
Thursday: It's not unusual to find some a family connection between a coach and player on the WTA.

Kim Clijsters' coach, Marc De Hous, discusses what it takes to coach a No. 1 player.
Friday: Andy Roddick began working with Brad Gilbert after last year's French Open. Despite Roddick's improvement, Gilbert says there's still plenty for the player to learn.

Although coaches travel with players, they can't coach from the court. The only place that happens is at Davis Cup, Fed Cup and in World Team Tennis.
Most of the players ranked in the top 100 have full-time coaches, whose salaries can run from expenses to a percentage of winnings. The average salary, according to those in the business, probably comes in around $50,000.
"Yeah," said U.S. Davis Cup captain Patrick McEnroe, "they can afford it."
Ask Drysdale why coaches have proliferated today and he offers a single answer.
"Money," he said. "It created the whole support group. I'm not saying you don't need a coach; I just don't think it's a critical element in a player's development on the Tour."
Bjorn Borg, the 11-time Grand Slam champion and winner of five consecutive Wimbledon titles, was the first major player to have a regular coach. Beginning in the early 1970s, Lennart Bergelin looked after Borg's technique and carried his rackets. Bergelin did not alter Borg's unconventional mechanics; he believed a coach should fit his philosophies to the player, not vice versa.
"Is it possible to survive without a coach?" Patrick McEnroe asked. "Of course. My brother [John] did it for most of his career. At the time he was dominating, he didn't have a coach.
"If you're aware of strategy, you can tell yourself what to do. I think Roger Federer will eventually get a coach. Right now he's got a manager and he handles the Xs and Os himself. But sometimes it helps to have a second set of eyes when it comes to tactics.
"That's where [Paul] Annacone helped [Pete] Sampras -- little things that might have escaped the player's consciousness."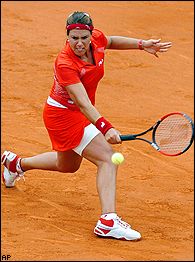 Sometimes a fresh voice helps players like Jennifer Capriati find their old game.
Sometimes, after a number of years, the relationship gets stale. Jennifer Capriati, who has been coached by her father since she made a splash as a 14-year-old professional, recently turned to Heinz Gunthardt for a second opinion.
"When you work with someone for so long, like my dad, you just kind of stop looking at [those things he's saying] as important," Capriati explained at Roland Garros. "When someone new comes into the picture, you just open you ears a little bit more to what they're going to say."
Gunthardt coached Steffi Graf, a 22-time Grand Slam singles winner, late in her career. What has he done for Capriati, who struggled earlier this season?
"Nothing really, technique-wise," she said. "My game is to be aggressive, I mean, my forehand is my best shot. Just set points up like that. Also, working more on the net and things like that. You know, basically, just trying to enhance what I already have."
"What I tried to say to her when I first started working with her, she doesn't have to look for anything -- everything is there," Gunthardt said. "Everything is stored on the hard disk.
"You question this and question that -- the reason why you weren't playing well is because you're questioning yourself."
Gunthardt has stressed conditioning and had a role in developing strategy for a player who often seems to be navigating by instinct.
"It's just the whole idea, before a match, just sitting down and talking about what I'm going to do and go out there with a plan," Capriati said. "This helps me focus better, so I'm not just going out there and hitting tennis balls."
Greg Garber is a senior writer for ESPN.com.
Writer, Reporter
Greg Garber joined ESPN in 1991 and provides reports for NFL Countdown and SportsCenter. He is also a regular contributor to Outside the Lines and a senior writer for ESPN.com.
SPONSORED HEADLINES
MORE TENNIS HEADLINES
MOST SENT STORIES ON ESPN.COM
EDITORS' PICKS
Why Andy Murray thinks Tomas Berdych has the advantage.
ESPN UK »

Serena Williams and Maria Sharapova set for final showdown
Caple »

Novak Djokovic and Stan Wawrinka set for Down Under slugfest.
Wilansky »