McEnroe: Little things help
Originally Published:
June 18, 2004
By
Greg Garber
| ESPN.com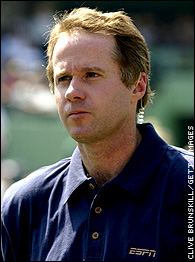 As Davis Cup captain Patrick McEnroe is one of the few allowed to coach during matches.
In the NFL, the quarterback is connected with the coach on the sideline. The coach, shielding his mouth with his play list, calls the play and, through the miracle of modern technology, it arrives in the ear of the quarterback.
This kind of control, in the game of tennis, is not possible. Coaches, sitting in the stands, must resort to hand signals or brief oral observations. Both of which could incur a penalty if the referee deems they cross the line.
In Davis Cup, that cauldron of international chaos, hands-on coaching is allowed. World Team Tennis is the only other venue that encourages audience participation. The coach sits on the sideline and can discuss strategy at any juncture. Does it make any difference?
A closer look at coaching
ESPN.com takes a look at the intimate relationship between a top tennis player and his or her coach.

Wednesday: Why is Wimbledon title contender Tim Henman having such success? Look no further than coach Paul Annacone. Many players are making the switch to a new coach.


Players didn't have coaches until Bjorn Borg started the trend. Today, they're a part of a larger entourage.
Thursday: It's not unusual to find some a family connection between a coach and player on the WTA.

Kim Clijsters' coach, Marc De Hous, discusses what it takes to coach a No. 1 player.
Friday: Andy Roddick began working with Brad Gilbert after last year's French Open. Despite Roddick's improvement, Gilbert says there's still plenty for the player to learn.

Although coaches travel with players, they can't coach from the court. The only place that happens is at Davis Cup, Fed Cup and in World Team Tennis.
"I think it does," said U.S. Davis Cup captain Patrick McEnroe. "I think you can see tendencies going on that the player, maybe, is not seeing. It's not extreme, but it can make a difference. Little things that can help. In certain matches, those little things can make a huge difference."
McEnroe knows this from firsthand experience. He has the United States team in the semifinals. Andy Roddick, the Bryan Brothers and a singles player to be named later will take on Belarus in Charleston, S.C., Sept. 24-26. The winner will meet the winner of Spain vs. France in late November.
The United States leads all competitors with 31 Davis Cup championships but has not won since 1995. McEnroe followed his brother John as captain in December 2000 and the team has rallied around him. McEnroe has reached out to the young American players and made it a point to discuss the finer points of the game. It isn't all clapping and cheering.
"One of the matches I remember was when Pete Sampras was playing Karol Beck [in 2002]," McEnroe said. "Pete wasn't playing great, but I noticed when he moved in close on Beck's serve, he panicked. God knows, I'm not dictating strategy to Pete Sampras, but he'd down a game in the fourth set with one last chance to break him. I mentioned it to him and, sure enough, the guy double-faulted twice.
"Sometimes, it's just having another set of eyes. In Davis Cup, you can translate that into results."
Greg Garber is a senior writer for ESPN.com.
Writer, Reporter
Greg Garber joined ESPN in 1991 and provides reports for NFL Countdown and SportsCenter. He is also a regular contributor to Outside the Lines and a senior writer for ESPN.com.
SPONSORED HEADLINES
MORE TENNIS HEADLINES
MOST SENT STORIES ON ESPN.COM
EDITORS' PICKS
Novak Djokovic looks to get his mogo back for Aussie Open final.
Buzz »

Never in her wildest dreams did Serena Williams think she could win this much.
Bodo »

What tennis players would excel at footbal
l? Jim Caple »