Everyone on court missed the error
Updated:
June 24, 2004, 8:13 PM ET
By
Greg Garber
| ESPN.com
WIMBLEDON, England -- Like air traffic controllers and trapeze artists, chair umpires are not allowed to have a bad day at the office.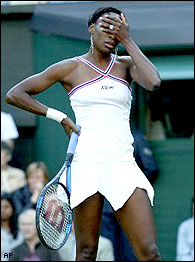 Venus Williams says she'd like to think that the chair umpire's error didn't decide her match vs. Karolina Sprem.
But on Thursday, Ted Watts of Britain did the unthinkable. With a stadium packed with 15,000 people, a sturdy corps of lines judges and two world-class players -- Venus Williams and Karolina Sprem -- Watts got the score wrong.
It happened this way:
Sprem was serving with Williams leading their second-set tiebreaker 2-1. Sprem's first serve was called a fault, but Williams, almost absent-mindedly, returned it over the net. Sprem, coming to net, volleyed the ball back into the open court.
"Two-all," Watts intoned, when it should have been 1-2 with Sprem hitting a second serve. While both players seemed momentarily confused, neither formally objected.
"Sometimes I do lose track of the score, and I just felt that maybe -- maybe I had lost track again," Williams said. "I don't question a lot of calls. I just didn't want to lose my focus."
Williams, who played inconsistently throughout the match, held a 6-3 advantage in the tiebreaker before Sprem won the last five points. What if Watts hadn't given Sprem a free point?
"I'd like to think that one point doesn't make a difference," she said, "but, obviously, it was a wrong call."
Referee Alan Mills confirmed the mistake, but said the result -- a 7-6 (5), 7-6 (6) win by Sprem -- was final.
"Regrettably the chair umpire made a mistake, which ended up with the score being called wrongly," Mills said in a statement. "Although both players seemed perplexed, neither queried the decision and play continued.
"As neither player queried the score with the chair umpire at the time, the result stands as the mistake should have been rectified immediately."
After the match, Sprem still sounded confused.
"Venus, she take the ball and she start to serve (at 2-all)," Sprem said. "I just go to the next side. I just want to return. That's all."
Greg Garber is a senior writer for ESPN.com.
Writer, Reporter
Greg Garber joined ESPN in 1991 and provides reports for NFL Countdown and SportsCenter. He is also a regular contributor to Outside the Lines and a senior writer for ESPN.com.
EDITORS' PICKS
Here's why fall tennis still matters -- a lot.
Tandon »

Roger Federer's daunting Davis Cup challenge awaits.
Bodo »

Kei Nishikori and Marin Cilic didn't break through until big-name coaches changed their mindsets.
Tandon »