Mauresmo held up when it mattered most
Justine Henin-Hardenne won the first set of the Wimbledon final in 31 minutes and looked as if she was going to win her first title at the All England Club. Then the second set started and that's where Mary Joe Fernandez and Pam Shriver explain what went wrong, and what Amelie Mauresmo did right.
WIMBLEDON, England -- Justine Henin-Hardenne broke top-seeded Amelie Mauresmo's serve twice and cruised to a 6-2 win in the first set in Saturday's Wimbledon final. All indications were that the Belgian was going to cruise to her second straight Grand Slam title in as many months and complete the career Grand Slam.
At that point, here's what ESPN analysts Pam Shriver and Mary Joe Fernandez were thinking:
Shriver: I'm thinking, Brad Gilbert is going to be right. He picked Justine Henin-Hardenne to win Wimbledon without losing a set. And then, after the second point of the second set, there were immediate signs that she was suddenly struggling.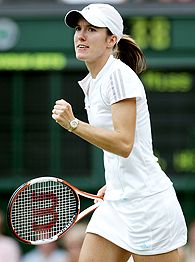 Phil Cole/Getty ImagesHenin-Hardenne had much to celebrate in the first set only to see the match suddenly turn in Amelie Mauresmo's favor.
Fernandez: It was quite remarkable because she was so aggressive in the first set and sure of herself. Mauresmo was coming in, not making volleys, getting passed and you just thought how was she going to be able to turn this around? But Henin-Hardenne started shanking balls and Mauresmo picked up on that. She saw Henin-Hardenne was a little tight and she picked it up beautifully.
Still, she lost the break at 4-2 in the second set and you thought Henin-Hardenne was going to find her rhythm, but she never really did. Henin-Hardenne let Mauresmo get away with a poor serving percentage in the second set.
Shriver: Even though she won the second set, Mauresmo hit just 39 percent of her first serves in. Henin-Hardenne was just supplying all this help. In the third set Mauresmo served her best set, maybe for the entire championships, 85 percent first serves in. Eighty-five percent! In a final set at Wimbledon! And some huge ones, the two aces out wide when she was serving for the championship. Under pressure, her serve held up beautifully in the third set.
Fernandez: The third was the best set of tennis Mauresmo played.
Shriver: We kept waiting -- at least I was -- for Henin-Hardenne to make one big charge and ...
Fernandez: She really didn't. She started to come in a little more because she didn't want to hit ground strokes. She was missing so many forehands that she figured her best bet was to be at the net, but was almost forcing it a little too much. Amelie kept her cool and that's where she's matured so much since winning the season-ending championships last year -- that was her first big breakthrough -- and then the Australian Open. Now she has that confidence and she didn't panic.
| | | |
| --- | --- | --- |
| NAME | WINS | GRAND SLAMS |
| A. Mauresmo | 4 | 2 |
| J. Henin-Hardenne | 4 | 1 |
| N. Petrova | 4 | 0 |
Shriver:
If you had said the third set was going to be 6-4, most people would have said Henin-Hardenne would win it.
And let's talk about the Australian Open final. Any Wimbledon final is through the roof as far as grandeur. But because Henin-Hardenne retired in the second set at the Australian against Mauresmo, that raised the importance of this final even higher, if that's possible.
Fernandez: This validates that Mauresmo is No. 1 in the world and that winning the Australian Open was not a fluke.
Shriver: Mauresmo knows everyone is talking about her nerves. I've been critical of them ...
Fernandez: She's even admitted to them ...
Shriver: And she shut everyone up with the way she played in the third set.
Fernandez: This is a great story.
Mary Joe Fernandez won seven 7 singles and 17 doubles titles during her 15-year career on the WTA Tour. She is providing ESPN.com with analysis throughout Wimbledon.
ESPN tennis analyst Pam Shriver won 21 singles and 112 doubles crowns, including 22 Grand Slam titles, and was inducted into the International Tennis Hall of Fame in 2002.
Professional tennis player Mary Joe Fernandez serves as an analyst on women's tennis events for ESPN and ESPN2. Born in the Dominican Republic and raised in Miami, Fernandez has enjoyed a successful career on the WTA Tour since 1985.
Tennis host
A top player on the women's tennis tour more than 15 years, Pam Shriver hosts ESPN's women's tennis telecasts. She also appears as a sideline reporter on select men's matches.
SPONSORED HEADLINES
MORE TENNIS HEADLINES
MOST SENT STORIES ON ESPN.COM
Wimbledon
Dates: June 26-July 9
Defending champions: Venus Williams, Roger Federer
Coverage: ESPN2
Time difference: Great Britain is 5 hours ahead of ET

Week 2
• Day 13: Federer wins men's title
• Garber: Federer maintains supremecy
• Sheppard: Nadal No. 2, and closing, on grass
• Notebook: Gilbert deal to coach Murray not official ... yet
• Jensen: Federer learned from French Open

• Day 12: Mauresmo wins women's title
• Garber:Mauresmo keeps nerves in check
• Sheppard: Bryans complete career Grand Slam
• Shriver, Fernandez: Mauresmo held up when it mattered
• Men's final preview: Nadal won't be an easy out
• Day 11: Men's semis
• Garber: Flawless Federer
• Sheppard: Don't write off Nadal on grass
• Notebook: Henin-Hardenne doesn't watch women's tennis
• Day 10: Women's semis | Nadal reaches semifinals
• Garber: Mauresmo breaks through
• Garber: Nadal's transition to grass
• Shriver: Two Grand Slam finals in one
• Navratilova loses final Wimbledon match
• Paul Goldstein blog
• Day 9: Men's quarterfinals
• Garber: Baghdatis awaits Nadal-Nieminen winner
• Garber: Navratilova wants one more title
• Sheppard: Bjorkman wins five-set marathon
• Notebook: Women's semifinal previews
• Nestor-Knowles win longest Grand Slam doubles match in history
• Day 8: Women's quarterfinals
• Garber: Belgians meet for third time in '06
• Garber: Mauresmo at home in Wimbledon
• Hawkins: Sharapova not fazed by streaker, Dementieva
• Notebook: Quarterfinal previews

• Day 7: Men | Women
• Garber: Ancic hopes to end Federer's streak
• Sheppard: State of American tennis
• Notebook: Na Li makes history for Chinese
• Week 1 photo gallery
Week 1