Transition from clay to grass a difficult one
Roger Federer and Rafael Nadal are coming off a grueling clay-court season. Now, with no time to relax, both have to make the difficult transition to grass. Greg Garber explains.
Updated:
June 22, 2006, 12:36 PM ET
By
Greg Garber
| ESPN.com
The transition from the red clay of Roland Garros to the green grass of The Queen's Club was an abrupt one: Less than three hours. That was how long it took the sleek Eurostar to deliver Rafael Nadal from Paris to London.
"Very fast," Nadal explained. "Very, very fast."
After winning seven matches in the French Open -- the last one a resounding four-set victory over No. 1-ranked Roger Federer -- Nadal was exhausted. Yet he dragged himself out onto the practice court at Queen's.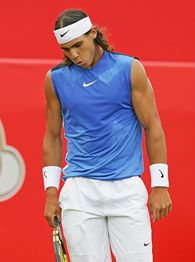 Paul Gilham/Getty Images
"I want to feel the grass," Nadal said, according to a transcript posted on the Internet by the tournament sponsor. "But I feel a little bit dizzy on court. The legs very tired. Is not easy."
Which begged the obvious question from the assembled media: Is it silly to have Roland Garros and Wimbledon -- two of the four Grand Slams, separated by all of 15 days -- so close together?
"Yes," said Nadal. "Always is the same question. But, for sure, yes. It's different. The points always very short, just one ball. So is different.
"Different sport."
On clay, Nadal has been literally unbeatable; Federer was his 60th consecutive victim. On grass, Nadal is ordinary. His record at Wimbledon is a modest 3-2. Federer, on the other hand, has won 41 straight matches on grass, tying the record Bjorn Borg set from 1976 to '81.
Why?
Because clay -- which slows the ball, increases hang time and extends points -- plays to Nadal's uncanny ability to retrieve and his unmatched endurance. Because Federer's genius is better complemented by grass, which plays far quicker.
The two surfaces, though both creatures of nature -- together, they are your front yard -- could not be more different. The grass season for men and women comprises 10 tournaments over a scant five weeks. That's 35 days in a calendar of more than 325.
Not surprisingly, players struggle with the transition.
For Martina Hingis, it has been particularly hard. After three years away from tennis, her comeback season has been a great success. But after she lost to Kim Clijsters in the French Open quarterfinals, she contemplated leaving the safe haven of clay.
"It's pretty much the same for everybody," she said. "Nobody really practices on grass. It's been awhile since I stood on a grass court."
Five years, to be precise. She will almost certainly be among the top 16 seeds, but her progress in the early rounds bears watching.
While hard courts, because of the friction they create, are the hardest on the joints, clay's tendency to prolong points takes its toll, too. Grass, players say, does the least damage. It is soft and the points are shorter. That said, there is still a physical adjustment period.
"In the beginning, I always get back pain," Federer said. "Many balls are very low and you always have to go down and get it. You feel that. Same as maybe the groin areas on grass affect you in the beginning.
"But once you're used to it, it's really easy on the body."
Patrick McEnroe, the U.S. Davis Cup captain, agreed.
"The balls skid a lot more and stay low," McEnroe said. "It forces you to use a different muscle group. Your ass -- can I say that on the Internet? -- gets really sore. For the first few days, it's really, really tough."
"Getting used to quick points instead of long rallies, getting used to the slice serve instead of the kick serve, getting used to the little steps instead of the sliding. It adds up and is a lot."
Roger Federer
Consequently, players try to get as much time on the grass courts as possible; some -- hello there, James Blake, Fernando Gonzalez and Sebastien Grosjean -- even allow themselves to play doubles. This has become a nice little cottage industry for the quaint grass tournaments in England, Germany and The Netherlands. The DFS Classic in Birmingham is a Tier III women's tournament that offers a diminutive total of $200,000 in prize money, but Maria Sharapova won the title there in 2004 and went on to break through at Wimbledon for her first Grand Slam title. She won the DFS Classic again in 2005 and was the top seed in 2006.
The Stella Artois Championships at Queen's is a relatively modest affair, but Pete Sampras won there in 1999 and followed it with a Wimbledon victory. Lleyton Hewitt achieved that double in 2002, and Andy Roddick won three straight titles during 2003-05 and reached the semifinals and two finals at the All England Club.
While clay rewards defensive ability and mitigates the power strokes, particularly the serve, grass tends to have the opposite effect. Historically, there has been a correlation between big serves and success on grass, particularly on the men's side. Look no further than the first-round match between defending champion Hewitt and Ivo Karlovic at Wimbledon in 2003. Karlovic, an unknown 6-foot-10 Croatian, served Hewitt off the court for his first Grand Slam victory ever.
Consider the best grass-court records compiled in 2005: 1. Federer (12-0); 2. Roddick (11-1); 3. Richard Gasquet (11-2); 4. Mario Ancic (9-2); 5. Thomas Johansson (12-3). Max Mirnyi (9-3) was just behind the top five.
Overlay the 2005 ace leaders: 1. Roddick; 2. Ivan Ljubicic; 3. Ancic; 4. Mirnyi; 5. Federer; 6. Johansson. You can see the relationship between big serves and victories on grass.
In the past, those who succeeded at Wimbledon -- Martina Navratilova won six straight titles during 1982-87 -- have served and volleyed their way to the silver trophy. Today, the serve-and-volley is basically extinct.
The contenders at Wimbledon will find a way to finish points by moving forward when they can, but they will pick their spots. Players say that bigger balls and a slightly slower grass surface have contributed to longer rallies.
Tim Henman, one of the last serve-and-volley dinosaurs, traces the change to 2002.
"I think it comes as a surprise to everyone when the conditions change so dramatically," Henman said. "On a grass court, before it was about serving and volleying on both [service] balls. You can count on one hand, I'm sure, how many times I serve and volley [now].
"There's exceptions to every rule. Karlovic, is he going to stand back [on the baseline]? Probably not. But you've got to have an exceptional serve to be able to keep hitting it through the court because it is -- with the balls and the court -- much, much slower."
Early on, you never know what you're going to get with grass.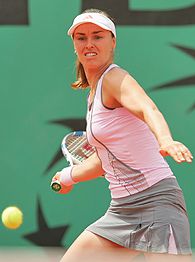 Matthew Stockman/Getty ImagesMartina Hingis will be playing her first grass-court event in five years.
In his first-round match at Queen's last week, Hewitt drew Fernando Vicente, who had previously won only four of his 13 ATP matches and was coming off a loss in a Challenger event in the Czech Republic to Jaroslav Pospisil. Yet somehow Vicente stole the first set from the former Wimbledon champ.
"You want to go out there and execute and hit the ball great right from the start and, suddenly, you're in a bit of a dogfight, in an awkward match out there," said Hewitt, who rallied to win in three sets (Queen's is a best-of-three tourney). "The first match is always one of the toughest. I've normally been able to translate from clay to grass as well as anyone, but it's never easy."
Added Federer, "Getting used to quick points instead of long rallies, getting used to the slice serve instead of the kick serve, getting used to the little steps instead of the sliding. It adds up and is a lot. This transition is tough, and this is why we have many players who actually don't like this surface, who can't really move on this surface.
"Thank God I'm not one of them."
Two leading questions emerged from the final at Roland Garros. One: Can Federer ever win there? Two: Can Nadal ever win a Grand Slam singles title anywhere else?
Nadal has spoken often of a desire to win Wimbledon, but Henman believes it will be difficult.
"When you compete as well as he does, it's very dangerous to write him off on any type of surface," Henman said. "But I do think with the extreme nature of his game -- how much he relies on his movement, and I think of how much harder that will be for him on a grass court -- I think it's unlikely."
Nadal himself understands it will take a monumental makeover.
"I need to play more aggressive," he said. "I need serve with more decision. I need serve always here the same like the important moments on clay.
"I need [to] change a lot of things. I need change a lot of things of my head."
Greg Garber is a senior writer for ESPN.com.
Writer, Reporter
Greg Garber joined ESPN in 1991 and provides reports for NFL Countdown and SportsCenter. He is also a regular contributor to Outside the Lines and a senior writer for ESPN.com.
Wimbledon
Dates: June 26-July 9
Defending champions: Venus Williams, Roger Federer
Coverage: ESPN2
Time difference: Great Britain is 5 hours ahead of ET

Week 2
• Day 13: Federer wins men's title
• Garber: Federer maintains supremecy
• Sheppard: Nadal No. 2, and closing, on grass
• Notebook: Gilbert deal to coach Murray not official ... yet
• Jensen: Federer learned from French Open

• Day 12: Mauresmo wins women's title
• Garber:Mauresmo keeps nerves in check
• Sheppard: Bryans complete career Grand Slam
• Shriver, Fernandez: Mauresmo held up when it mattered
• Men's final preview: Nadal won't be an easy out
• Day 11: Men's semis
• Garber: Flawless Federer
• Sheppard: Don't write off Nadal on grass
• Notebook: Henin-Hardenne doesn't watch women's tennis
• Day 10: Women's semis | Nadal reaches semifinals
• Garber: Mauresmo breaks through
• Garber: Nadal's transition to grass
• Shriver: Two Grand Slam finals in one
• Navratilova loses final Wimbledon match
• Paul Goldstein blog
• Day 9: Men's quarterfinals
• Garber: Baghdatis awaits Nadal-Nieminen winner
• Garber: Navratilova wants one more title
• Sheppard: Bjorkman wins five-set marathon
• Notebook: Women's semifinal previews
• Nestor-Knowles win longest Grand Slam doubles match in history
• Day 8: Women's quarterfinals
• Garber: Belgians meet for third time in '06
• Garber: Mauresmo at home in Wimbledon
• Hawkins: Sharapova not fazed by streaker, Dementieva
• Notebook: Quarterfinal previews

• Day 7: Men | Women
• Garber: Ancic hopes to end Federer's streak
• Sheppard: State of American tennis
• Notebook: Na Li makes history for Chinese
• Week 1 photo gallery
Week 1
MOST SENT STORIES ON ESPN.COM