Roddick just needs to play like Roddick
Andy Roddick had a tough first-round match, but won in four sets. The top-seeded American can succeed by playing the game that once took him to the top of tennis, Greg Garber writes.
Updated:
June 29, 2006, 6:21 AM ET
By
Greg Garber
| Special to ESPN.com
WIMBLEDON, England -- Janko Tipsarevic's weak attempt at a service return bounced into the bottom of the net on Court 1 and, suddenly, Andy Roddick was transformed.
Striding toward the changeover chair, he searched the stands for John Roddick, his brother and coach. Establishing violent eye contact, he loosed a grim and terrible smile, and his teeth bared in menacing fashion. He had just prevailed in a third-set tiebreaker -- the pivotal moment in a difficult first-round match -- and his primal, predatory glare was almost chilling.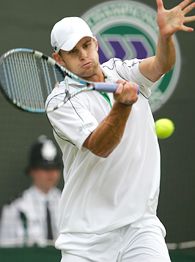 AP PhotoAndy Roddick lost the first set, then won three straight to advance.
It's been a tough year for the third-seeded Roddick, and the 6-7 (5), 6-4, 7-6 (6), 6-2 victory over the 22-year-old from Serbia and Montenegro was his season in microcosm. The tiebreaker put him over the top.
"That was huge," Roddick said a little later. "That could have been the match. We overuse the term 'some points here and there,' but if I lose two points at 6-all, as opposed to winning two points, it's a different match and [in a] best-case scenario, I'm out there still.
"I wanted that one real bad."
So did three other Americans. Eighth-seeded James Blake reached the third round for the first time, beating Yeu-Tzuoo Wang 6-4, 6-2, 4-6, 6-2. In a battle of friends, Mardy Fish throttled No. 17 seed Robby Ginepri 6-3, 6-2, 6-4 in a first-round match, and Justin Gimelstob defeated Christophe Rochus 6-3, 6-4, 6-4.
Roddick hasn't won a tournament since October, and his last three Grand Slam appearances have been virtual cameos. He was swept from the 2005 U.S. Open in the first round; he lost in the fourth round in this year's Australian Open; and he exited the French Open, on a bad ankle, without even completing his first match.
His ranking, No. 1 in 2003, has gradually deteriorated to the present No. 5. The consensus of opinion in the insular sphere of tennis is that Roddick needs to stop worrying about coming to net, constructing dazzling points and fortifying his backhand. Instead, he needs to go back to what got him to the top: Blasting that lead-heavy serve and forehand.
John McEnroe, who won three Wimbledon titles and made five straight finals from 1980-84, is a leading proponent of the heavy-lifting school of thought.
"He seems the least confident that I've seen him in a long time," the NBC analyst said in a conference call on Tuesday. "Roddick just needs confidence and a few good things to happen.
"He's gotten away from the thing he does best, which is that big serve and forehand, and has forgotten about those other players and is only focusing on Federer. What's happening is that the other players are beginning to think they have a chance now, and they have taken advantage of his liabilities."
Roddick, who says that hitting his forehand with abandon equates to confidence, does not disagree.
"I needed to take some swings at it," Roddick said. "Basically, I was out there going, 'OK, you're missing some forehands right now and you're not hitting it.' That's like [a] double negative. At least if you hit it and miss it, at least you're hitting with a purpose.
"My forehand's felt pretty good. It's just a matter of bearing down and going for it."
Will Connors work with Roddick?
WIMBLEDON -- It's been less than a month since rumors surfaced that Jimmy Connors was going to coach Andy Roddick.

That's about how long it has taken Roddick to tire of the subject.

"I'm going to say this again one time," Roddick said on Wednesday, smiling -- or was that a grimace? "We've talked on the phone a couple of times. Nothing's going to happen here. We're both intrigued by the prospect of working together. We've bounced the idea off of each other. It's positive, but there are a lot of details that go into it."

Connors knows how to win; he has eight Grand Slam singles titles and compiled more Grand Slam victories than any other man. The question is, can an intense man who has been historically reticent to re-enter the game, help Roddick return to his former position of No. 1 in the world?

Roddick is currently coached by his brother John and has said that any relationship with Connors would not appreciably change that status.

"Obviously, I kind of have Wimbledon to play," said Roddick, the No. 5 seed who won his first-round match. "It's not something that would be farfetched in the future. There's a lot that has to happen between here and there."

-- Greg Garber
Historically, grass has been the tonic for Roddick's first-half struggles. Since 2003, his record of 37-4 on grass is second only to Roger Federer's among the men. Nevertheless, his grass mystique faded appreciably two weeks ago at The Queen's Club when Blake beat him in the semifinals.
At Wimbledon, where he lost in the finals to Federer the last two years, Roddick plays in a certain comfort zone. He had never met Tipsarevic before, but they shared a common history.
Roddick won the junior 2000 Australian Open and finished the year as the world's No. 1 ranked junior. Tipsarevic won the Aussie event a year later and wound up as the world's No. 2-ranked junior.
Four years later, they find themselves in very different area codes, as it were. Roddick is only a year older, but he has won 20 ATP titles and is ranked No. 5. Tipsarevic has yet to win a tournament and is ranked No. 101.
There wasn't much separating them for the better part of three sets on Wednesday. At love-three in the tiebreaker, Roddick successfully walked the fine line between generating focused intensity and blowing a fuse.
"I just tried to calm down as much as possible," he said. "I just tried to mellow out. I'm thankful my racket didn't roll into the [umpire's] chair when I threw it."
In the end, McEnroe insisted, Roddick needs to think less and react more.
"Andy is an intelligent guy and there have been questions as to his approach," McEnroe said. "The irony in sports is that sometimes the less you think and the more you react, your hard work will pay off. Overanalyzing and overthinking can get you in trouble, particularly on a court like this when things happen so fast.
"For a guy with that big of a serve, he doesn't take advantage of it as much as he should. I think his opponents pick up on his doubts. He is playing based more on hope than belief, and that's why you have seen his ranking slip."
Although Roddick is only 23 years old, he already has developed a sense of history and protocol. At Wimbledon, players are invited to use the members dressing room at the All England Club, but for the last two years Roddick has declined, opting to use a far less posh locker one floor up.
"He says he'll only use the members' dressing room when he earns the right to do so," locker room supervisor Doug Atkins told the Telegraph of London. "You get honorary membership by winning the title, you see."
Yes, in the coming days, we shall see. Roddick had a veiled warning for those who would underestimate him.
"This surface definitely helps my game a lot," Roddick said. "It's comfortable being here. I love this tournament. If guys want to sleep on me, they can sleep on me.
"I probably wouldn't encourage it here."
Greg Garber is a senior writer for ESPN.com.
Writer, Reporter
Greg Garber joined ESPN in 1991 and provides reports for NFL Countdown and SportsCenter. He is also a regular contributor to Outside the Lines and a senior writer for ESPN.com.
SPONSORED HEADLINES
MORE TENNIS HEADLINES
MOST SENT STORIES ON ESPN.COM
Wimbledon
Dates: June 26-July 9
Defending champions: Venus Williams, Roger Federer
Coverage: ESPN2
Time difference: Great Britain is 5 hours ahead of ET

Week 2
• Day 13: Federer wins men's title
• Garber: Federer maintains supremecy
• Sheppard: Nadal No. 2, and closing, on grass
• Notebook: Gilbert deal to coach Murray not official ... yet
• Jensen: Federer learned from French Open

• Day 12: Mauresmo wins women's title
• Garber:Mauresmo keeps nerves in check
• Sheppard: Bryans complete career Grand Slam
• Shriver, Fernandez: Mauresmo held up when it mattered
• Men's final preview: Nadal won't be an easy out
• Day 11: Men's semis
• Garber: Flawless Federer
• Sheppard: Don't write off Nadal on grass
• Notebook: Henin-Hardenne doesn't watch women's tennis
• Day 10: Women's semis | Nadal reaches semifinals
• Garber: Mauresmo breaks through
• Garber: Nadal's transition to grass
• Shriver: Two Grand Slam finals in one
• Navratilova loses final Wimbledon match
• Paul Goldstein blog
• Day 9: Men's quarterfinals
• Garber: Baghdatis awaits Nadal-Nieminen winner
• Garber: Navratilova wants one more title
• Sheppard: Bjorkman wins five-set marathon
• Notebook: Women's semifinal previews
• Nestor-Knowles win longest Grand Slam doubles match in history
• Day 8: Women's quarterfinals
• Garber: Belgians meet for third time in '06
• Garber: Mauresmo at home in Wimbledon
• Hawkins: Sharapova not fazed by streaker, Dementieva
• Notebook: Quarterfinal previews

• Day 7: Men | Women
• Garber: Ancic hopes to end Federer's streak
• Sheppard: State of American tennis
• Notebook: Na Li makes history for Chinese
• Week 1 photo gallery
Week 1