Williams, Mauresmo, Sharapova have no trouble
Updated:
June 28, 2006, 4:32 PM ET
Associated Press
WIMBLEDON, England -- The top women were in a big hurry at Wimbledon on Wednesday.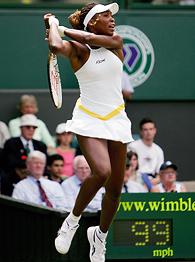 Daniel Berehulak/Getty ImagesVenus Williams made short work of Bethanie Mattek.
Defending champion Venus Williams, former winner Maria Sharapova and top-seeded Amelie Mauresmo swept their first-round matches in less than an hour, losing only three games among them.
Williams crushed 103rd-ranked American Bethanie Mattek 6-1, 6-0, in 51 minutes on Centre Court; Sharapova took the same amount of time to dispatch Anna Smashnova, 6-2 , 6-0, and Mauresmo beat Croatian qualifier Ivana Abramovic 6-0, 6-0, in 39 minutes.
Second-seeded Kim Clijsters needed even less time to reach the third round: she advanced by walkover after her opponent, Viktoriya Kutuzova, pulled out with a viral infection. No. 3 Justine Henin-Hardenne beat Russia's Ekaterina Bychkova 6-1, 6-2 in 55 minutes.
The one-sided trend continued late in the day with former champion Martina Hingis downing Italy's Tathiana Garbin, 6-1, 6-2, in 60 minutes. No. 9 Anastasia Myskina dropped just four games in a 6-0, 6-4 win over Cara Black in 51 minutes.
The mismatches didn't help the push for equal prize money at Wimbledon, the only Grand Slam tournament which pays the women's singles champion less than the men. Even British Prime Minister Tony Blair said Wednesday he backs the call for equal pay.
Williams said the easy victories had "nothing to do" with the money issue.
"We aren't involved in arguing the points of time spent on court, sets played," she said. "That's a moot topic. What it's really about is being treated equal as a human being."
Fashion Cents
Bethanie Mattek played only 51 minutes against Venus Williams on Wednesday, but her outfit left a lasting impression.

Knee high white socks, skimpy shorts and a tight-fitting top together with a white bandanna and dangly ear rings clearly stood out. Even Williams admitted "she looked cute."

"I had one of my friends in my hotel room last night and I had three shirts, three skirts, I didn't know what I was going to wear," Mattek told reporters.

"I was going for kind of the soccer theme. I was looking for some high socks and I was actually at Harrods last night trying to find something. They were 10 pounds [$18.21].

"All the girls in the locker room were like 'Oh my God Beth, what are you wearing today?' "

Mattek said she was determined to keep on having fun, and if it attracted a few sponsors, so much the better.

"I'm not doing it because I'm a superstar," she said. "I like to be different."

Mattek said she had been paid 1,000 pounds each for a couple of logos hastily applied to her outfit.

"If I wasn't wearing a bra or something, maybe that would have gone up to five [thousand] or something, it definitely would have made a picture," she joked.

-- Reuters

• Pam Shriver and Mary Joe Fernandez review the fashion scene: Baseline At Wimbledon
As defending champion, Williams normally would have opened play on Centre Court on Tuesday, but the match was pushed back because rain delays washed out most of Monday's action.
She wasted no time Wednesday, overwhelming the 21-year-old Mattek with power, pace and swinging volleys -- 26 winners in all -- and few sloppy errors.
"I felt good out there," Williams said. "It seemed like I had all the right answers when she came up with some very good shots."
Williams, Wimbledon champion in 2000, 2001 and 2005, faced only one break point -- which she saved with an ace in the second game of the second set. From there, she won the last 11 points on her serve.
Mattek, making her main draw debut at Wimbledon, had only three winners.
"It was kind of hard to do anything," she said. "I wish I could have stayed out there a little longer."
The match featured some unusual fashion displays: Williams sported a stick-on tattoo below the front of her right shoulder, while Mattek wore knee-high socks, shorts and a tube top over a halter top.
The Minnesota-born Mattek said she bought the socks for $18 at Harrod's.
"I was going for kind of the soccer theme," she said.
"She looked really cute, very '70s inspired," Williams said.
Sharapova unleashed 27 winners against Smashnova, handing the 42nd-ranked Israeli her sixth straight first-round loss at the All England Club.
"It would be kind of stupid of me to say I don't want equal prize money," Sharapova said. "I think the public enjoy the women's play as much as the men."
Mauresmo lost only 17 points against the 192nd-ranked Abramovic, who was playing in her first Grand Slam match.
Mauresmo, a semifinalist at Wimbledon the last three years, dropped only four points on her own serve and held at love in five of six service games. The 22-year-old Abramovic committed 13 unforced errors, including four double faults.
"It's one of the greatest matches that I've played here," Mauresmo said. "I don't know if also the fact that my opponent was not so good made it easy for me. I am very satisfied about the way I played today, not letting anything, any point down. And also not to spend too much time on the course is another satisfaction for me."

Copyright 2006 by The Associated Press
SPONSORED HEADLINES
MORE TENNIS HEADLINES
MOST SENT STORIES ON ESPN.COM
Wimbledon
Dates: June 26-July 9
Defending champions: Venus Williams, Roger Federer
Coverage: ESPN2
Time difference: Great Britain is 5 hours ahead of ET

Week 2
• Day 13: Federer wins men's title
• Garber: Federer maintains supremecy
• Sheppard: Nadal No. 2, and closing, on grass
• Notebook: Gilbert deal to coach Murray not official ... yet
• Jensen: Federer learned from French Open

• Day 12: Mauresmo wins women's title
• Garber:Mauresmo keeps nerves in check
• Sheppard: Bryans complete career Grand Slam
• Shriver, Fernandez: Mauresmo held up when it mattered
• Men's final preview: Nadal won't be an easy out
• Day 11: Men's semis
• Garber: Flawless Federer
• Sheppard: Don't write off Nadal on grass
• Notebook: Henin-Hardenne doesn't watch women's tennis
• Day 10: Women's semis | Nadal reaches semifinals
• Garber: Mauresmo breaks through
• Garber: Nadal's transition to grass
• Shriver: Two Grand Slam finals in one
• Navratilova loses final Wimbledon match
• Paul Goldstein blog
• Day 9: Men's quarterfinals
• Garber: Baghdatis awaits Nadal-Nieminen winner
• Garber: Navratilova wants one more title
• Sheppard: Bjorkman wins five-set marathon
• Notebook: Women's semifinal previews
• Nestor-Knowles win longest Grand Slam doubles match in history
• Day 8: Women's quarterfinals
• Garber: Belgians meet for third time in '06
• Garber: Mauresmo at home in Wimbledon
• Hawkins: Sharapova not fazed by streaker, Dementieva
• Notebook: Quarterfinal previews

• Day 7: Men | Women
• Garber: Ancic hopes to end Federer's streak
• Sheppard: State of American tennis
• Notebook: Na Li makes history for Chinese
• Week 1 photo gallery
Week 1