Mauresmo feels right at home ... at Wimbledon
While the French Open is her personal house of demons, France's Amelie Mauresmo feels right at home on the grass at Wimbledon. Greg Garber explains.
Updated:
July 5, 2006, 12:49 PM ET
By
Greg Garber
| ESPN.com
WIMBLEDON, England -- The only grass tennis court in Paris can be found at 35 rue du Faubourg Saint-Honore. There in the garden of the British Embassy, Sir John Holmes, Ambassador to France, can sometimes be found hitting balls. The grass isn't keenly tended and balls have a way of disappearing into the flower beds, but it is a peaceful place.
British soil, ironically enough, is where Frenchwoman Amelie Mauresmo came to heal herself a few days after losing badly in the fourth round of the French Open. Carrying the hopes of an entire nation is heavy work and Mauresmo said the casual decompression sessions at the Embassy were "kind of relaxing."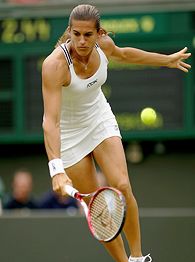 Daniel Berehulak/Getty ImagesAmelie Mauresmo is 0-3 in her career at Wimbledon in the semifinals.
A palette-cleansing sorbet, if you will.
A day shy of 27, she is the No. 1-ranked woman in the world and has a marvelous, athletic game. Her confidence -- particularly when the stakes are high -- sometimes lags behind her physical gifts.
When Mauresmo won her first Grand Slam singles title back in January, she seemed to have finally mastered her sometimes indifferent belief. But after losing a three-set match in Paris to Nicole Vaidisova -- she was pounded 6-1, 6-2 at the end -- the doubts returned. When she lost her first match in Eastbourne, the questions intensified.
Through five matches at Wimbledon, however, Mauresmo has performed like the No. 1 women's player and the top seed. She has slipped very quietly through the draw and has lost only a single set. Mauresmo adores it here at the All England Club, so her comfort level can be seen in her on-court success.
So much more than Roland Garros, this feels like home for Mauresmo.
Mauresmo was a 6-1 3-6, 6-3 winner over No. 9 seed Anastasia Myskina on Tuesday, a day on which form reigned. The top four seeds all reached Thursday's semifinals. Mauresmo will play No. 4 Maria Sharapova and Belgians No. 3 Justine Henin-Hardenne will meet No. 2 Kim Clijsters in the other semifinal.
Winning in Australia, Mauresmo has maintained, has freed her in many different ways.
"I do feel things are really different now," she said. "I don't think I have anything to prove to myself, first of all, or to anybody. I just want more. I want to be able to have some more great matches with great emotions, try to get some titles.
"That's why I'm playing."
She has now reached four semifinals here in the last five years -- a level of excellence she has failed to achieve in any other Grand Slam. Mauresmo, whose career Wimbledon record is 23-6, lost to Americans Serena Williams (twice) and Lindsay Davenport in her bid to reach the final. They are both injured and didn't play in the tournament this year.
"Three losses in semifinals for me here," she said. "Looking forward maybe next time to go through this one and try to reach the final."
A year ago, Mauresmo defeated Myskina in this very match -- the Wimbledon quarterfinals -- by a 6-3, 6-4 count. But the day before they played, Mauresmo suggested this time might be different.
"Last year I think she was a bit down in her career after winning the French Open the year before," she said. "She had some trouble staying at the highest level. She seems to be coming back pretty strong."
Indeed, Myskina's ranking plummeted from No. 3 to No. 14 after winning the 2004 French Open -- the only Grand Slam title on her resume. Tuesday's match offered evidence that the return trip may require more time.
Myskina rallied to win the second set, but she offered little resistance in the third. Still, the middle frame left Mauresmo a tad anxious.
"When you start to make so many unforced errors, the nerves get involved into that," Mauresmo said. "Then [I] was really able in that third set to make it look a little bit better.
"It's a good lesson also to learn, and I'm trying to learn after every match. Today was some great tennis, at some points some not so good tennis."
Mauresmo has now won eight of nine career matches including Myskina, including six straight and is 4-0 in Grand Slams.
Wednesday is a big day for Mauresmo. It's her 27th birthday and France plays in the World Cup semifinal against Portugal.
One reporter, acknowledging her question was probably stupid, asked if she would rather win Wimbledon or see France win the World Cup.
"It's a stupid question!" Mauresmo said, breaking up the interview room.
Later, in a subtle reworking of the question, she was asked which outcome was more likely.
"We both have to get to the final first," she said. "So, we'll talk about it on Thursday."
Greg Garber is a senior writer for ESPN.com
Writer, Reporter
Greg Garber joined ESPN in 1991 and provides reports for NFL Countdown and SportsCenter. He is also a regular contributor to Outside the Lines and a senior writer for ESPN.com.
SPONSORED HEADLINES
MORE TENNIS HEADLINES
MOST SENT STORIES ON ESPN.COM
Wimbledon
Dates: June 26-July 9
Defending champions: Venus Williams, Roger Federer
Coverage: ESPN2
Time difference: Great Britain is 5 hours ahead of ET

Week 2
• Day 13: Federer wins men's title
• Garber: Federer maintains supremecy
• Sheppard: Nadal No. 2, and closing, on grass
• Notebook: Gilbert deal to coach Murray not official ... yet
• Jensen: Federer learned from French Open

• Day 12: Mauresmo wins women's title
• Garber:Mauresmo keeps nerves in check
• Sheppard: Bryans complete career Grand Slam
• Shriver, Fernandez: Mauresmo held up when it mattered
• Men's final preview: Nadal won't be an easy out
• Day 11: Men's semis
• Garber: Flawless Federer
• Sheppard: Don't write off Nadal on grass
• Notebook: Henin-Hardenne doesn't watch women's tennis
• Day 10: Women's semis | Nadal reaches semifinals
• Garber: Mauresmo breaks through
• Garber: Nadal's transition to grass
• Shriver: Two Grand Slam finals in one
• Navratilova loses final Wimbledon match
• Paul Goldstein blog
• Day 9: Men's quarterfinals
• Garber: Baghdatis awaits Nadal-Nieminen winner
• Garber: Navratilova wants one more title
• Sheppard: Bjorkman wins five-set marathon
• Notebook: Women's semifinal previews
• Nestor-Knowles win longest Grand Slam doubles match in history
• Day 8: Women's quarterfinals
• Garber: Belgians meet for third time in '06
• Garber: Mauresmo at home in Wimbledon
• Hawkins: Sharapova not fazed by streaker, Dementieva
• Notebook: Quarterfinal previews

• Day 7: Men | Women
• Garber: Ancic hopes to end Federer's streak
• Sheppard: State of American tennis
• Notebook: Na Li makes history for Chinese
• Week 1 photo gallery
Week 1