Nadal makes presence felt on grass
Like Roger Federer on clay, Rafael Nadal is the second-best player on grass. The Spaniard could be the player to beat at Wimbledon in coming years, Whit Sheppard writes.
Updated:
July 10, 2006, 11:55 AM ET
By
Whit Sheppard
| Special to ESPN.com
WIMBLEDON, England -- Just when it started to look like the earth might be flat after all, and Queen Isabella might be preparing to recommission Christopher Columbus to set sail to the New World, along came Roger Federer.
Federer had been thoroughly dominated by world No. 2 Rafael Nadal since beating him 16 months ago in the Nasdaq-100 final in Miami, dropping five consecutive matches since to the 20-year-old Spaniard from Majorca, including four finals this year alone.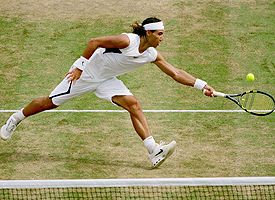 Daniel Berehulak/Getty ImagesHe may have lost in the Wimbledon final, but Rafael Nadal is rapidly bridging the grass-court gap with Roger Federer.
From Dubai to Monte Carlo to Rome to Paris, Nadal's 2006 expedition to find the pinnacle of the tennis world had been a successful one, as he discovered chinks in the Federer armor few believed existed while collecting plenty of gold coins and nice silverware along the way.
If Nadal had beaten Federer in Sunday's Wimbledon final, on the court that the 24-year-old Swiss considers his home turf, it would have been increasingly disingenuous to consider Federer the undisputed world No. 1 -- no matter what the ATP computer might say.
So the coolheaded 24-year-old from Basel, Switzerland, went out and did the only thing he could have done to quell Nadal's momentum and right the ship of their one-sided rivalry: He beat Nadal -- and in fairly convincing fashion -- 6-0, 7-6 (5), 6-7 (2), 6-3 to capture his fourth consecutive Wimbledon title.
Federer now joins Bjorn Borg (1976-80) and Pete Sampras (1997-2000) as the only men to win Wimbledon four years in a row in the modern era.
Tom Tebbutt of the Globe and Mail in Toronto has been covering tennis for the past 31 years and has seen the Borg-McEnroe, Navratilova-Evert and Sampras-Agassi rivalries up close. Tebbutt is amazed at the speed with which Nadal has upgraded his grass-court game after playing only five career tournaments on the surface.
"There wasn't much separating the two players after the first set," Tebbutt said. "The dynamic on grass between them has really changed. I expected Federer to prove his dominance on grass, like he did against Roddick the past two years.
"But there's actually a slight chance that Federer might never win another Wimbledon, if, say, Nadal wins the next two years here. He'll be the second favorite coming in, and that wasn't the case at all two weeks ago."
On the eve of the match, Federer said this about the budding rivalry: "I don't think I have been affected by him beating me because I know it's been very close all the time. I didn't feel like I played bad, you know."
That's all well and good, but Nadal's run of success against Federer had undeniably tipped the scales in the Spaniard's favor and had also gotten into Federer's most valuable weapon -- his head. How could it not have?
| | | |
| --- | --- | --- |
| Tournament | Surface | Winner |
| 2006 Wimbledon final | Grass court | Federer, 6-0, 7-6(5), 6-7(2), 6-3 |
| 2006 French Open final | Clay court | Nadal 1-6, 6-1, 6-4, 7-6(4) |
| 2006 Rome Masters final | Clay court | Nadal 6-7(0), 7-6(5), 6-4, 2-6, 7-6(5) |
| 2006 Masters Series-Monte Carlo final | Clay court | Nadal 6-2, 6-7(2), 6-3, 7-6(5) |
| 2006 Dubai Tennis Championships final | Hard court | Nadal 2-6, 6-4, 6-4 |
| 2005 French Open semifinal | Clay court | Nadal 6-3, 4-6, 6-4, 6-3 |
| 2005 NASDAQ-100 final | Hard court | Federer 2-6, 6-7(4), 7-6(5), 6-3, 6-1 |
| 2004 Miami AMS third round | Hard court | Nadal 6-3, 6-3 |
Sunday, on a blustery Centre Court, Federer held his nerve when Nadal served at 5-4 in the second set with a chance to even the match at a set each. Federer summoned a crucial break before taking the tiebreaker to go up two sets.
Said Nadal of that missed opportunity in the second set, "I play bad the 5-4 [game], for sure. Maybe in that moment, I lost a match, no?"
"I was lucky enough to come back and break back when he served for the set," Federer said. "That was maybe [the] key to the match, because after that I also played a very good tiebreaker, and was up then two sets to love."
Nadal could have folded, but that's just not the way he works. He stayed with Federer through the third set and then swept the last five points of the tiebreaker to keep Federer from becoming the first man since Borg in 1976 to sweep through the tournament without the loss of a set. But in the fourth set, Federer broke to go up 3-1 and then 5-1 and then served out the match at love.
There will inevitably be more high-stakes finals between Federer and Nadal to come, as long as both stay healthy and hungry. The next one could come as soon as this September at the U.S. Open.
"I think when we play so often in finals, it adds something to the game," said Federer. "Sometimes people don't have [a rivalry] and they want it, and when they have it, they don't want it. It's very strange how that goes. It's a great rivalry we're having at the moment."
Federer's win, along with ripe strawberries and dodgy English summer weather, was a victory for stability and the status quo, at least on the Wimbledon grass.
There's no need now for Isabella to launch those ships. The tennis world, it seems, is still round.
Whit Sheppard is a Paris-based sportswriter who is covering Wimbledon for ESPN.com. He can be e-mailed at lobsandvolleys@yahoo.com.
Wimbledon
Dates: June 26-July 9
Defending champions: Venus Williams, Roger Federer
Coverage: ESPN2
Time difference: Great Britain is 5 hours ahead of ET

Week 2
• Day 13: Federer wins men's title
• Garber: Federer maintains supremecy
• Sheppard: Nadal No. 2, and closing, on grass
• Notebook: Gilbert deal to coach Murray not official ... yet
• Jensen: Federer learned from French Open

• Day 12: Mauresmo wins women's title
• Garber:Mauresmo keeps nerves in check
• Sheppard: Bryans complete career Grand Slam
• Shriver, Fernandez: Mauresmo held up when it mattered
• Men's final preview: Nadal won't be an easy out
• Day 11: Men's semis
• Garber: Flawless Federer
• Sheppard: Don't write off Nadal on grass
• Notebook: Henin-Hardenne doesn't watch women's tennis
• Day 10: Women's semis | Nadal reaches semifinals
• Garber: Mauresmo breaks through
• Garber: Nadal's transition to grass
• Shriver: Two Grand Slam finals in one
• Navratilova loses final Wimbledon match
• Paul Goldstein blog
• Day 9: Men's quarterfinals
• Garber: Baghdatis awaits Nadal-Nieminen winner
• Garber: Navratilova wants one more title
• Sheppard: Bjorkman wins five-set marathon
• Notebook: Women's semifinal previews
• Nestor-Knowles win longest Grand Slam doubles match in history
• Day 8: Women's quarterfinals
• Garber: Belgians meet for third time in '06
• Garber: Mauresmo at home in Wimbledon
• Hawkins: Sharapova not fazed by streaker, Dementieva
• Notebook: Quarterfinal previews

• Day 7: Men | Women
• Garber: Ancic hopes to end Federer's streak
• Sheppard: State of American tennis
• Notebook: Na Li makes history for Chinese
• Week 1 photo gallery
Week 1
MOST SENT STORIES ON ESPN.COM