Mother Nature relents long enough for Nadal to end match
Mother Nature refused to let Rafael Nadal and Robin Soderling finish their third-round match. But after Nadal won in five sets over five days, neither player had anything nice to say about the other. Bonnie DeSimone explains.
Updated:
July 4, 2007, 6:39 PM ET
By
Bonnie DeSimone
| Special to ESPN.com
WIMBLEDON, England -- Instead of best-of-five sets, Rafael Nadal and Robin Soderling had to play a best-of-five days.
It took the Spaniard and the Swede a full work week to finish a third-round match while June faded to July. Nadal, who won 6-4, 6-4, 6-7 (7), 4-6, 7-5 in a match that was longer than the score indicates, is still a full two rounds behind defending champion Roger Federer on the other side of the bracket.
If the weather holds -- which seems unlikely at what the venerable BBC has deemed the rainiest Wimbledon in 25 years -- and if the second-seeded Nadal keeps winning, he would have to play matches on four more straight days. The last man who won the final here that way was Pete Sampras, who toiled for five straight in 1998.
No wonder there was a touch of crankiness afterward. Nadal called out Soderling, the 28th seed, for general unfriendliness and unsportsmanlike conduct, including an unenthusiastic handshake at the net.
He told Spanish-speaking reporters he had tried to say hello to the Swede "seven times" without getting a response. "I asked around the locker room and nobody has anything good to say about him," Nadal said.
Soderling's mock pants-hitch -- which he insisted was a joke, and which did, in fact, elicit laughter from the crowd -- did not amuse Nadal, who seems to be growing tired of the frequent questions about his physical tics.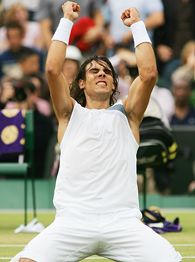 Alex Livesey/Getty ImagesRafael Nadal had reason to celebrate as if he had just won Wimbledon following his five-day, five-set victory.
"Not nice," was Nadal's exact phrase. "But everyone have whatever you want.
"In the end, we will see what's happening in the end of the life, no?" he added ominously.
Nor did he have much positive feedback for tournament organizers, whom he blamed for unnecessarily extending the match. Wimbledon's traditional Middle Sunday was apparently not a Fun Day for the 20-year-old.
"Sunday, they take a vacation," he said in the Spanish-speaking session, echoing similar remarks he made in English. "This is a little incredible to me, knowing the weather that was coming. But this is a special tournament and we have to accept their rules."
Soderling, after considerable prompting, grumbled about Nadal's notoriously glacial, sock-tugging, ball-bouncing pace on his service. "I think I had to wait for him, I mean, more than 200 times. Every point I had to wait for him," Soderling said.
He offered a distinctly unenthusiastic handshake at the net, then practically sprinted off the court. But the wiry, intense Soderling, currently Sweden's top player, repeatedly refused to take the bait when reporters pressed him about his apparent disdain for the popular Nadal.
"I would never say that about anyone [in] the press conference," Soderling said. "I could talking [expletive] about a lot of people, but I won't do that."
Soderling was somewhat incredulous when he was informed that Nadal took offense when he didn't wave politely on net cord winners.
"He must have been in his complaining mood today," Soderling said. "If my opponent, I mean, gets a lucky shot and he doesn't say I'm sorry, I don't care. For me it's OK. Why should I say I'm sorry when I'm like happiest moment of my life? It's just [expletive]."
Nadal and Soderling's attenuated saga of tennis interruptus played out in five parts -- seven, if you count their two warmups that ended without a point being played. They exchanged punches in 72-minute, 80-minute and 52-minute segments on Manic Monday, two days after the original warmup. Nadal had a match point at about 5:30 in the afternoon in the third set tiebreak, but his money shot, the forehand, sailed just wide and rain later ended play just after 8 p.m.
Tick-Tock Timeline
The Wimbledon third-round match between Rafael Nadal and Robin Soderling totaled 4 hours, 5 minutes on court over five days (all times local):

Saturday, June 30
4 p.m.: The two players warm up on Centre Court. Play suspended at 4:10 before any points are played.

Sunday, July 1
As per tradition, no play at Wimbledon.

Monday, July 2
12:10 p.m.: Match is moved to Court One. Play begins at 12:10 p.m.
1:22 p.m.: Play suspended at 6-4, 4-3.
2:55 p.m.: Players warm up.
2:59 p.m.: Play suspended with no points played.
4:15 p.m.: Play resumes.
5:35 p.m.: Play suspended at 6-4, 6-4, 6-6 (7-7 in tiebreak, with Soderling having saved one match point).
7:25 p.m.: Play resumes.
8:17 p.m.: Play suspended with Nadal leading 2-0 (30-30) in the fifth set.

Tuesday, July 3
4:59 p.m.: Play resumes.
5:07 p.m.: Play suspended with Nadal leading 3-2 in the fifth set.
6:22 p.m.: Play resumes.
6:33 p.m.: Play suspended tied at 4-4 in the fifth set.

Wednesday, July 4
12:11 p.m.: Play resumes.
12:32 p.m.: Nadal clinches fifth set 7-5 on his sixth match point.
On Ludicrous Tuesday, Nadal logged more time on PlayStation than he did on court (19 minutes), as the match was placed after a women's match that began at 11 a.m. but was itself delayed by weather.
Nadal, who is blogging for the Times of London, entitled his first entry that day "More rain, but still with a smile on my face," and mentioned an old Spanish saying that encourages "to bad weather, a good face." Later that day, however, his mood and presumably his facial expression had darkened. "More rain and the smile on my face is disappearing," he wrote.
The obviously pumped-up world No. 2 took just 21 minutes to close things out on Wacky Wednesday, although Soderling hung tough to save four more match points on his serve. Nadal next plays Russia's 14th-seeded Mikhail Youzhny.
Nadal and Soderling weren't the only players caught in the soggy Groundhog Day syndrome. Novak Djokovic's four-set win over Nicholas Kiefer, also slated to start Saturday, had play spread over three days.
Djokovic called the Sunday break "a bad decision," but conceded, "on the other hand it's nature and you can't fight against it. You know, it's stronger than us."
It was odd to see such irritation from the normally genial Nadal, who is about to celebrate two years of steady residence at No. 2 in the rankings, but it was a most unusual match.
While he stewed in the locker room, his potential finals opponent Roger Federer was "having holidays for the last week," Nadal said.
Some uninterrupted tennis would probably restore his sunny character, but it remains to be seen whether he'll speed things along by compressing his various rituals. He makes Mike Hargrove, baseball's fidgety Human Rain Delay, look efficient in retrospect.
The weather might seem comical if it didn't have serious competitive implications. Nadal was asked if he still loved Wimbledon, and cracked a smile. "Right now a little bit less than when I come," he said.
Bonnie DeSimone is a freelancer who is covering Wimbledon for ESPN.com.
2007 WIMBLEDON

June 25-July 8
Champions:
Women: Venus Williams
Men: Roger Federer
• Wimbledon Central
• TV schedule
Day 14
• Fifth straight title for Federer at Wimbledon
• Six straight in 2008?


• Garber: Federer closing in on Sampras
• DeSimone: Nadal closing gap on grass
• Clement, Llodra upset Bryans for doubles crowns
• Serve saves Federer

Day 13
• Venus wins fourth Wimbledon crown
• DeSimone: One determined Williams
• Men: Federer vs. Nadal in final
• Garber: Federer focused on five in a row
• Top 10 stats on Venus
• Notebook: Americans reach finals in junior event
Day 12
• Men | Women
• Bjorkman fined for lambasting umpire
• DeSimone: Missed opportunity for Roddick
• Garber: Bartoli shocks No. 1 Henin
• Notebook: Inclement conditions help Nadal

Day 11
• Men | Women
• Referee up a break and not apologizing
• Garber: Temperance never a virtue for Venus
• Notebook: Federer feeling the anxiety
• Blog: Djokovic ready for Big Dawgs?

Day 10
• Men | Women
• DeSimone: Five days for Nadal-Soderling match
• Garber: Venus rises to occasion
• Williams sisters pull out of doubles
• Notebook: Independence Day
• Doubles team sets Wimbledon record
• Roddick on serve, on set

Day 9
• Men | Women
• Garber: Blame it on the rain
• 'Organized chaos'


• Notebook: Teen takes out Mauresmo again
• Who wins: Justine or Serena?

Day 8
• Men | Women
• DeSimone: No cramping Serena's style
• Garber: Teeming with teens
• Davydenko bored by Wimbledon
• Chat wraps

: ESPN.com | Todd Martin
• Notebook: Venus best when back's against wall
Day 7
• Federer into quarters on walkover
• Security tightened amid terror threats
• Martin: Bottom of draw at disadvantage
• Garber: Doubles doing just fine, thank you
• DeSimone: Goals simple at Evert academy
• Week 1 photo gallery
MOST SENT STORIES ON ESPN.COM