Despite loss, Nadal closes gap on grass with Federer
Roger Federer has won four of the last six meetings with Rafael Nadal, but even he knows it's only a matter of time before the Spaniard wins his first Wimbledon title.
Updated:
July 9, 2007, 3:53 PM ET
By
Bonnie DeSimone
| ESPN.com
WIMBLEDON, England -- It's easy to see why Roger Federer would get blurry-eyed after winning his fifth straight Wimbledon, between the sun, the grandeur and the exertion.
Even with all that, the emotional quintuple champion managed to say something with complete clarity and insight just minutes after the match.
"I'm happy every one I get now, before he starts to take all of them," said Federer of the man who would displace him as king.
Great rivalries often run in streaks, and those streaks usually have something to do with birth order and something to do with one player's willingness to do what it takes to solve the other.
The splendid, probably never to be repeated 80 matches spun out between Chris Evert and Martina Navratilova hit a seesaw point almost exactly halfway through. Jimmy Connors encountered similar watersheds with Bjorn Borg and John McEnroe. Pete Sampras and Andre Agassi, just a year apart in age, probably have the most interestingly shuffled deck of results among great Open era pairings.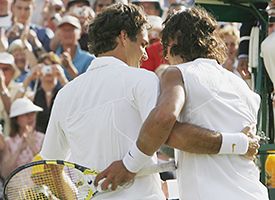 AP Photo/Anja NiedringhausRoger Federer, left, is 2-0 on grass against Rafael Nadal, but just 3-8 on the other three surfaces.
Federer, going on 26, and Nadal, 21, have been ranked No. 1 and No. 2 for more than 100 consecutive weeks now -- the longest any two top players have been joined at the hip. Like the younger brother who studies the older one and wants to emulate him, yet still be different, Nadal has worked methodically at safecracking Federer's grass and hard-court games.
"I am a good loser," Nadal said. "I accept the loss very well."
Nadal is right, and his grace in these moments has been notable. But he's also a smart loser, one who learns from defeat, and that is why Federer increasingly feels Nadal's hot breath right on his heels.
Admirably, Nadal has not been content to dominate Federer just on clay.
"He had more of a game plan this year than he had last year," said Federer, acknowledging that the gap is shrinking. "I think last year he came out, nothing to lose, kind of hit hard but didn't know why. This year around, he's changed his game a little bit. Plays maybe a bit more aggressive, knows the game of grass much better.
"That's what's going to happen anyway in the future, that everybody will be able to play on all different surfaces because it's slowing down so much. … He came so close today that, you know, I think he deserves a title here. You know, he's not getting any worse, I think. It was a tough match, and I have the highest respect for him."
Grand Slam Winners
Since 2005
| | | |
| --- | --- | --- |
| | Slam | Winner |
| 2007 | Wimbledon | Federer |
| 2007 | Australian | Federer |
| 2006 | U.S. | Federer |
| 2006 | Wimbledon | Federer |
| 2006 | French | Nadal |
| 2006 | Australian | Federer |
| 2005 | U.S. | Federer |
| 2005 | Wimbledon | Federer |
| 2005 | French | Nadal |
| 2005 | Australian | Safin |
Nadal still owns an 8-5 advantage in their series, and many would say their five-set final at the Rome Masters Series last year is still the best of the bunch so far. (Another significant milestone was Federer's victory in Hamburg in May that snapped Nadal's clay-court streak at 81.) The score and relatively speedy nature of the final set ratchets the match down from epic to merely sensational, according to a couple of veteran tennis writers.
Steve Flink, a senior correspondent for Tennis Week magazine, who has attended Wimbledon 40 times and who wrote "The Greatest Matches of the 20th Century." He included 30 matches in that book, and "I'd strongly consider this one for the next edition," he said. "Except that Roger pulled away almost routinely in the fifth set."
Ubaldo Scanagatta of Italian newspaper La Nazione witnessed last year's match in Rome and is covering his 33rd consecutive Wimbledon. "I think Nadal has more chance to win Wimbledon than Federer has to win Roland Garros, and that isn't what I would have said a year ago," Scanagatta said.
It was plenty exciting for Federer, who called it a "thriller" and told Borg during their brief postmatch meeting how relieved he was when it ended.
"Was perfect," he said.
The only person who might argue with that is Nadal, who will go back and work on finding a way to tip things in his favor. Sunday's tilt made it look as if that will occur sooner rather than later.
Bonnie DeSimone is a freelancer who is covering Wimbledon for ESPN.com.
SPONSORED HEADLINES
MORE TENNIS HEADLINES
MOST SENT STORIES ON ESPN.COM
2007 WIMBLEDON

June 25-July 8
Champions:
Women: Venus Williams
Men: Roger Federer
• Wimbledon Central
• TV schedule
Day 14
• Fifth straight title for Federer at Wimbledon
• Six straight in 2008?


• Garber: Federer closing in on Sampras
• DeSimone: Nadal closing gap on grass
• Clement, Llodra upset Bryans for doubles crowns
• Serve saves Federer

Day 13
• Venus wins fourth Wimbledon crown
• DeSimone: One determined Williams
• Men: Federer vs. Nadal in final
• Garber: Federer focused on five in a row
• Top 10 stats on Venus
• Notebook: Americans reach finals in junior event
Day 12
• Men | Women
• Bjorkman fined for lambasting umpire
• DeSimone: Missed opportunity for Roddick
• Garber: Bartoli shocks No. 1 Henin
• Notebook: Inclement conditions help Nadal

Day 11
• Men | Women
• Referee up a break and not apologizing
• Garber: Temperance never a virtue for Venus
• Notebook: Federer feeling the anxiety
• Blog: Djokovic ready for Big Dawgs?

Day 10
• Men | Women
• DeSimone: Five days for Nadal-Soderling match
• Garber: Venus rises to occasion
• Williams sisters pull out of doubles
• Notebook: Independence Day
• Doubles team sets Wimbledon record
• Roddick on serve, on set

Day 9
• Men | Women
• Garber: Blame it on the rain
• 'Organized chaos'


• Notebook: Teen takes out Mauresmo again
• Who wins: Justine or Serena?

Day 8
• Men | Women
• DeSimone: No cramping Serena's style
• Garber: Teeming with teens
• Davydenko bored by Wimbledon
• Chat wraps

: ESPN.com | Todd Martin
• Notebook: Venus best when back's against wall
Day 7
• Federer into quarters on walkover
• Security tightened amid terror threats
• Martin: Bottom of draw at disadvantage
• Garber: Doubles doing just fine, thank you
• DeSimone: Goals simple at Evert academy
• Week 1 photo gallery