Venus, like Serena, wins after sluggish start
Richard Williams said his daughter Venus might very well win Wimbledon this year. On Tuesday, the three-time champion almost exited London after the first round.
Updated:
June 26, 2007, 4:59 PM ET
By
Greg Garber
| ESPN.com
WIMBLEDON, England -- Three hours before her first-round match, Venus Williams warmed up on the practice courts at Aorangi Park. While she stretched her impossibly long legs she suddenly was consumed by a series of yawns.
Williams didn't wake up until nearly four hours later.
Down a set, and serving at 0-2, 15-30, Williams somehow rallied to beat hard-hitting Russian teenager Alla Kudryavtseva. Tuesday's score -- 2-6, 6-3, 7-5 -- does not begin to describe the nearly untenable situation Williams created for herself.
Afterward, she was asked if she enjoyed herself.
"I enjoyed the part when I was winning," Williams said.
Which was merely the several minutes it took to serve out the match in the third set.
The Williams sisters always have done things differently. Under the guidance of their father Richard, they eschewed the conventional junior tennis system. They don't always have the best footwork, but they hit the ball a ton. And they certainly do not feel compelled to follow the migratory path to warm-up tournaments when the surface changes.
After the end of the spring clay-court season following Roland Garros, many women traveled to places like Birmingham, England or Hertogenbosch, Netherlands to groove their game on grass. Andy Roddick was so desperate to pick up practice time on grass he played doubles in a Challenger event.
Not the Williams family. They returned home to Palm Beach Gardens, Fla., and arrived here at Wimbledon last Thursday, giving them all of five days of practice on the grassy grounds.
"It rains so much, [Europe's grass] courts are so different," Williams said. "For me, it doesn't seem like an advantage. I suppose the only advantage would be match play. For me, I just rely on my experience and fight.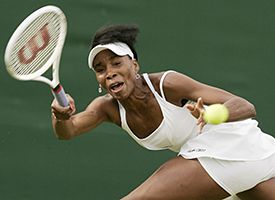 AP Photo/Kirsty WigglesworthVenus Williams still hasn't lost in the first round at Wimbledon since 1997.
"I haven't played a match in a few weeks, so I think that could be a factor."
Do you think?
Playing your way into a tournament, as Williams discovered, can be dangerous. Kudryavtseva was born 19 years ago in Russia, but is practically a neighbor, listing her residence in Miami, Fla. She, too, is a fighter. Maybe it's because her father Alexander was a world champion Greco-Roman wrestler in the 1980s. Or perhaps it's because she owns a rottweiler named Ralph.
In any case, Kudryavtseva came out slugging and stunned Williams in the first set, winning six of the first eight games. To put that achievement in context: It was the first time Williams has lost the opening set of a first-round match here in a decade. The only other time was 1997, when a fresh-faced 17-year-old made her debut -- and lost that first-round match.
"I was like, 'OK, what am I doing wrong?'" Williams thought to herself. "The first set went so fast and my balls were just flying out and I didn't have any answers."
Based on career trajectories, it shouldn't have been happening. Williams is a three-time champion here and Kudryavtseva was playing in only her third Grand Slam singles event. Williams has won 34 professional tournaments, while Kudryavtseva has only one; she is the proud titleholder of 2005 International Tennis Federation's tournament in Balaschika, Russia. Her career prize money ($194,672) might not be enough to cover Williams' 2006 phone bill.
Right about the time things looked hopeless -- serving at 0-2 in the second set -- Williams finally found herself. She had been spraying balls through the steady breeze and decided, at the last moment possible, to concede to the conditions.
"I eventually had to take something off the ball," Williams explained. "I just had to add a little more spin, go for consistency."
Williams settled down to win the second set and Kudryavtseva began to unravel. She smashed her racket on the court, she yelled at her coach, she lost her grip. Somehow, she steadied her nerves and held the upper hand for most of the third set. But, serving at 5-all, she grew tentative. Williams spanked an 83 mph second serve and Kudryavtseva could manage only a weak backhand into the net. When her backhand soared over the baseline, Williams finally had a lead.
After she converted her first match point with a huge forehand, her wind-chilled family members -- including Serena, wearing a white hoodie -- appeared relieved.
"The fact that Serena was there, my mom was there, too -- they were like, 'You can do it,'" Williams said. "Just to hang in there and not focus on what went wrong. Just focus on the future. So it was definitely key today."
Greg Garber is a senior writer for ESPN.com.
Writer, Reporter
Greg Garber joined ESPN in 1991 and provides reports for NFL Countdown and SportsCenter. He is also a regular contributor to Outside the Lines and a senior writer for ESPN.com.
2007 WIMBLEDON

June 25-July 8
Champions:
Women: Venus Williams
Men: Roger Federer
• Wimbledon Central
• TV schedule
Day 14
• Fifth straight title for Federer at Wimbledon
• Six straight in 2008?


• Garber: Federer closing in on Sampras
• DeSimone: Nadal closing gap on grass
• Clement, Llodra upset Bryans for doubles crowns
• Serve saves Federer

Day 13
• Venus wins fourth Wimbledon crown
• DeSimone: One determined Williams
• Men: Federer vs. Nadal in final
• Garber: Federer focused on five in a row
• Top 10 stats on Venus
• Notebook: Americans reach finals in junior event
Day 12
• Men | Women
• Bjorkman fined for lambasting umpire
• DeSimone: Missed opportunity for Roddick
• Garber: Bartoli shocks No. 1 Henin
• Notebook: Inclement conditions help Nadal

Day 11
• Men | Women
• Referee up a break and not apologizing
• Garber: Temperance never a virtue for Venus
• Notebook: Federer feeling the anxiety
• Blog: Djokovic ready for Big Dawgs?

Day 10
• Men | Women
• DeSimone: Five days for Nadal-Soderling match
• Garber: Venus rises to occasion
• Williams sisters pull out of doubles
• Notebook: Independence Day
• Doubles team sets Wimbledon record
• Roddick on serve, on set

Day 9
• Men | Women
• Garber: Blame it on the rain
• 'Organized chaos'


• Notebook: Teen takes out Mauresmo again
• Who wins: Justine or Serena?

Day 8
• Men | Women
• DeSimone: No cramping Serena's style
• Garber: Teeming with teens
• Davydenko bored by Wimbledon
• Chat wraps

: ESPN.com | Todd Martin
• Notebook: Venus best when back's against wall
Day 7
• Federer into quarters on walkover
• Security tightened amid terror threats
• Martin: Bottom of draw at disadvantage
• Garber: Doubles doing just fine, thank you
• DeSimone: Goals simple at Evert academy
• Week 1 photo gallery
MOST SENT STORIES ON ESPN.COM