Despite rain, Wimbledon sticks to tradition, beliefs
The rain has helped some players (Serena) and hurt others (bottom of the men's draw) at Wimbledon. Greg Garber writes about the biggest -- and continuing -- story line of the fortnight.
Updated:
July 4, 2007, 7:39 AM ET
By
Greg Garber
| ESPN.com
WIMBLEDON, England -- The late Sunday sun slants down on the tennis courts at Wimbledon Park and the effect is golden. It's 7 p.m., and all 20 courts are in use: old duffers play proper doubles; parents teach their children the game; serious competitors try to annihilate each other; dogs run free, chasing loose balls.
Across the street at the All England Club, the quiet is disconcerting. The only tennis balls in play don't really count on the Aorangi Park practice courts. This, on the best day of the fortnight, meteorologically speaking, because the middle Sunday at Wimbledon traditionally is a day of rest. It is the only Grand Slam to observe this quaint practice.
Wimbledon, like the afternoon tea here, is steeped in tradition. But after a week when the steady rain has been the lead story -- seven of the first eight days have seen rain delays and there have been 18 stoppages so far (including six on Tuesday) -- there are those who argue that some traditions are all wet.
On Monday, after David Nalbandian lost in straight sets to Marcos Baghdatis, he was churlish.
"The bottom half [of the men's draw] has to play today, tomorrow and after tomorrow. Why?" asked Nalbandian, a finalist here in 2002. "Always, it's like this here. But I don't agree. I mean, nobody agrees.
"They just don't care about us."
Ian Ritchie, CEO of the All England Club, insisted that the tournament is player-friendly.
"We're comfortable with the schedule we have," Ritchie told ESPN on Monday. "I know we may also be old-fashioned. We don't have nighttime sessions. We believe this is a summer event and outdoor event. I think that's up to each tournament to decide. We don't have a commercial necessity to do that.
"Our focus has really been, for example, on putting the roof on, so that we make sure from 2009 onwards that Centre Court guarantees play. So our focus has been on that, rather than looking at playing on a Sunday. It's always under review, but we don't see any pressure or necessity to do it at the moment."
It is worth noting that, after years of complaints, the All England Club finally capitulated on the roof issue, a project that reportedly will cost about $100 million. In addition to playing on a middle Sunday, critics would welcome a Sunday start, as recently instituted at the French Open. Ritchie said he saw no reason to go there, either.

We're comfortable with the schedule we have. I know we may also be old-fashioned. We don't have nighttime sessions. We believe this is a summer event and outdoor event. I think that's up to each tournament to decide. We don't have a commercial necessity to do that.
Ian Ritchie, All England Club CEO
Lleyton Hewitt counted six delays in his successful four-set match against Guillermo Canas.
"That's the longest and toughest rain-delayed match I've ever had to put up with," Hewitt said on Tuesday. "It was a mental battle more than anything out there.
"You've got to be very mentally tough and very patient, not get over-awed with the situation or frustrated at it, more than anything. If you get frustrated for a minute, then you'll lose the match."
The rain here has been so omnipresent that delays no longer create excitement. The players gather their things, try to avoid the uberhyper tarp crews and make the walk back to the locker room. The grounds crews have had so much practice, they work with the swift precision of an F1 pit crew.
Because of the massive match backlog, the referee's office said that Tuesday had the potential to feature more matches than any day in the history of Wimbledon, which is saying something. Half of the junior matches, in fact, were placed on the six grass courts at Southlands College, adjacent to the practice courts.
Great Britain, historically, has been a damp, dreary place. The island is susceptible to low pressure systems that the steady winds bring from the west. This past fall and winter were the wettest on record in England and the rainfall total in June was the second highest since 1914.
There is a growing possibility that the men's final will be pushed to Monday -- or even Tuesday -- for the second time in seven years. According to the referee's office, men will not be asked to play two matches in one day, which can happen at some tournaments.
The vagaries of the schedule, weather and bad fortune have combined to put No. 2 seed Rafael Nadal at a huge disadvantage. On Friday, No. 1 Roger Federer completed his third-round match, a straight-sets win over Marat Safin. When Tommy Haas withdrew with an injury, Federer received a walkover into the quarterfinals and a span of four days, possibly five, without a match.
Meanwhile, Nadal took to the court on Saturday, but could only warm up for his third-round match against Robin Soderling before rain washed out play. There was no play on Sunday and on Monday, rain again intervened with Nadal leading Soderling 2-0 in the fifth set. On Tuesday, their match was interrupted by rain four more times. After a total of six delays over four days, their match was 4-all in the fifth set when play was called for the day. So after that seventh delay, Nadal and Soderling will need at least a fifth day to complete their match when play resumes on Wednesday. No one around the All England Club can remember such a scenario.
"Well, it rained again today," Nadal said on Monday in his London Times Online blog. "I suppose this is not news anymore. Am I even getting used to it? Don't think so."
Nadal made headlines here the previous day when he seemed to criticize Wimbledon for not playing on the middle Sunday, but in his blog he tried to provide some context.
"I said it was unbelievable the fact that we did not play yesterday," Nadal said. "Believe me, it was not written with the intention to criticize. It is like an expression of disappointment.
"There are many things in this tournament that are unique, too. I'll leave it there."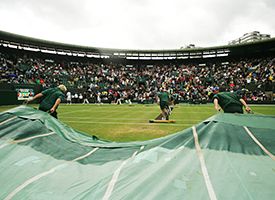 AP Photo/Alastair GrantThere has been only one day thus far when play at Wimbledon was not delayed by rain.
Nadal may now be forced to play three matches in three days. He's been so bored the last few days, he's nearly through the 10-hour "Godfather" movie DVDs, dubbed into Spanish. If the bad weather continues, he's considering watching the trilogy in English, to improve his language skills.
Rain has caused some issues between players concerning whether to continue play. Ai Sugiyama was upset when Maria Sharapova wanted to continue their third-round match late in the second set with rain descending. On Monday, a rain delay actually might have changed the outcome of a match.
Up a set and tied 5-all with Daniela Hantuchova in the second, Serena Williams was stricken with a cramp in her left calf. Williams limped into a tiebreaker, but rain stopped play, giving her two hours to get the knot of muscles smoothed out. She wound up winning the third set, 6-2.
"I couldn't move before the rain," Williams said. "Just everything stopped. I was definitely saved by the rain."
Rain is what makes Wimbledon the toughest mental challenge of the Grand Slams. While the red clay at Roland Garros makes extreme physical demands, players at Wimbledon must be prepared to play at any time and deal with hours of waiting. Federer likes to play cards. Nadal is committed to PlayStation. Andy Roddick and his coach Jimmy Connors prefer poker. Venus Williams is working on a computer program called Garage Band. Justine Henin has been visiting with her recently reunited family.
"We just waiting," Henin said. "It's boring. It's been terrible. That made me tired, actually, not doing anything."
There is an upside, however. According to the first-aid team, incidents were down 35 percent. The reason? There hasn't been a single case of heatstroke. Headaches and blisters are the leading maladies. FMC, the tournament's official caterer, reports that "abnormal" amounts of hot chocolate have been consumed.
If rain and its attendant chill continue, hot chocolate may supplant the cherished bowl of strawberries and cream.
Greg Garber is a senior writer for ESPN.com.
Writer, Reporter
Greg Garber joined ESPN in 1991 and provides reports for NFL Countdown and SportsCenter. He is also a regular contributor to Outside the Lines and a senior writer for ESPN.com.
2007 WIMBLEDON

June 25-July 8
Champions:
Women: Venus Williams
Men: Roger Federer
• Wimbledon Central
• TV schedule
Day 14
• Fifth straight title for Federer at Wimbledon
• Six straight in 2008?


• Garber: Federer closing in on Sampras
• DeSimone: Nadal closing gap on grass
• Clement, Llodra upset Bryans for doubles crowns
• Serve saves Federer

Day 13
• Venus wins fourth Wimbledon crown
• DeSimone: One determined Williams
• Men: Federer vs. Nadal in final
• Garber: Federer focused on five in a row
• Top 10 stats on Venus
• Notebook: Americans reach finals in junior event
Day 12
• Men | Women
• Bjorkman fined for lambasting umpire
• DeSimone: Missed opportunity for Roddick
• Garber: Bartoli shocks No. 1 Henin
• Notebook: Inclement conditions help Nadal

Day 11
• Men | Women
• Referee up a break and not apologizing
• Garber: Temperance never a virtue for Venus
• Notebook: Federer feeling the anxiety
• Blog: Djokovic ready for Big Dawgs?

Day 10
• Men | Women
• DeSimone: Five days for Nadal-Soderling match
• Garber: Venus rises to occasion
• Williams sisters pull out of doubles
• Notebook: Independence Day
• Doubles team sets Wimbledon record
• Roddick on serve, on set

Day 9
• Men | Women
• Garber: Blame it on the rain
• 'Organized chaos'


• Notebook: Teen takes out Mauresmo again
• Who wins: Justine or Serena?

Day 8
• Men | Women
• DeSimone: No cramping Serena's style
• Garber: Teeming with teens
• Davydenko bored by Wimbledon
• Chat wraps

: ESPN.com | Todd Martin
• Notebook: Venus best when back's against wall
Day 7
• Federer into quarters on walkover
• Security tightened amid terror threats
• Martin: Bottom of draw at disadvantage
• Garber: Doubles doing just fine, thank you
• DeSimone: Goals simple at Evert academy
• Week 1 photo gallery
MOST SENT STORIES ON ESPN.COM