Bartoli's win the upset of the year
Justine Henin seemed poised to advance to the Wimbledon final -- but something happened. Marion Bartoli happened. Her three-set win over the world No. 1 is the upset of the year.
Updated:
July 6, 2007, 6:55 PM ET
By
Greg Garber
| ESPN.com
WIMBLEDON, England -- When Justine Henin won the first set of Friday's semifinal match against Marion Bartoli in 22 minutes, heads did not turn, conversations did not stop, the world did not stop spinning.
It was the natural order of things, for Henin has won five of the previous 15 Grand Slams and was trying to become the 10th woman to collect a career Grand Slam and join celebrated tennis names like Navratilova and Evert and Court.
And Bartoli? The oddly eccentric 22-year-old French woman, an accidental tourist here at the All England Club, seemed happy to be in her first Grand Slam semifinal in 23 attempts.
And then something curious happened. Actually, Marion Bartoli happened.
Seeing Pierce Brosnan, one of her favorite actors, in the audience, Bartoli's initial embarrassment passed into resolve. Fearless, she stepped inside the baseline and started slugging. As she accelerated through the second set, Henin -- perhaps the most mentally tough player in the women's game -- came completely apart. In the end, as Bartoli drilled deep, two-handed ground strokes from both sides and sliced delicate drop shots, it seemed she was toying with the 25-year-old Belgian.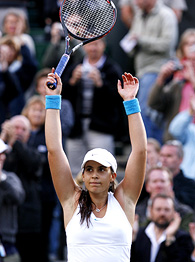 AP Photo/Anja NiedringhausDespite being a higher seed, Marion Bartoli will be a heavy underdog versus Venus Williams.
In her first visit ever to Centre Court, Bartoli was, improbably, a winner. The third-best player in France stunned the No. 1 player in the world, 1-6, 7-5, 6-1. Bartoli won eight of the last nine games of the match.
Along with Richard Gasquet's rousing quarterfinal victory over Andy Roddick, it was a banner day for France.
"It's the upset of the year," said Tracy Austin, who analyzed the match for the BBC. "I can't really think of a bigger upset, period."
How about David over Goliath?
Thus, the women's final on Saturday will feature the No. 18-seeded player against No. 23 -- the two lowest seeds to reach the woman's final in the 32 years they've kept track of such things. Bartoli's opponent will be the ascendant Venus Williams, who for the third straight day flayed one of the world's best players. This time it was Ana Ivanovic, 6-2, 6-4, as Williams achieved that distinction of being the lowest seed to reach the final in those 32 years.
Williams is 6-for-6 in the semifinals here, and now at least one Williams sister has been in the final here at the All England Club for seven of the last eight years.
"Williams, Wimbledon, starts with W," Venus said. "We just take Wimbledon so seriously, Serena and I do. We urge ourselves along. We'd see Pete Sampras winning. We just have traditions here [that] we do when we get here.
Venus did what she's been doing since two scratchy three-set matches in the first three rounds: search and destroy.
"I think it's just all about doing the right things at the right time," Venus said. "I feel like no matter who I play, I have the advantage."
She landed 74 percent of her first serves safely, a remarkable percentage for someone who averaged 111 miles per hour.
"We just love this tournament," she said. "We understand what it means. So somehow we just pull it out of the bag here."
That nicely describes Bartoli's modus operandi.
Her victory sent media folks scrambling back into the archives for a plausible parallel. On the elevated stage of a women's Grand Slam semifinal, there really isn't one in recent memory. You might have to go back to the 1989 French Open when, on the men's side, 17-year-old Michael Chang upset Ivan Lendl, the No. 1 seed. Like Bartoli, Chang was the No. 19-ranked player in the world.
"For the moment, I don't really realize what I'm doing in this tournament," Bartoli said. "Last week when I saw the draw in Eastbourne, I was worried about my first-round against [Flavia] Pennetta, and now I'm in the final.
"If you think about beating the No. 1 in the world on Centre Court, almost full, then in the final of a Grand Slam, especially Wimbledon, if you tell me that before, I couldn't believe you. I actually made it."
It's almost unfathomable. Bartoli has been a professional for eight years now and has won just three titles, all achieved last year. Her best result this year was reaching the final at Prague, where she lost to Akiko Morigami.
Here at Wimbledon, she has knocked off two of the best three players in the world; Bartoli stunned No. 3 seed Jelena Jankovic in the fourth round, then Dutch teenager Michaella Krajicek in the quarterfinals.
It took only four points for Henin to assert herself against Bartoli. She broke her in the match's second game, at love, carving a lovely little cross-court forehand winner to finish the job. When she lost six of seven games in the first set, the match appeared to be over.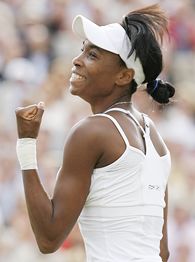 AP Photo/Anja NiedringhausVenus Williams was all smiles in blowing past Ana Ivanovic.
Bartoli, frankly, is not built along the lean lines of many players. Rather, she is solid and often stops to catch her breath after active points. Seeing Brosnan, though, was a wake-up call.
"I was focusing on Pierce Brosnan because he is so beautiful," she said. "I was just watching him. He was the only one.
"I said to myself, 'It's not possible I play so bad in front of him. So I try to feel a bit more the ball, play more smartly. I saw he was cheering for me, so I said, 'Oh, maybe it's good.'"
At 5-all in the second set, Bartoli held serve and then broke Henin to win, 7-5. With the exception of the third game in the ultimate set, when she weathered five deuces, Bartoli never shrank from the moment.
"I still don't really realize what did happen," Henin said later. "I don't understand what did happen.
"She's playing an unbelievable tournament. She was in confidence. She [was] never scared of winning the match."
Bartoli grew up in Le Puy-en-Velay, France, about 35 miles southwest of Lyon. Her father Walter, a doctor, has been her coach since she hit her first tennis ball, at the age of 6. There are no indoor courts in Le Puy-en-Velay, so her father trained her in a volleyball facility, where she learned to hit ground strokes less than one meter from the wall.
On Friday, that wall was the baseline and, with her back against it, she never flinched.
Greg Garber is a senior writer for ESPN.com.
Writer, Reporter
Greg Garber joined ESPN in 1991 and provides reports for NFL Countdown and SportsCenter. He is also a regular contributor to Outside the Lines and a senior writer for ESPN.com.
2007 WIMBLEDON

June 25-July 8
Champions:
Women: Venus Williams
Men: Roger Federer
• Wimbledon Central
• TV schedule
Day 14
• Fifth straight title for Federer at Wimbledon
• Six straight in 2008?


• Garber: Federer closing in on Sampras
• DeSimone: Nadal closing gap on grass
• Clement, Llodra upset Bryans for doubles crowns
• Serve saves Federer

Day 13
• Venus wins fourth Wimbledon crown
• DeSimone: One determined Williams
• Men: Federer vs. Nadal in final
• Garber: Federer focused on five in a row
• Top 10 stats on Venus
• Notebook: Americans reach finals in junior event
Day 12
• Men | Women
• Bjorkman fined for lambasting umpire
• DeSimone: Missed opportunity for Roddick
• Garber: Bartoli shocks No. 1 Henin
• Notebook: Inclement conditions help Nadal

Day 11
• Men | Women
• Referee up a break and not apologizing
• Garber: Temperance never a virtue for Venus
• Notebook: Federer feeling the anxiety
• Blog: Djokovic ready for Big Dawgs?

Day 10
• Men | Women
• DeSimone: Five days for Nadal-Soderling match
• Garber: Venus rises to occasion
• Williams sisters pull out of doubles
• Notebook: Independence Day
• Doubles team sets Wimbledon record
• Roddick on serve, on set

Day 9
• Men | Women
• Garber: Blame it on the rain
• 'Organized chaos'


• Notebook: Teen takes out Mauresmo again
• Who wins: Justine or Serena?

Day 8
• Men | Women
• DeSimone: No cramping Serena's style
• Garber: Teeming with teens
• Davydenko bored by Wimbledon
• Chat wraps

: ESPN.com | Todd Martin
• Notebook: Venus best when back's against wall
Day 7
• Federer into quarters on walkover
• Security tightened amid terror threats
• Martin: Bottom of draw at disadvantage
• Garber: Doubles doing just fine, thank you
• DeSimone: Goals simple at Evert academy
• Week 1 photo gallery
MOST SENT STORIES ON ESPN.COM