Gasquet out of gas, falls to Federer in straight sets
Updated:
July 7, 2007, 12:40 PM ET
Associated Press
WIMBLEDON, England -- Roger Federer and Rafael Nadal will meet in another Grand Slam final.
Four-time defending champion Federer reached his ninth consecutive major final Saturday, beating Richard Gasquet 7-5, 6-3, 6-4 on the grass courts of the All England Club.
"It has become sort of a routine, but I'm still so excited to be back in the final,'' said Federer, who beat Nadal to win last year's title but lost to the Spaniard in the last two French Open finals.
Nadal set up a rematch at Wimbledon when No. 4 Novak Djokovic withdrew while trailing 3-6, 6-1, 4-1.
"I'm going to have a very difficult match tomorrow, but I'm going to try my best,'' said Nadal, a three-time champion at Roland Garros.
The win was Federer's 53rd straight on grass. He finished with 20 aces, including one on a second serve in the final game of the match.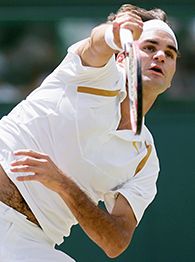 Julian Finney/Getty ImagesRoger Federer put away Richard Gasquet in straight sets for a shot at his fifth straight Wimbledon title.
Gasquet matched Federer for most of the first set, but the top-ranked Swiss player saved all three break points he faced, including two at 5-5. Federer saved the first with an ace and the next with a forehand winner before winning the next two points. Including those four points, Federer won 44 of the final 54 points on his serve.
"If I did this break point, everything can happen if I win the first set,'' Gasquet said.
With Gasquet serving at 6-5, the Frenchman was only two points away from forcing a first-set tiebreaker, but Federer won four straight points to take the set.
"The first set was crucial,'' Federer said. "He should have at least got to the tiebreaker. I came out somehow and played really well for 10 minutes and was up a set and a break, and that was pretty much it after that.''
In the second set, Federer held in the first game and then broke again, eventually taking a 3-0 lead.
After the set ended, the 12th-seeded Gasquet called for a trainer to look at his left ankle. His ferocious backhands and whipping cross-court forehands again won him points, but Federer was too good, breaking Gasquet to lead 4-3 in the final set.
The 25-year-old Federer, who is the oldest of the four men's semifinalists, is trying to win a fifth consecutive Wimbledon title, something only Bjorn Borg has done in the past 100 years. Borg, who won his titles from 1976-80, watched the match from the stands, wearing a purple-and-green tie -- the colors of the All England Club.
"It is tricky when you see him sitting there because he is a living legend,'' Federer said. "I have so much respect for him that it is great that he's here. I hope I can do the job tomorrow.''
Gasquet came back from a two-set deficit to beat Andy Roddick on Friday in the quarterfinals.
"Everything was difficult because I finished at 8:00 [p.m.] yesterday,'' Gasquet said. "I have to play at noon, so that's not easy. I was tired.''
Federer didn't look tired. The 10-time Grand Slam champion dropped his first set of the tournament in Friday's quarterfinals, but hadn't played a full match in one day since beating Marat Safin in the third round last Friday.
Lawn Mower

Roger Federer extended his record grass-court winning streak with his semifinal victory Saturday at Wimbledon. He'll try to win his 54th straight match on grass Sunday in the final.
Longest streaks by surface
Surface
Streak
Clay
Nadal, 81
Indoor carpet
McEnroe, 65
Hard court
Federer, 56
Grass
Federer, 53*
*active streak
Nadal pressured Djokovic early, earning three break points in the first game but failing to convert. Djokovic then broke Nadal in the second game, and only conceded three more points on his serve for the rest of the set.
"I start the match playing bad,'' Nadal said. "But I was practicing before the warmup bad, too.''
The second set started with Nadal holding and then breaking Djokovic's serve. After Nadal evened the match at one set apiece, Djokovic called for a trainer. He got the little toe on his left foot bandaged.
"In the first game of second set, second game, I have the break,'' Nadal said. "That's decisive in the match ... because I get confidence there.''
In the third set, Djokovic continued to hobble but saved two break points in the opening game.
Then, serving at 1-1, 30-30, he put a forehand wide and dropped to the grass, rocking on the balls of his feet. His next shot was a forehand into the net.
Nadal held easily to lead 3-1 and forced another two break points in the fifth game. Djokovic saved one but hit a forehand into the net on the second. The trainer immediately returned and Djokovic soon decided to retire.
"I got to look on a positive side," said Djokovic, who also lost to Nadal in the French Open semifinals. "I showed here that I really deserve being in [the] last four in Wimbledon, and I think all the major tournaments."
Djokovic said he even considered withdrawing before the match because of the blister and back pain.
"It's really infected," said Djokovic, who played five sets Friday in the quarterfinals. "I didn't sleep during the night because I had a lot of bleeding and everything, so I was barely walking this morning."
Djokovic also withdrew against Nadal in the quarterfinals of the French Open last year.
Both players have spent a lot of time on court over the past few days because of the massive backlog created by persistent rain throughout the tournament.
Nadal played two five-setters before reaching the semifinals Friday with a straight-set win. But Djokovic needed five sets Friday in the quarterfinals, and four sets in each of the previous two rounds.

Copyright 2007 by The Associated Press
SPONSORED HEADLINES
MORE TENNIS HEADLINES
MOST SENT STORIES ON ESPN.COM
2007 WIMBLEDON

June 25-July 8
Champions:
Women: Venus Williams
Men: Roger Federer
• Wimbledon Central
• TV schedule
Day 14
• Fifth straight title for Federer at Wimbledon
• Six straight in 2008?


• Garber: Federer closing in on Sampras
• DeSimone: Nadal closing gap on grass
• Clement, Llodra upset Bryans for doubles crowns
• Serve saves Federer

Day 13
• Venus wins fourth Wimbledon crown
• DeSimone: One determined Williams
• Men: Federer vs. Nadal in final
• Garber: Federer focused on five in a row
• Top 10 stats on Venus
• Notebook: Americans reach finals in junior event
Day 12
• Men | Women
• Bjorkman fined for lambasting umpire
• DeSimone: Missed opportunity for Roddick
• Garber: Bartoli shocks No. 1 Henin
• Notebook: Inclement conditions help Nadal

Day 11
• Men | Women
• Referee up a break and not apologizing
• Garber: Temperance never a virtue for Venus
• Notebook: Federer feeling the anxiety
• Blog: Djokovic ready for Big Dawgs?

Day 10
• Men | Women
• DeSimone: Five days for Nadal-Soderling match
• Garber: Venus rises to occasion
• Williams sisters pull out of doubles
• Notebook: Independence Day
• Doubles team sets Wimbledon record
• Roddick on serve, on set

Day 9
• Men | Women
• Garber: Blame it on the rain
• 'Organized chaos'


• Notebook: Teen takes out Mauresmo again
• Who wins: Justine or Serena?

Day 8
• Men | Women
• DeSimone: No cramping Serena's style
• Garber: Teeming with teens
• Davydenko bored by Wimbledon
• Chat wraps

: ESPN.com | Todd Martin
• Notebook: Venus best when back's against wall
Day 7
• Federer into quarters on walkover
• Security tightened amid terror threats
• Martin: Bottom of draw at disadvantage
• Garber: Doubles doing just fine, thank you
• DeSimone: Goals simple at Evert academy
• Week 1 photo gallery