Commentary
Astute Ancic hoping to halt Federer's Wimbledon run -- again
Since Mario Ancic shocked Roger Federer six years ago at the All England Club, their careers have gone in diametrically opposite directions. But a more astute Ancic is confident that lightning can strike again when the two meet in the Wimbledon quarterfinals.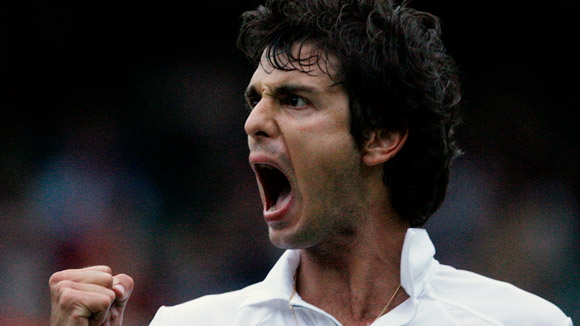 AP Photo/Anja NiedringhausWith a win over Roger Federer, Mario Ancic would reach his second career Grand Slam semifinal.
WIMBLEDON, England -- Every so often, the intersection of two players at a Grand Slam tournament isn't just a match, it's a fable.
Wednesday's quarterfinal match between Mario Ancic and five-time defending champion Roger Federer isn't exactly the tortoise versus the hare, but it is a striking example of the way careers can collide, diverge and come back together again at dramatic times when players go around the track at different paces.
Enough water to submerge the British Isles has flowed under the bridge since the first time these two men met at Wimbledon in 2002. Ancic was a reed-thin, 18-year-old unknown ranked No. 154 in the world, and he had a bazooka serve patterned after that of his mentor, then-defending champion Goran Ivanisevic. The match against Federer was Ancic's second at the ATP level; he had to survive qualifying rounds to make the main draw.
Federer had just cracked the top 10 for the first time a few weeks earlier, and with his upset of Pete Sampras the previous year still fresh in memory, he was seeded seventh by the All England Club.
It looked like a mismatch, and it was -- just not the mismatch anyone expected, least of all Federer, who found himself shaking hands at the net after a 6-3, 7-6 (2), 6-3 first-round loss that took just 100 minutes.
"I completely underestimated him,'' Federer said. "I mean, I just thought, you know, I'll play a little bit of serve and volley. I expected him to stay back and it was the opposite. … I got completely surprised. He played well till the very end. I was a little shell-shocked and didn't know what happened to me.''
The engaging, articulate Ancic has had plenty of time to put that match in proper perspective, and it's a humble one.
"He was not Roger Federer at that time,'' the 43rd-ranked Ancic said after outlasting Spain's Fernando Verdasco in five sets in the fourth round. "Of course, I mean, I can sit here and talk stories about … great win and how I beat Roger Federer, but actually it wasn't Roger Federer as we know him today. It was the up-and-coming, top-10 player who was at that moment struggling on Grand Slams. I think from [the] year after he won Wimbledon he exploded, and today he's completely different player.''
The match may have been a blip in Federer's eventual mastery of this event, but it was a big, irritating blip. Federer said it permanently altered the way he regarded opponents who were much lower on the food chain. He's gobbled them up at Wimbledon since then, and he's made a pretty quick meal of Ancic in their past five matches, including a businesslike straight-sets win in the 2006 Wimbledon quarterfinals.
Ancic would like to change that course of events, and while he has nothing close to the competitive résumé Federer has compiled, he has had some life experiences along the way that deepen his appreciation of this moment.
Now 24, Ancic's potential loomed huge in late 2005, when he won the decisive match of Croatia's historic Davis Cup championship, and in 2006, when he captured two ATP titles. An injury suffered Jet Skiing took him out of commission for a stretch, but it was nothing compared to a debilitating bout with mononucleosis that sidelined him from February to August in 2007.
[+] Enlarge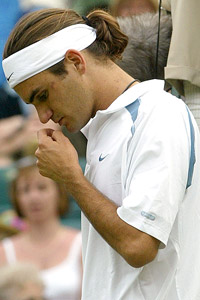 AP Photo/Dave CaulkinThe last time Federer lost at Wimbledon came in 2002 versus Mario Ancic.
In his downtime, Ancic decided to complete his law school degree. "I think it just help me to stay mentally strong,'' he said. "I think it would be much tougher if I didn't have it -- so I would sit whole day, you know, at home and hit myself, you know, hit my head through the wall all day. You know, nothing to do. Maybe watch tennis, and you get even more crazy.''
Ancic never doubted he would make it back to the circuit, and one of the moments he visualized to help motivate him was a return to Centre Court, where he had a fleeting glimpse of the pinnacle of the tennis world.
"It was something that I really felt passionate about,'' he said. "I said that is for me like for a footballer to play on Wembley. It's Yankee Stadium for baseball, Madison Square Garden in basketball, New York Knicks to play there. I mean, it's almost like a holy place.''
Could lightning strike the altar twice? Federer has won 62 straight on grass since Ancic felled him. He hasn't dropped a set here, while the Croatian has slogged through two five-set matches in his past three outings. Any chance of Federer taking Ancic too lightly vanished six years ago -- and given the recent barrage of speculation about whether the world No. 1 can continue to dominate, Federer has even more motivation.
Slow and steady doesn't work in tennis, but on a given day, serve and volley can make an impact. Federer may have lapped Ancic several times since that memorable day in 2002, but as far as they're both concerned, at 1 p.m. local time on Wednesday they'll be even, on the same start line.
Bonnie D. Ford covers tennis and Olympic sports for ESPN.com. She can be reached at bonniedford@aol.com.
Enterprise and Olympic Sports
Bonnie D. Ford is a senior writer for ESPN.com.
WIMBLEDON 2008
Instant Classic
ESPN Classic will replay Rafael Nadal's epic five-set victory over Roger Federer in the men's final on Monday at 7 p.m. ET.
Day 14
•
Men
|
Scores
•
Bob Bryan beats brother Mike in mixed doubles
•
Garber: Nadal muscles his way to championship
•
Ubha: Top five Wimbledon finals
•
Harwitt: Loss a microcosm of Federer's year
•
Ubha: Wimbledon men's final instant analysis
•
Bodo: Nadal shows plenty of courage
Day 13
•
Women
|
Scores
•
Garber: Venus finally stands up to little sister
•
Ubha: Williamses match competitive and clean
•
Garber: Borg the man in the middle
•
Ubha: Wimbledon women's final instant analysis
•
Who will win the Wimbledon men's singles final?
•
Bodo: Five reasons Nadal can win
Day 12
•
Men
|
Scores
•
Garber: Best friends set to do battle again
•
Harwitt: Coach-less Federer ready for title
•
Ubha: Nadal clearly in Federer's head
•
Who will win the Wimbledon women's final?
Day 11
•
Men
|
Women
|
Scores
•
Garber: Time is now for Nadal at Wimbledon
•
Ubha: Top Williams sisters moments
•
Grass Stains: Williamses ready for showdown
•
Tennis.com: Rafa will win Wimbledon
Day 10
•
Men
|
Scores
•
Wimbledon women's court schedule troubles WTA
•
Ubha: Federer serving lights out
•
Nadal blog: Happy to get by Murray
•
Garber: Venus is best grass-courter of generation
•
Star Watch: Safin looking confident again
Day 9
•
Women
|
Scores
•
Garber: Williams sisters crushing opponents
•
Ford: Ancic hoping to take care of Federer again
•
Chip and Charge: Olympics taking center stage
•
Ubha: Can Murray maintain momentum
Day 8
•
Men
|
Women
|
Scores
•
Garber: Unpredictability in women's tennis
•
Grass Stains: Valiant determination from Lopez
•
Star Watch: Murray electifies hometown crowd
Day 7
•
Ford: Midway at Wimbledon report
•
Ubha: Breaking down the final 16 in each bracket
See all stories from Week 1