Commentary
ATP future in play as players wrestle management
With various points of contention between the players and the ATP Tour's management, the tenure of its leader Etienne de Villiers is threatened and the organization's future is open to suggestion, Greg Garber writes.
Updated:
June 24, 2008, 5:40 PM ET
By
Greg Garber
| ESPN.com
WIMBLEDON, England -- Sporting wraparound Ray Ban sunglasses and an impeccably tailored gray suit, Etienne de Villiers held court on Tuesday afternoon like the Lord of the Manor.
As the ATP's executive chairman and president chatted amiably on the landing outside the All England Club's press center, he did not sound like a man who thinks he's about to lose his job.
"I haven't thought about that for a minute," de Villiers told ESPN.com when asked the daunting question. "I'm too busy doing deals."
With alarming gusto, the usually calm de Villiers launched into a laundry list of recently done and pending deals -- from the sponsorships of Barclays ($40 million) and South African Airways ($20 million) to the soon-to-be-announced support of Ricoh ($12 million) and a replacement for Mercedes as the ATP's major partner.
If you are a cynic -- and plenty of them exist -- you might be tempted to cast his behavior as whistling past the graveyard. A growing sentiment swirls among the lush lawns that de Villiers may be on his way out after less than three years on the job. Based on conversations with a dozen people who understand the complicated dynamic, de Villiers' chances of remaining in power appear to be less than 50 percent. His contract runs out later this year.
[+] Enlarge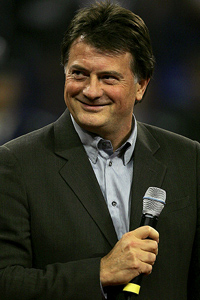 Matthew Stockman/Getty ImagesThe future for Etienne de Villiers, the ATP's executive chairman, could be determined by a case that opens July 21 in U.S. District Court in Delaware.
There is a call for change among ATP players, and it's possible that de Villiers, an aggressive agent for change, might be replaced in the process. Events of the next month will answer that question. Nothing less than the future of the men's game is in play.
De Villiers was the successor to Mark Miles, a consummate politician who worked so hard to achieve a consensus that change was sometimes difficult. De Villiers has a strong business and entertainment background -- he worked for Disney for 15 years while based in London -- stretched across an international canvas of experience.
He pushed hard for three initiatives and, against a significant tide of resistance, succeeded. Doubles play was revamped and streamlined and today is more palatable to tournament directors. He lobbied for the Hawk-Eye instant-replay system, which has turned out to be, in most minds, a solid addition to the game. De Villiers was also behind the idea for round-robin play in lesser tournaments, a concept that failed miserably in Las Vegas last year but succeeded at the year-end Masters tournament.
The currently unsettled climate stems from de Villiers' attempt to alter the ATP calendar by eliminating the Hamburg, Germany, clay event from the Masters Series in 2009 and adding a combined clay-court event in Madrid. The Hamburg organizers objected and sued the ATP. The antitrust case will begin in U.S. District Court on July 21 in Wilmington, Del., where the ATP is incorporated.
Going forward, this will be a critical decision for the ATP. The players say privately that the case is a referendum on de Villiers' stewardship. If the ATP loses -- a distinct possibility, based on conversations here -- de Villiers' tenure could be among the collateral damage.
The ATP reportedly has spent more than $7 million on legal and court costs for the case, and de Villiers said Tuesday the ATP has been busy preparing its side.
"The court will hear our story and their story," he said with an even tone. "Quite simply, our story is that this is what we need to do to unlock the potential of our sport, to make the sport more exciting for our fans."
The players, particularly the Europeans who make their living on clay, were angered by the attempt to remove the Hamburg event. Three of the leading critics happen to be the three top-ranked players in the game: Roger Federer, Rafael Nadal and Novak Djokovic. Though their epic Grand Slam battles have made for great theater, the three have grown close off the court in trying to guide the game's future.
"Some changes that have been made have been good, some not so good," Federer told Neil Harman of the Times of London in a Friday interview. "But the players are in the debate and we have to ask, is this really what we want?"
The big three were concerned enough to run for seats on the 10-man ATP Player Council, the body that serves as a liaison to the ATP on behalf of the players.
"I think it was important that the other players see that we truly care on a council and board level," Federer said in a Sunday news conference. "I think it's interesting times in tennis."
Federer, Nadal and Djokovic ran unopposed and were voted in, and some consider their appointment the most significant event in the organization's 20-year history.
"I'm really happy that the top players have committed in the way they have," de Villiers said. "Their voices should be heard."
At the same time, the configuration of the ATP's board of directors has changed dramatically.
"Our complaint," Nadal said in Paris, "is that we have representatives on the board who do not represent the players. They're representing the head of the ATP."
In theory, the ATP is owned equally by the players and the tournaments. But many players believe that the three player representatives on the board through de Villiers' tenure have voted too often with de Villiers and the tournaments -- and against the best interests of the players.
The three player representatives in question -- former doubles champion Jacco Eltingh, former ATP official Iggy Jovanovic and Perry Rogers, the former agent of Andre Agassi -- are now all gone. On Sunday, they were replaced by former professional Justin Gimelstob, David Egdes (who's executive vice president of the Tennis Channel) and, until the U.S. Open, player Ivan Ljubicic.
Gimelstob, sitting in the director's chair in a Tennis Channel studio where he works as an analyst, answered questions carefully in an exclusive interview with ESPN.com.
[+] Enlarge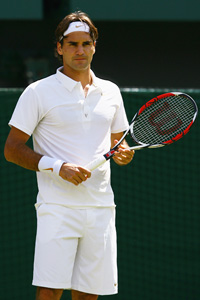 Clive Brunskill/Getty ImagesRoger Federer acknowledges the ATP is facing problems, but has kept his take de Villiers' future to himself.
"I'm in a position to listen, to gather information, then evaluate that information," he said. "We're trying to see that the players are properly represented. There's so much information to absorb and communicate what the players need and want."
Gimelstob listed the calendar (player safety and health), prize money and tweaking the Davis Cup among the players' greatest concerns. He did not voluntarily mention de Villiers. He arched his eyebrows when the subject of de Villiers was broached.
"To say no comment sounds negative," he said deliberately. "That's not an issue. I have no information or opinion on that right now. It would be presumptuous to have a preconceived position."
The first meeting of the complete new board came on Monday. The second was originally planned for Tuesday but was postponed when Ljubicic was scheduled to play; he lost to Jurgen Melzer in five sets. The second meeting now will take place on Wednesday.
No definitive announcement on de Villiers' future is expected after the meeting.
On Tuesday, he was easily among the shakers and the movers that are drawn to a Grand Slam tennis tournament. De Villiers will have dinner with former Disney CEO and colleague Michael Eisner.
"I'm very comfortable with the new board that has been selected," de Villiers said. "We're working toward making the sport better. We believe we're on a very good path."
Federer has not telegraphed with any degree of certainty which way he is leaning about de Villiers.
"Even though there are problems looming, and I'm not happy with the position the ATP is in regarding the Hamburg case," Federer told The Times, "I think the game will grow stronger through these problems."
Greg Garber is a senior writer for ESPN.com.
Writer, Reporter
Greg Garber joined ESPN in 1991 and provides reports for NFL Countdown and SportsCenter. He is also a regular contributor to Outside the Lines and a senior writer for ESPN.com.
SPONSORED HEADLINES
MORE TENNIS HEADLINES
MOST SENT STORIES ON ESPN.COM
WIMBLEDON 2008
Instant Classic
ESPN Classic will replay Rafael Nadal's epic five-set victory over Roger Federer in the men's final on Monday at 7 p.m. ET.
Day 14
•
Men
|
Scores
•
Bob Bryan beats brother Mike in mixed doubles
•
Garber: Nadal muscles his way to championship
•
Ubha: Top five Wimbledon finals
•
Harwitt: Loss a microcosm of Federer's year
•
Ubha: Wimbledon men's final instant analysis
•
Bodo: Nadal shows plenty of courage
Day 13
•
Women
|
Scores
•
Garber: Venus finally stands up to little sister
•
Ubha: Williamses match competitive and clean
•
Garber: Borg the man in the middle
•
Ubha: Wimbledon women's final instant analysis
•
Who will win the Wimbledon men's singles final?
•
Bodo: Five reasons Nadal can win
Day 12
•
Men
|
Scores
•
Garber: Best friends set to do battle again
•
Harwitt: Coach-less Federer ready for title
•
Ubha: Nadal clearly in Federer's head
•
Who will win the Wimbledon women's final?
Day 11
•
Men
|
Women
|
Scores
•
Garber: Time is now for Nadal at Wimbledon
•
Ubha: Top Williams sisters moments
•
Grass Stains: Williamses ready for showdown
•
Tennis.com: Rafa will win Wimbledon
Day 10
•
Men
|
Scores
•
Wimbledon women's court schedule troubles WTA
•
Ubha: Federer serving lights out
•
Nadal blog: Happy to get by Murray
•
Garber: Venus is best grass-courter of generation
•
Star Watch: Safin looking confident again
Day 9
•
Women
|
Scores
•
Garber: Williams sisters crushing opponents
•
Ford: Ancic hoping to take care of Federer again
•
Chip and Charge: Olympics taking center stage
•
Ubha: Can Murray maintain momentum
Day 8
•
Men
|
Women
|
Scores
•
Garber: Unpredictability in women's tennis
•
Grass Stains: Valiant determination from Lopez
•
Star Watch: Murray electifies hometown crowd
Day 7
•
Ford: Midway at Wimbledon report
•
Ubha: Breaking down the final 16 in each bracket
See all stories from Week 1