Commentary
Federer seemingly unconcerned about perceptions of vulnerability
A fragile season has left many wondering what the state of Roger Federer's game -- and mind -- really are.
Updated:
June 28, 2008, 11:44 PM ET
By
Greg Garber
| ESPN.com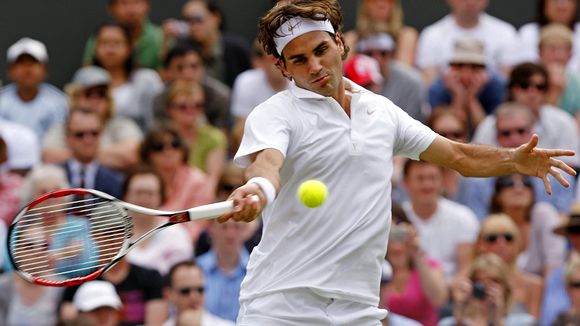 ADRIAN DENNIS/AFP/Getty ImagesDespite 62 straight grass-court wins, there is an uneasiness about Federer's state of mind.
WIMBLEDON, England -- Confidence, as slippery as a wriggling eel, cannot be seen or touched or tasted. Still, you can smell it coming a mile away.
Like true love, confidence cannot be bought; it must be earned. It's about belief, a faith based on a history of success.
These days, does confidence genuinely reside in Roger Federer's heart and mind?
Here at the All England Club, where the world's tennis media have gathered in impressive numbers, this is the leading question.
After winning only four games from Rafael Nadal in the French Open final -- the worst Grand Slam loss of Federer's career -- many believe they see a worst-case scenario after studying his Paris Rorschach test. Every news conference is an opportunity to probe and to assess his frame of mind. But reading between the lines of his usually polite responses, all of this amateur psychology seems to irritate the world's No. 1 player.
"Why do they want to shoot me so soon?" Federer asked Neil Harman of the Times of London.
Federer is continually put in the position of defending himself. He does this by patiently reciting his results, and trophies are tangible evidence of that confidence.
"I haven't been reading and I haven't been listening to what has been said," Federer said after his first-round match. "So, of course, I haven't been affected, either. So I've been working in there as defending champion, opening Centre Court, trying to defend the title again. That's all that mattered to me.
"I came from a good tournament in Halle [Germany]," he said. "I couldn't do any better than not dropping a set, not dropping a service game, so I feel like I'm right there to do the same thing again this week."
So far, that's just about how it's working out. On Friday, Federer defeated Marc Gicquel 6-3, 6-3, 6-1 and now he'll have the weekend off.
Federer has won 37 straight matches at Wimbledon, 62 straight on grass and he's held serve in 89 of 91 service games this grass season. He's been the No. 1-ranked player for 230 consecutive weeks. These facts have not been lost with the bookmakers. Before the match, British bookmakers listed Federer as a 100-to-1 favorite, meaning you needed to invest 100 pounds to win … one pound.
"He's extremely motivated," said Tony Godsick, Federer's long-time agent. "He loves it here. He won the junior title here, he beat Sampras for the first time here, won his first major here. The Olympics are here in 2012."
Federer said on Friday that Wimbledon is what's closest to his heart and he wished that someday his career might end here.
According to Godsick, the well-publicized bout with mononucleosis early in the season was an enormous factor in his slow start, which included a semifinal loss to Novak Djokovic at the Australian Open. When Djokovic, the young and rising Serb player, reached the semifinal at Roland Garros, it was the fifth straight time he had advanced to the final four of a major. He then later told the world that Federer was vulnerable.
"He was vulnerable at the beginning of the year," said Godsick, who, after Federer's girlfriend Mirka Vavrinec, is the supporter seen most often in the Swiss player's friends box. "He was sick. Luckily he didn't know it and played through it. It slowed him down. He didn't have enough practice time. And, with the Olympics, this is the worst year to get sick."
Djokovic is at Wimbledon here after a second-round loss and Federer looks to be on track for a record sixth straight final. So who is vulnerable -- and worried -- now?
Federer has reached 16 straight Grand Slam semifinals, an achievement that is difficult to fully process. This is far beyond the previous Open era record of 10 belonging to Ivan Lendl.
In the four years from 2004-2007, Federer won 11 of the 16 majors contested, a streak that John McEnroe calls "the four greatest years in the history of Open tennis."
"He's been to 16 straight Grand Slam semifinals?" said McEnroe, who is broadcasting here for the BBC and NBC. "How many of the top players have even played in 16 straight Grand Slams?"
Brad Gilbert, who coached Andre Agassi, Andy Roddick and most recently Andy Murray, believes that the pressure from Nadal and Djokovic helps Federer focus.
"Yes, that's a good thing," Gilbert said. "It means he's got to keep it going, got to re-up, man."
Much has been made of the swift -- and difficult -- transition from clay to grass after the French Open, but how about Federer's transition from devastating loss to a flawless 8-0 on grass?
"He has always had a great ability to compartmentalize," Godsick said. "As good a winner as he is, he's a better loser."
"The key to coaching is short-term memory loss," Gilbert said. "The French -- that's gone, that's over. He gets tired of answering all the questions. He's thinking, 'Just look at the results at the end of the tournament.'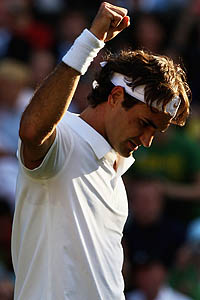 Ryan Pierse/Getty ImagesFederer entered Wimbledon without a Grand Slam title for the first time since 2005.
"He's got a quiet cockiness."
He should.
Whether it's Tom Brady with the ball during the fourth quarter of a Super Bowl, Mariano Rivera coming in to save the game in the ninth inning, Kevin Garnett rising in the paint to block a shot with the game on the line, or Federer in a Grand Slam final outside of Paris, demonstrated ability is a wonderful hammer to have in your tool chest. Federer is 12-for-12 in Grand Slam finals not held in Paris.
McEnroe used the words "superb" and "unbelievable" to describe the level of Federer's play on Friday.
"Going forward," McEnroe said, "this will give him more confidence, not that he needs it. It seems almost casual, that's how easy he makes it look. We saw a master at work."
Federer, sweat still oozing from his forehead and a little out of breath, did a brief interview with the BBC after beating Gicquel.
"Not losing a set against tough players, I like the way I'm playing," Federer said. "I'm looking forward to a few days off."
Federer was asked what areas of his game he'd like to improve.
"Well," said Federer, clearly perplexed by the question. "I just want to keep the game where it is."
Patrick McEnroe, the U.S. Davis Cup captain, has seen this phenomenon before.
"Is he supremely confident?" McEnroe said. "I think up until he plays Nadal, he is. And then he would be just confident. That might be enough.
"We really don't know. We'll find out. That's what we're all watching."
Greg Garber is a senior writer for ESPN.com.
Writer, Reporter
Greg Garber joined ESPN in 1991 and provides reports for NFL Countdown and SportsCenter. He is also a regular contributor to Outside the Lines and a senior writer for ESPN.com.
WIMBLEDON 2008
Instant Classic
ESPN Classic will replay Rafael Nadal's epic five-set victory over Roger Federer in the men's final on Monday at 7 p.m. ET.
Day 14
•
Men
|
Scores
•
Bob Bryan beats brother Mike in mixed doubles
•
Garber: Nadal muscles his way to championship
•
Ubha: Top five Wimbledon finals
•
Harwitt: Loss a microcosm of Federer's year
•
Ubha: Wimbledon men's final instant analysis
•
Bodo: Nadal shows plenty of courage
Day 13
•
Women
|
Scores
•
Garber: Venus finally stands up to little sister
•
Ubha: Williamses match competitive and clean
•
Garber: Borg the man in the middle
•
Ubha: Wimbledon women's final instant analysis
•
Who will win the Wimbledon men's singles final?
•
Bodo: Five reasons Nadal can win
Day 12
•
Men
|
Scores
•
Garber: Best friends set to do battle again
•
Harwitt: Coach-less Federer ready for title
•
Ubha: Nadal clearly in Federer's head
•
Who will win the Wimbledon women's final?
Day 11
•
Men
|
Women
|
Scores
•
Garber: Time is now for Nadal at Wimbledon
•
Ubha: Top Williams sisters moments
•
Grass Stains: Williamses ready for showdown
•
Tennis.com: Rafa will win Wimbledon
Day 10
•
Men
|
Scores
•
Wimbledon women's court schedule troubles WTA
•
Ubha: Federer serving lights out
•
Nadal blog: Happy to get by Murray
•
Garber: Venus is best grass-courter of generation
•
Star Watch: Safin looking confident again
Day 9
•
Women
|
Scores
•
Garber: Williams sisters crushing opponents
•
Ford: Ancic hoping to take care of Federer again
•
Chip and Charge: Olympics taking center stage
•
Ubha: Can Murray maintain momentum
Day 8
•
Men
|
Women
|
Scores
•
Garber: Unpredictability in women's tennis
•
Grass Stains: Valiant determination from Lopez
•
Star Watch: Murray electifies hometown crowd
Day 7
•
Ford: Midway at Wimbledon report
•
Ubha: Breaking down the final 16 in each bracket
See all stories from Week 1
MOST SENT STORIES ON ESPN.COM