Commentary
Wimbledon a hotbed for tradition
From the All England Club's strict wardrobe policy to a day off in the middle of the fortnight, Wimbledon is rife with tradition.
Updated:
June 21, 2008, 10:41 AM ET
By
Sandra Harwitt
| Special to ESPN.com
Wimbledon is the only one of the four Grand Slams still contested on beautifully manicured lawns, taking place at the All England Lawn Tennis and Croquet Club. Yes, even in its infancy the French Open took place on grass, as did the Australian and U.S. Opens into the Open era.
Grass courts are one of Wimbledon's unique features, but it's not the only factor that sets it apart from the other three majors on the tennis calendar.
Here's a look at some of the unique facts about the tournament that is simply known as "The Championships."
Paycheck for play
The Open era of tennis, where professional players were welcome to compete at prestigious tournaments such as Wimbledon, came into being in 1968. But Rod Laver, who beat Tony Roche in straight sets that year, was not the first man to receive prize money at Wimbledon. The first champion at Wimbledon to receive payment was the first man to ever win the Wimbledon title -- Spencer Gore in 1877. Gore paid a fee of one guinea to compete in the new event and then won first prize, which was valued at 12 guineas cash and a Silver Challenge Cup, worth an additional 25 guineas. Hard to tell what a guinea is worth, as the only thing called a guinea these days is a guinea pig and it's doubtful the champion was gifted with 12 furry rodents.
[+] Enlarge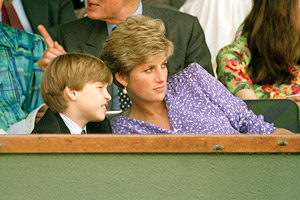 AP Photo/Dave CaulkinPrincess Diana is one of many royalties who have made their way to the All England Club.
Royals in court
Wimbledon is the only Grand Slam to feature a Royal Box. The other majors have a President's box, which is used for the president of the country's tennis federation. Interestingly, the first Royal to watch tennis at Wimbledon was not a member of the British Royal Family -- it was Crown Princess Stephanie of Austria who visited in 1895. A member of the British Royal Family would not be a spectator at Wimbledon until 1907 when the then Prince of Wales (later to take the throne as King George V) made the pilgrimage from central London to accept the presidency of the All England Lawn Tennis Club.
In 1926, Wimbledon hosted the only Royal to ever compete at The Championships when the Duke of York, Prince Albert (he later became King George VI and was the father of the current reigning monarch, Queen Elizabeth) entered the doubles event with his Royal Air Force tennis partner, Wing Commander Louis Grieg. They lost in the opening round in front of the Duke's parents, King George V and Queen Mary.
And a different George -- Prince George -- who later became Duke of Kent, became the President of the All England Club in 1929, a distinction that to this day has been passed down to subsequent Duke's of Kent. The present Queen, known to not be a major tennis fan, made her first visit to Wimbledon in 1957, returned in 1962 and occupied the Royal Box for the final time during The Centenary Championships, where she presented Virginia Wade, the last British citizen to win a Wimbledon singles title, with the trophy. The Prince of Wales, ex-husband of the late Princess Diana, has only been to Wimbledon once, in 1970.
Wardrobe changes
The first woman to boldly buck tradition was Ruth Tapscott of South Africa -- she was the first to show a little leg by coming out on a side court without wearing stockings. Three years later, Briton Brame Hillyard became the first man to wear shorts, sporting them on an outer court. But the famed Centre Court would not be spared the baring of legs much longer. In 1931, Joan Lycett of Great Britain became the first woman to leave her stockings in the dressing room before playing on Centre Court, while her opponent, Lili de Alvarez of Spain, really lived dangerously by donning what they termed a "trousered frock."
In 1933, Briton Bunny Austin was the first man to play on Centre Court in shorts. The Wimbledon traditional rule that competitors should wear "predominantly white" first came into existence in 1963. To this day, players who think their planned outfit might not meet the muster are expected to present their clothing to the referee's office for approval. Dashing Californian Trey Waltke decided to play blast from the past in 1983 when he wore a throwback outfit of white flannel full-length pants, a white button-down long-sleeved shirt and a white tie through his belt loops.
Two years after Waltke's classic look, model-worthy American Anne White was way ahead of her time when she decided to combine "fashion and function" by wearing a skin-tight white cat suit to protect herself from chilly weather during a first-round match. Then referee Alan Mills told White to leave the outfit back at the hotel for her next match because it passed the white rule -- but not the modesty test.
Day of rest
Civilized to its very core, the middle Sunday of the Wimbledon fortnight has always been traditionally a day off for everyone -- players, staff, media and fans. Since the tournament's inception back in 1877, tournament organizers have only been forced to play on the middle Sunday three times in history because of inclement weather. The first time time was in 1991 after only 52 of 240 scheduled matches were completed by the first Thursday. Fans lined up for more than a mile to get in the gates and former champions were invited to take a seat in the Royal Box that Sunday. Play on the middle Sunday happened again in 1997 because of another wet first week of play. Over 31,000 spectators came to the open spectator call. And lastly, it happened in 2004 -- a day dubbed "People's Sunday" because local hero Tim Henman was one of the featured players.
Quiet on the set
Hollywood first came calling to Wimbledon in 1967 when the grounds were used as a backdrop for the movie "Nobody Runs Forever" with Rod Taylor, Christopher Plummer and Lili Palmer.
In 1978, the movie "Players" was shot on Centre Court before the ladies singles final. The movie starred Ali MacGraw, the late Dino Martin and four-time Grand Slam champion Guillermo Vilas playing, who else, but Guillermo Vilas. The movie marked the only occasion that Vilas would hoist the Wimbledon winner's trophy.
The 2003 filming of a movie aptly titled "Wimbledon," starring Kirsten Dunst, was also filmed on the All England Club grounds and included interview scenes in the official media room. Interestingly, the Centre Court scenes were not filmed on Centre Court, giving the film a less than authentic feel.
Odds and ends
• American May Sutton became the first non-British champion at Wimbledon in 1904. The first U.S. citizens to compete at Wimbledon were James Dwight, Arthur Rives and Richard Sears in 1884.
• There was no play between 1915 and 1918 because of World War I and no play between 1940 and 1945 because of World War II.
• In 1911, Harold Bache of Britain became the first man to hit a two-handed backhand at The Championships. It wasn't until 1960 that Jan Lehane of Australia became the first woman to hit a two-handed backhand at Wimbledon.
[+] Enlarge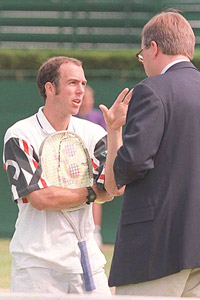 Boris Horvat/AFP/Getty ImagesBeing on the receiving end of Jeff Tarango's infamous 1995 outburst was nothing compared to what happened next.
• The British post office released the only stamp to commemorate Wimbledon during the summer of 1994 -- part of a series of five stamps in a theme of "Summertime." The stamp shows outside courts and St. Mary's church steeple in the distance.
• In 1995, Tim Henman became the first player to be disqualified at Wimbledon after striking a ball in anger and hitting a ball girl during a first-round doubles match. Fined $2,000, Henman returned to the All England Club to give the girl flowers. American Jeff Tarango was also disqualified that year for a volatile dispute with a chair umpire. To boot, Tarango's now ex-wife Benedicte slapped the umpire as he left the court.
• The first use of player seeding took place in 1924 when up to four players from same nation were spread through the four quarters of the draw. The eight seeds in both the men's and women's competition all reached the quarterfinals for the first time in 1952.
• In 1908, the Olympic Games took place at Wimbledon. The Games will return to Wimbledon in 2012.
• Frenchwoman Rosie Berthe was the first player to wear eyeglasses on Centre Court in 1931. Future stars Billie Jean King, Arthur Ashe and Martina Navratilova would all be seen wearing glasses on court.
• Four streaking incidents have taken place at Wimbledon. In 1996, Melissa Johnson, only wearing a half apron that she lifted, rushed on the court during prematch photos for the men's final between eventual champion Richard Krajicek and MaliVai Washington. In 2002, serial streaker Mark Roberts appeared nude on Centre Court during the men's final between eventual champion Lleyton Hewitt and David Nalbandian. In 2004, Naoimi McDonald dashed on to Court 19 topless during a junior match. And in 2006, a streaker did a cartwheel on court during the Maria Sharapova-Elena Dementieva quarterfinal.
Sandra Harwitt is a freelance tennis writer for ESPN.com.
Sandra Harwitt is a freelance tennis writer for ESPN.com.
WIMBLEDON 2008
Instant Classic
ESPN Classic will replay Rafael Nadal's epic five-set victory over Roger Federer in the men's final on Monday at 7 p.m. ET.
Day 14
•
Men
|
Scores
•
Bob Bryan beats brother Mike in mixed doubles
•
Garber: Nadal muscles his way to championship
•
Ubha: Top five Wimbledon finals
•
Harwitt: Loss a microcosm of Federer's year
•
Ubha: Wimbledon men's final instant analysis
•
Bodo: Nadal shows plenty of courage
Day 13
•
Women
|
Scores
•
Garber: Venus finally stands up to little sister
•
Ubha: Williamses match competitive and clean
•
Garber: Borg the man in the middle
•
Ubha: Wimbledon women's final instant analysis
•
Who will win the Wimbledon men's singles final?
•
Bodo: Five reasons Nadal can win
Day 12
•
Men
|
Scores
•
Garber: Best friends set to do battle again
•
Harwitt: Coach-less Federer ready for title
•
Ubha: Nadal clearly in Federer's head
•
Who will win the Wimbledon women's final?
Day 11
•
Men
|
Women
|
Scores
•
Garber: Time is now for Nadal at Wimbledon
•
Ubha: Top Williams sisters moments
•
Grass Stains: Williamses ready for showdown
•
Tennis.com: Rafa will win Wimbledon
Day 10
•
Men
|
Scores
•
Wimbledon women's court schedule troubles WTA
•
Ubha: Federer serving lights out
•
Nadal blog: Happy to get by Murray
•
Garber: Venus is best grass-courter of generation
•
Star Watch: Safin looking confident again
Day 9
•
Women
|
Scores
•
Garber: Williams sisters crushing opponents
•
Ford: Ancic hoping to take care of Federer again
•
Chip and Charge: Olympics taking center stage
•
Ubha: Can Murray maintain momentum
Day 8
•
Men
|
Women
|
Scores
•
Garber: Unpredictability in women's tennis
•
Grass Stains: Valiant determination from Lopez
•
Star Watch: Murray electifies hometown crowd
Day 7
•
Ford: Midway at Wimbledon report
•
Ubha: Breaking down the final 16 in each bracket
See all stories from Week 1
MOST SENT STORIES ON ESPN.COM