Commentary
Stars simply not aligned for Federer this season
The Wimbledon final was simply the latest hurdle in Roger Federer's struggle-filled season. The world's top-ranked player has been hampered by one affliction after another since January.
Originally Published:
July 8, 2008
By
Ravi Ubha
| Special to ESPN.com
It hasn't been Roger Federer's year.
Illness hampered the Swiss at the start of the campaign, with tough losses and listless play seeping into his game like never before.
At least he still had Wimbledon to count on, right? Not after Sunday.
Nemesis Rafael Nadal inflicted more disappointment in an epic final, adding to Federer's woe.
Here's a look at how 2008 has panned out for the world No. 1.
[+] Enlarge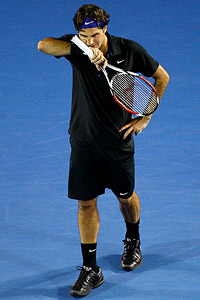 AP Photo/Mark BakerRoger Federer's loss to Novak Djokovic at the Australian Open snapped a streak of 34 straight semifinal wins.
January: Federer loses to Djokovic Down Under
You could see this coming. Before topping Federer in the Australian Open semifinal,
Novak Djokovic
, the brash, talented Serb, beat Federer to win the Canadian Masters in Montreal in August 2007 and squandered set points against him in the opening two frames in their next battle, September's U.S. Open final.
Federer was stretched to a 10-8 fifth set by another Serb, Janko Tipsarevic, in the third round in Melbourne, too.
The turning point of the 7-5, 6-3, 7-6 (5) semifinal came in the opening set. Federer, uncharacteristically, couldn't serve it out when leading 5-3. He didn't claim another game in the first and shockingly fell behind 5-1 in the second.
It marked the first time Federer failed to reach a Grand Slam final since the 2005 French Open and the first time he lost to anyone other than Nadal in a major since the 2005 Australian Open, when he was defeated by Marat Safin in the semis.
"The king is dead, long live the king,'' Djokovic's mom, Dijana, famously proclaimed.
The king was ill, which didn't help. (See below.)
March: Federer's mono revelation
The tennis world descended into frenzy when a lethargic Federer lost rather tamely to Djokovic. About a month later, Federer disclosed he'd suffered from mononucleosis for at least six weeks, beginning in December, which affected his fitness regime and play at the Australian Open.
"When I heard it was mono, I was actually even more happy to have made the semifinals of the Australian Open,'' said Federer, who also suffered from food poisoning prior to the Aussie Open, forcing him to skip his usual tune-up. "Probably a doctor would have said, 'You're not allowed or can't play.'''
Days earlier, dynamic Scot Andy Murray downed Federer at the Dubai Tennis Championships, the first time Federer lost in the first round of a tournament since the Cincinnati Masters four years ago.
April: Roddick finally upends Federer
When Federer starts losing to Andy Roddick, there's a problem.
Federer's stats in the 7-6 (4), 4-6, 6-3 reverse in the Sony Ericsson Open quarterfinals don't look too bad -- he only faced one break point, for instance. However, the manner in which he contested the latter part of the third set in Miami proved alarming.
From 3-3, 30-0 on Roddick's serve, Federer lost the next 11 points, most on unforced errors, helping the American end a five-year, 11-match losing streak against the Swiss.
"Maybe this is one of the matches I should have won against him, because he's had some other ones where I think he was supposed to win,'' Federer said.
Weeks earlier, Roddick's good pal and former roommate, Mardy Fish, crushed Federer for the first time in six tries, winning 6-3, 6-2 in the semifinals of the Pacific Life Open in Indian Wells, Calif. Fish captured the lopsided win despite serving at only 34 percent.
April: The first title of the season arrives
Competing in his first clay-court event below Masters level in four years, Federer wins his first title of 2008 at the modest Estoril Open. It wasn't convincing, mind you, and there should be an asterisk somewhere, considering the depleted field.
Federer lost the first set in his opener to Olivier Rochus, and did the same against German journeyman Denis Gremelmayr in the semis.
He triumphed in the final against Nikolay Davydenko, though only after the flaky Russian retired early in the second set, having lost the first in a tiebreak.
April: Monte Carlo drama
A few days later, Federer is forced to up the ante to avoid one of the most embarrassing losses of his career -- down two breaks at 5-2 in the third set against Spain's Ruben Ramirez Hidalgo at the Monte Carlo Masters. Federer recovers and wins a tiebreaker to defeat Hidalgo, who at the time was ranked outside the top 130.
Federer arguably plays his best match of the season, at that point, against David Nalbandian in the quarterfinals, wearing down the Argentine in three sets, although the joy is short-lived.
Federer slumps to 1-7 against Nadal on clay when he's defeated 7-5, 7-5 in the final, blowing a 4-0 lead in the second set.
"I'm pushing Rafa today, having the feeling I can beat him [on clay] if I play the right way,'' Federer said.
Hollow words. Flamboyant Czech Radek Stepanek knocks off Federer in the quarterfinals of the Rome Masters two weeks later, and Nadal exerts more mental trauma on Federer by edging him 7-5, 6-7 (3), 6-3 for the Hamburg Masters crown in late May. Federer squanders another lead, this time a 5-1 advantage in the first set.
June: The Paris massacre
In the latest attempt to complete his Grand Slam collection, Federer slumps to a 6-1, 6-3, 6-0 defeat to Nadal in the French Open final, leaving even the Spaniard stunned.
Things were so easy for Nadal he barely celebrated following match point.
"When I was playing, I didn't believe the match,'' Nadal said. "I feel the match has to be closer.''
[+] Enlarge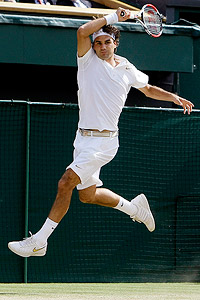 AP Photo/Anja NiedringhausAfter losing to Rafael Nadal in the Wimbledon final, Roger Federer fell to just 3-6 this year versus top-10 players.
It was the second-most-lopsided men's final in French Open history and Federer's heaviest loss in a Grand Slam match.
"When you really cannot play your game, and he can play exactly what he wants from the baseline, you end up with scores like this sometimes,'' Federer said. "I'm going to look forward to grass.''
Hmmm.
July: Wimbledon heartbreak
Federer found respite at his chosen Wimbledon warm-up in Halle, Germany, claiming title No. 2 in 2008, and cruised to the Wimbledon final without dropping a set. The confidence, it appeared, was back.
But that Spaniard won't let him breathe.
Nadal, in what some are already calling the greatest match of all time, edged Federer 6-4, 6-4, 6-7 (5), 6-7 (8), 9-7 in the longest Wimbledon singles final in history, at 4 hours, 48 minutes. Three rain delays and fading light added to the drama.
Federer, unlike his play in the French Open final, showed some machismo by thwarting a match point in the fourth set tiebreak with a stunning backhand pass, although it still wasn't enough. His five-year reign at the All England Club ended, as did his 65-match winning streak on grass, dating back to 2003.
It's the first time since 2002 Federer hasn't claimed a major in a season entering the U.S. Open.
Ravi Ubha is a frequent contributor to ESPN.com.
SPONSORED HEADLINES
MORE TENNIS HEADLINES
MOST SENT STORIES ON ESPN.COM