Commentary
Unfulfilled season has Federer dynasty in jeopardy
Five-time defending Wimbledon champion Roger Federer has been mired in a season of unfulfilled expectations. But how he responds in England this year will shed light on whether this is truly the beginning of the end.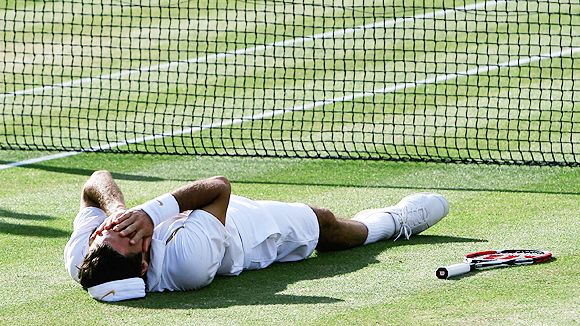 Ryan Pierse/Getty ImagesThis Wimbledon championship should truly gauge the state of Roger Federer's game and mind.
You could argue that
Roger Federer
's season really began last week, on grass, in Halle, Germany. That would not be a popular argument with Federer himself, who has been relentlessly, stubbornly and sometimes irritably optimistic during this season of relative discontent. Nevertheless, here's the argument. Federer started the year depleted from undiagnosed mononucleosis and didn't catch up until the spring. When he finally regained something approaching full fitness, he found himself on the crushed brick road of the clay-court season, still the toughest part of the year for him despite his considerable skill on the surface. There are demons in the dirt, in the form of unfulfilled ambitions and the muscular figure of the one player Federer has not been able to solve there. Federer won his first tournament of 2008 on clay in Portugal, but overall, that milieu wasn't the ideal place for him to regain confidence, given the endgame that awaited him in Paris. Ergo, the season begins now -- in the sense that this is the stretch where it might be fairest to gauge where Federer stands in comparison to himself a year or two ago, and in relation to the rest of the field. If Federer were to succeed in achieving the modern milestone of winning a sixth straight Wimbledon (the only man to do it previously was William Renshaw, from 1881 to '86) the struggles of the past few months would recede quickly. He'd be hailed as a champion who tuned out the doubters and did what was necessary to get himself back on track. He'd be one short of tying Pete Sampras' record of 14 Grand Slam wins, and that pursuit would leapfrog to the top of the conversation again. The affection of the tennis public would only grow and deepen if Federer showed a few cracks and then mortared over them. But with all that in the realm of the hypothetical, we're left with the question of how accurately we can gauge Federer in the meantime. If you make a list of the reasons for and against him to repeat, Federer's history on the lawns of SW19 looms formidably on one side of the ledger. More recent history elsewhere forms a shorter but still pithy rationale on the other side, headlined in boldface by one
Rafael Nadal
and augmented by
Novak Djokovic
,
Andy Roddick
and some spoilers we probably can't even conceive of at the moment. One view would hold that this debate is all a giant overreaction. Federer has lost eight of 45 matches this year -- four on hard courts in the first three months of the year when mono and lack of match fitness were credible factors, and four on clay, three of which were to Nadal. Federer swept five matches in Halle without losing a set. Yet there are other ways to parse his 2008 results. Of Federer's three wins against top-10 players this season, only one played out in a full match -- his defeat of
David Nalbandian
in the Monte Carlo quarterfinals. The other two came via retirements,
Nikolay Davydenko
's in the Estoril final and Djokovic's in the Monte Carlo semis. The highest-ranked opponent he faced in Halle was then-No. 23
Marcos Baghdatis
, whose credentials as a top player are fading. Federer may have made the past few years look easy, but over time, superlative performance generates its own cumulative stress. It's plausible that he might have suffered from some kind of fatigue this year even if he hadn't contracted mono. Who wouldn't? A vulture's watch has been kept over everything from Federer's coaching arrangement with Jose Higueras to his personal life to a blemish on his face. The tone of Federer's news conference questions has shifted from near-reverence to what-have-you-done-for-us-lately questions about the passing of an era. It's premature, it would try the patience of a saint and it has clearly tested Federer. "Many people say this year is the beginning of the end, what do you think about?'' one impertinent interrogator asked in Rome. "Next question,'' Federer replied with his best Drew Rosenhaus imitation.
[+] Enlarge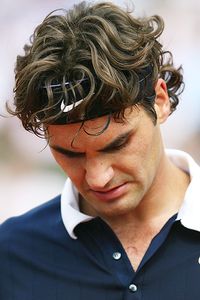 Julian Finney/Getty ImagesJust when it appeared Roger Federer's game was back on track, he was dismantled in the French Open by Rafael Nadal -- the worst loss ever by a No. 1 seed in a major final.
It is no stretch to say that Federer has looked more error-prone on his groundstrokes from both wings and that his once-serene body language deteriorates more frequently, as if his more temperamental younger self still lurks like an alien in his belly. That imaginary creature is not to be confused with the self-created "monster" Federer referenced after losing to Djokovic at the Australian Open -- a rare admission of the singular pressure he's created for himself. Usually, he shrugs that off in the time-honored manner of top athletes who shed letdowns like so much old snakeskin and prefer to look ahead, fangs bared. "It takes a lot to be disappointed for me,'' he offered after losing to Nadal in the Monte Carlo championship. "I guess I'm growing up, don't take losses that hard anymore.'' Growing up is a double-edged sword, though. Federer will turn 27 this Aug. 8, and has repeatedly talked of playing well into his 30s, which would seem to give him a lot of time to chase Sampras. Yet it's also true that most modern multiple-Slam winners collect their trophies in a cluster from their early to mid-20s. Andre Agassi is a notable exception, having won five of his eight after age 29. So let Federer's real season carry on. For the first time in quite a while at Wimbledon, there will be more suspense about Federer's level of play than the cut of his blazer. We know the emperor has clothes. It'll be fascinating to see if he'll have his old authority.
Bonnie D. Ford covers tennis and Olympic sports for ESPN.com. She can be reached at bonniedford@aol.com.
Enterprise and Olympic Sports
Bonnie D. Ford is a senior writer for ESPN.com.
WIMBLEDON 2008
Instant Classic
ESPN Classic will replay Rafael Nadal's epic five-set victory over Roger Federer in the men's final on Monday at 7 p.m. ET.
Day 14
•
Men
|
Scores
•
Bob Bryan beats brother Mike in mixed doubles
•
Garber: Nadal muscles his way to championship
•
Ubha: Top five Wimbledon finals
•
Harwitt: Loss a microcosm of Federer's year
•
Ubha: Wimbledon men's final instant analysis
•
Bodo: Nadal shows plenty of courage
Day 13
•
Women
|
Scores
•
Garber: Venus finally stands up to little sister
•
Ubha: Williamses match competitive and clean
•
Garber: Borg the man in the middle
•
Ubha: Wimbledon women's final instant analysis
•
Who will win the Wimbledon men's singles final?
•
Bodo: Five reasons Nadal can win
Day 12
•
Men
|
Scores
•
Garber: Best friends set to do battle again
•
Harwitt: Coach-less Federer ready for title
•
Ubha: Nadal clearly in Federer's head
•
Who will win the Wimbledon women's final?
Day 11
•
Men
|
Women
|
Scores
•
Garber: Time is now for Nadal at Wimbledon
•
Ubha: Top Williams sisters moments
•
Grass Stains: Williamses ready for showdown
•
Tennis.com: Rafa will win Wimbledon
Day 10
•
Men
|
Scores
•
Wimbledon women's court schedule troubles WTA
•
Ubha: Federer serving lights out
•
Nadal blog: Happy to get by Murray
•
Garber: Venus is best grass-courter of generation
•
Star Watch: Safin looking confident again
Day 9
•
Women
|
Scores
•
Garber: Williams sisters crushing opponents
•
Ford: Ancic hoping to take care of Federer again
•
Chip and Charge: Olympics taking center stage
•
Ubha: Can Murray maintain momentum
Day 8
•
Men
|
Women
|
Scores
•
Garber: Unpredictability in women's tennis
•
Grass Stains: Valiant determination from Lopez
•
Star Watch: Murray electifies hometown crowd
Day 7
•
Ford: Midway at Wimbledon report
•
Ubha: Breaking down the final 16 in each bracket
See all stories from Week 1
MOST SENT STORIES ON ESPN.COM