Commentary
Affection for Wimbledon unlike anything else
There's a time in everyone's life when tennis is no longer a viable option. But it's the intimate bond with Wimbledon that makes the farewell such an emotional experience.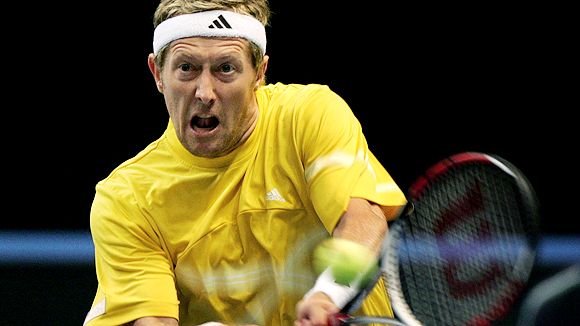 AP Photo/Michael ProbstJonas Bjorkman, a two-time Grand Slam semifinalist, will be competing in his final Wimbledon this year.
WIMBLEDON, England -- There's something about this Emerald City of tennis that makes players spiff up and act more formally than they would anywhere else, as if they had made a long, arduous voyage to get an audience with the wizard. Whether former champions or journeymen, for the most part, they love to show up, they hate to leave and they are loath to skip the festivities. Over the years, how many times have you heard a player say, "I'm not 100 percent, but I had to be here?"
Amelie Mauresmo
, to whom this title meant so much in 2006, played and won her first-round match on Monday with tape bracing a badly strained thigh muscle. If it were any other tournament, she would have stayed home. Players don't always know when they're making a final appearance at the All-England Club, but when they can, many do what people do when they care about a workplace -- they give notice, and they say goodbye. They make room for the sentiment that has no place during daily competition. Martina Navratilova plucked a few blades of grass from Centre Court as she exited in 1994. Boris Becker confided his retirement plans to a startled Pete Sampras over the net in 1997 before he told the world. The venue had such a hold on both of those vanquished champions that they broke their vows and returned, but those gestures will always be remembered. That affection was on display again this Opening Day, and it will continue Tuesday.
Dominik Hrbaty
startled
Roger Federer
by sitting down next to him on the final changeover of their match; the Slovak, hampered by elbow surgery, thought it might be his last few minutes on the magical grass, and he wanted to say a few private words to his old buddy. France's
Fabrice Santoro
publicly pleaded with the powers that be to schedule his singles match on Centre Court, where he'd previously only played doubles. It was the last-meal menu request from a guy who's devoured life on the tour for 20 years, and his wish will be fulfilled thanks to the divine hand of the draw that paired him with homeboy
Andy Murray
. So it was somehow not surprising Monday when reporters received an e-mailed message from 36-year-old
Jonas Bjorkman
, one of the classiest acts on the ATP circuit these last 16 seasons.
"Dear Tennis Friend,'' it began. "I've been reflecting on my professional career and I have decided that this will be my last Wimbledon.''
Bjorkman thanked supporters for helping him achieve several milestones, including a Davis Cup title, a stint in the top 10 and nine Grand Slam doubles championships. "I have been blessed with a long and successful career and I look forward to another great experience here at Wimbledon, for my last time as a competitor,'' he continued. And finally: "It is with great joy that I look forward to the next phase of my life, including packing my children's school bags rather than my own tennis bags.''
[+] Enlarge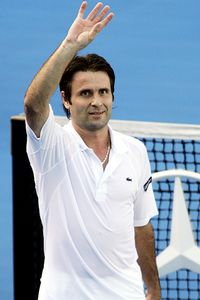 AP Photo/Rob GriffithHaving competed at Wimbledon since 1990, Fabrice Santoro will play on Centre Court for the first time in his career.
As Andre Agassi did two years ago, Bjorkman chose this particular moment in mid-season to declare his intentions. He's not quitting right away -- in fact, he hope to win a medal at the upcoming Beijing Olympics -- but this is the proper place to hold the official wake, attended by a ritual-minded crowd that loves the intimate grounds as much as he does. The party can come later, in his home country perhaps, the way Agassi celebrated with a love feast in Flushing Meadows. "This has always been the tournament,'' said Bjorkman, who lost 4-6, 7-6 (4), 6-4, 7-6 (4) to another veteran and doubles specialist, Arnaud Clement of France, on Tuesday. "Not only because I like playing on grass. It's the tradition, the atmosphere. It is a special place.'' The Swede's final appearance will be in the doubles draw with partner Kevin Ullyett of Zimbabwe.
Bjorkman has his priorities straight -- namely, his wife, Petra, his 5-year-old son Max and baby daughter Bianca, born last January. Max has gotten increasingly antsy during his father's road trips. The couple set up a webcam to help communication, but it only made things harder. Recently, Max began singing a song of his own composition. "I love my Dad so much I could die,'' the lyrics went, and Bjorkman's mild blue eyes get a little glassy when he repeats them.
There's also a tennis magazine venture, and some as yet undefined role in trying to boost the sport in Sweden. Bjorkman won't be distant from the game. So he isn't ambivalent about this passage even though he -- like most elite athletes -- still harbors the belief he can win on the right day. After all, he reached the semifinals here just two years ago. Smart guy that he is, Bjorkman sought advice from two contemporaries, Todd Martin and
Tim Henman
. "You just know,'' they told him when he asked how they made the decision to bow out. The feeling inhabited him this spring during the clay-court season. Bjorkman knows he's old for a tennis player, but more importantly, he's old-school, and announcing his departure here felt exactly right. There are museums and reference books and Web sites where you can scan a list of Wimbledon champions. When Bjorkman packed his gear after his last singles match, signed a few autographs and walked off Court 11 without fanfare, he added his name to a much longer but invisible roster of players who felt honored to be there, and made a gesture to return the favor.
Bonnie D. Ford covers tennis and Olympic sports for ESPN.com. She can be reached at bonniedford@aol.com.
Enterprise and Olympic Sports
Bonnie D. Ford is a senior writer for ESPN.com.
SPONSORED HEADLINES
MORE TENNIS HEADLINES
MOST SENT STORIES ON ESPN.COM
WIMBLEDON 2008
Instant Classic
ESPN Classic will replay Rafael Nadal's epic five-set victory over Roger Federer in the men's final on Monday at 7 p.m. ET.
Day 14
•
Men
|
Scores
•
Bob Bryan beats brother Mike in mixed doubles
•
Garber: Nadal muscles his way to championship
•
Ubha: Top five Wimbledon finals
•
Harwitt: Loss a microcosm of Federer's year
•
Ubha: Wimbledon men's final instant analysis
•
Bodo: Nadal shows plenty of courage
Day 13
•
Women
|
Scores
•
Garber: Venus finally stands up to little sister
•
Ubha: Williamses match competitive and clean
•
Garber: Borg the man in the middle
•
Ubha: Wimbledon women's final instant analysis
•
Who will win the Wimbledon men's singles final?
•
Bodo: Five reasons Nadal can win
Day 12
•
Men
|
Scores
•
Garber: Best friends set to do battle again
•
Harwitt: Coach-less Federer ready for title
•
Ubha: Nadal clearly in Federer's head
•
Who will win the Wimbledon women's final?
Day 11
•
Men
|
Women
|
Scores
•
Garber: Time is now for Nadal at Wimbledon
•
Ubha: Top Williams sisters moments
•
Grass Stains: Williamses ready for showdown
•
Tennis.com: Rafa will win Wimbledon
Day 10
•
Men
|
Scores
•
Wimbledon women's court schedule troubles WTA
•
Ubha: Federer serving lights out
•
Nadal blog: Happy to get by Murray
•
Garber: Venus is best grass-courter of generation
•
Star Watch: Safin looking confident again
Day 9
•
Women
|
Scores
•
Garber: Williams sisters crushing opponents
•
Ford: Ancic hoping to take care of Federer again
•
Chip and Charge: Olympics taking center stage
•
Ubha: Can Murray maintain momentum
Day 8
•
Men
|
Women
|
Scores
•
Garber: Unpredictability in women's tennis
•
Grass Stains: Valiant determination from Lopez
•
Star Watch: Murray electifies hometown crowd
Day 7
•
Ford: Midway at Wimbledon report
•
Ubha: Breaking down the final 16 in each bracket
See all stories from Week 1