Federer spends just 1 hour, 19 minutes overwhelming Hrbaty
Updated:
June 23, 2008, 9:09 PM ET
Associated Press
WIMBLEDON, England -- Returning to his favorite stage and resuming his dominant ways on grass, Roger Federer started his bid for a sixth straight Wimbledon title Monday by sweeping Dominik Hrbaty in straight sets on a sunbathed Centre Court.
Third-seeded Novak Djokovic was among other winners on the opening day of the two-week tournament.
In keeping with tradition, Federer had the honor of opening play on the main stadium court as defending champion at the 122nd Wimbledon championships. He seemed right at home as he beat Hrbaty 6-3, 6-2, 6-2 for his 60th straight grass-court win and 35th consecutive victory at the All England Club.
"I played well. It was a good match against a good friend of mine," Federer said. "I was consistent all the way throughout. I didn't have to face a break point. It's good, but never easy to open Centre Court, but it's a real honor."
Djokovic, the Australian Open champion who could face Federer in the semifinals, overcame a poor second set on Centre Court and beat Michael Berrer 7-5, 2-6, 6-3, 6-0. Djokovic dropped the last five games of the second set against the German left-hander, but won the next three games while dropping only one point and cruised the rest of the way.
[+] Enlarge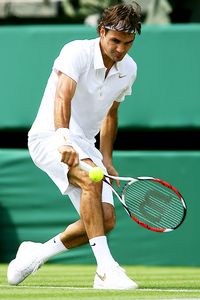 Clive Brunskill/Getty ImagesRoger Federer plays a backhand during his 6-3, 6-2, 6-2 first-round win Monday over Dominik Hrbaty.
Lleyton Hewitt, the 2002 winner and only champion in the men's draw other than Federer, labored for 3½ hours to subdue Robin Haase in five sets, 6-7 (4), 6-3, 6-3, 6-7 (1), 6-2. The 20th-seeded Australian, who has been slowed by a chronic hip injury, never lost serve and celebrated a key break in the fifth with a trademark flurry of uppercut fist pumps.
The man Hewitt beat in the 2002 final, David Nalbandian, was the highest seeded player -- at No. 7 -- to lose Monday, falling 6-4, 6-2, 6-4 to Canada's Frank Dancevic.
Federer, who loves the traditions of the game, walked onto Centre Court at 1 p.m. in retro fashion -- donning a herringbone-pattern, four-button cardigan with gold trim and a stylized F on a badge on his left chest. The insignia on the buttons represent his five Wimbledon titles.
Federer had worn classic white blazers at the last two Wimbledons.
"I thought two jackets was enough," he said. "Let's move on to something different. We thought about something nice, like a cardigan, a jumper. I think the result is nice."
Federer warmed up wearing the cardigan for a few minutes, then took it off and got down to business. He won the first 11 points of the match, setting the tone for a trouble-free, one-sided match.
Federer By The Numbers
Top 10 things to know about Roger Federer during his 60-match grass winning streak.
| | |
| --- | --- |
| Number | Stat |
| 10 | Tied with Pete Sampras for the most career grass-court titles in the Open era. |
| 9 | Has defeated nine top-10 opponents during the streak, including eight at Wimbledon. |
| 8 | Has only lost eight of 113 sets during his Wimbledon title reign. |
| 7 | Lost his serve seven times since the beginning of last year's Wimbledon title run. |
| 6 | Trying to become the first player since William Renshaw from 1881-86 to win six straight Wimbledon singles titles. |
| 5 | Last year tied Bjorn Borg's Open-era record of five consecutive Wimbledon titles (1976-80). Has also won five career titles in Halle. |
| 4 | The most times he's been broken in a match. |
| 3 | Has beaten three opponents three times each during the streak (Richard Gasquet, Nicolas Kiefer and Andy Roddick.) |
| 2 | The fewest games he's won in a set (in '07 final vs. Nadal) in 171 sets played. |
| 1 | Has been stretched to five sets once during the streak (in '07 final vs. Nadal). |
* -- Information provided
by ATPtennis.com
"Every time you walk out [on Centre Court] it's beautiful," Federer said. "I mean the grass is beautiful. The grass is perfect. You really feel like nobody has really walked on it. It felt very special again."

The 30-year-old Hrbaty, playing his 12th Wimbledon, had beaten Federer in their only two previous meetings -- in 2000 and 2004. But the Slovakian player, who had elbow surgery last year, has slipped to No. 273 in the rankings and had won only two matches this year on the top-tier tour.

There were some light moments in the match. In the sixth game of the first set, Hrbaty ran down a lob and, with his back to the net, flipped a reverse shot down the line past a startled Federer. As Hrbaty ran across the court with hands raised in celebration, Federer smiled and clapped his racket.

"He hit the shot of the match behind his back," Federer said.

In the final changeover at 5-2 in the third, Hrbaty -- realizing it could be his last time on Centre Court -- sat in a chair alongside Federer and the two chatted and laughed.

"I looked over and there he was," Federer said. "He asked if he could sit next to me. I said, 'Sure. No problem. There's an extra seat.' "

The two are longtime friends and former practice and doubles partners.

"He said it might be his last Wimbledon, so it was almost a little bit emotional," Federer said. "It was quite nice he did that. It was nice to share that moment on Centre Court together."

Hrbaty paid tribute to the champion.

"I just wanted to tell him he's a great friend of mine and I appreciate that," he said.

Federer will next face big-serving Swede Robin Soderling, who beat Kevin Kim of the United States 7-5, 0-6, 6-3, 6-4.

"Robin is a dangerous player," Federer said. "It's not a whole lot of fun playing against him in the second round of Wimbledon already. I won't underestimate him, that's for sure."

In other men's matches, 10th seeded Marcos Baghdatis -- a semifinalist in 2006 and quarterfinalist last year -- moved into the second round by beating Steve Darcis of Belgium, 6-3, 6-2, 6-7 (5), 6-3.

Federer is trying to become only the second player to win six straight titles. That would equal the record established by William Renshaw, the champion in 1881-86, who only had to win one match to defend his titles.

Since the early 1900s, Federer and Bjorn Borg (1976-80) are the only men to win Wimbledon five times in a row.

The 26-year-old Federer has struggled in recent months. He lost in the semifinals of the Australian Open to Djokovic and endured his most lopsided Grand Slam defeat in the French Open final two weeks ago, winning only four games against Rafael Nadal.

Federer has won 12 Grand Slam championships, two shy of Sampras' record. With five Wimbledon titles, Federer has a chance to match the record of seven shared by Sampras and Renshaw.


Copyright 2008 by The Associated Press
WIMBLEDON 2008
Instant Classic
ESPN Classic will replay Rafael Nadal's epic five-set victory over Roger Federer in the men's final on Monday at 7 p.m. ET.
Day 14
•
Men
|
Scores
•
Bob Bryan beats brother Mike in mixed doubles
•
Garber: Nadal muscles his way to championship
•
Ubha: Top five Wimbledon finals
•
Harwitt: Loss a microcosm of Federer's year
•
Ubha: Wimbledon men's final instant analysis
•
Bodo: Nadal shows plenty of courage
Day 13
•
Women
|
Scores
•
Garber: Venus finally stands up to little sister
•
Ubha: Williamses match competitive and clean
•
Garber: Borg the man in the middle
•
Ubha: Wimbledon women's final instant analysis
•
Who will win the Wimbledon men's singles final?
•
Bodo: Five reasons Nadal can win
Day 12
•
Men
|
Scores
•
Garber: Best friends set to do battle again
•
Harwitt: Coach-less Federer ready for title
•
Ubha: Nadal clearly in Federer's head
•
Who will win the Wimbledon women's final?
Day 11
•
Men
|
Women
|
Scores
•
Garber: Time is now for Nadal at Wimbledon
•
Ubha: Top Williams sisters moments
•
Grass Stains: Williamses ready for showdown
•
Tennis.com: Rafa will win Wimbledon
Day 10
•
Men
|
Scores
•
Wimbledon women's court schedule troubles WTA
•
Ubha: Federer serving lights out
•
Nadal blog: Happy to get by Murray
•
Garber: Venus is best grass-courter of generation
•
Star Watch: Safin looking confident again
Day 9
•
Women
|
Scores
•
Garber: Williams sisters crushing opponents
•
Ford: Ancic hoping to take care of Federer again
•
Chip and Charge: Olympics taking center stage
•
Ubha: Can Murray maintain momentum
Day 8
•
Men
|
Women
|
Scores
•
Garber: Unpredictability in women's tennis
•
Grass Stains: Valiant determination from Lopez
•
Star Watch: Murray electifies hometown crowd
Day 7
•
Ford: Midway at Wimbledon report
•
Ubha: Breaking down the final 16 in each bracket
See all stories from Week 1
MOST SENT STORIES ON ESPN.COM