Williams, Ivanovic, Mauresmo, Kuznetsova, Chakvetadze, Vaidisova advance
Updated:
June 23, 2008, 9:09 PM ET
ESPN.com news services
WIMBLEDON, England -- Two-time women's champion Serena Williams completed a harder-than-expected 7-5, 6-3 win on Court 1 over Kaia Kanepi of Estonia at Wimbledon on Monday.
Ana Ivanovic beat Rossana de Los Rios of Paraguay 6-1, 6-2 in less than an hour in her first match since winning the French Open and taking over the No. 1 ranking. The Serb never faced a break point and ripped 13 baseline winners.
"Coming as the top seed, lots of people just expect you to win," Ivanovic said. "You have to work hard, especially on grass. Everything is happening so fast."
Also advancing were No. 4 Svetlana Kuznetsova, who overcame Mathilde Johansson of France 6-7 (5), 7-5, 6-3; and 2006 champion Amelie Mauresmo -- seeded 29th -- who downed Ashley Harkleroad 6-3, 6-4.
Eighteenth seed Nicole Vaidisova became the first player to reach the second round with a 6-2, 6-2 win over fellow Czech Zuzana Ondraskova.
[+] Enlarge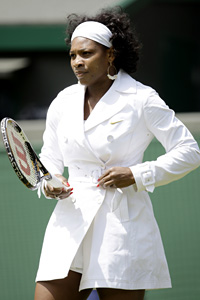 AP Photo/Alastair GrantSerena Williams came out wearing a white belted, thigh-length trench coat, but there was no rain in sight so she hung it on her chair.
Williams made a fashion statement when she came out onto Court 1 wearing a white, belted, thigh-length raincoat, or Mackintosh. But there was no rain in sight, so she hung the jacket on her chair. Kanepi, meanwhile, wore dark sunglasses throughout the match.
"You know, I absolutely love trench coats," Williams said. "Now I have a wonderful white coat I can wear on the court and also in New York for those rainy days. … It's ladylike and goes perfect with my personality. It's very light. It's just delectable."
Williams, whose Wimbledon wins in 2002 and '03 are among her eight major titles, struggled in the first set. She fended off five break points against the French Open quarterfinalist.
The turning point came at 5-5 when Kanepi had a break point for 6-5. Williams attacked and put away a forehand volley smash, letting out a shout and pumping her fist. She held serve and Kanepi double-faulted on set point in the next game. Williams was in command throughout the second set.
"Today definitely was not an easy match," Williams said. "She was playing unbelievable. I felt like she wasn't making any errors. I just felt like I just had to hang in there and stay positive."
The match was the first for one of the Williams sisters since they lost on the same day in the third round at the French Open. They flew from France to Florida and prepared for grass by hitting on hard courts.
The unorthodox preparation for Wimbledon is standard for the sisters and not to be questioned -- they've won the title six of the past eight years.
"We just go home and practice in the hot sun," said Williams, who is seeded sixth. "We're so ready to leave Florida. We're like, 'We're going to do anything we can to stay at the tournament as long as we can so we don't have to go back in that heat.'"
While Williams was happy to have won her opening test in straight sets, Anna Chakvetadze had to fight tooth and nail to survive.
Eighth seed Chakvetadze stormed back from 5-2 down in the third set to beat Canada's Stephanie Dubois 2-6, 6-1, 8-6.
[+] Enlarge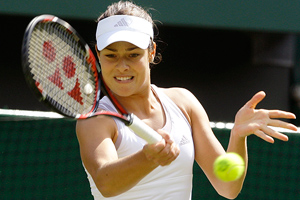 AP Photo/Anja NiedringhausIn her first match since winning the French Open and taking over the No. 1 ranking, Ana Ivanovic needed less than an hour to advance to the second round.
Ivanovic, who reached the semifinals here last year, had far too much power for her 103rd-ranked opponent, belting winners at will from the back of the court.
"Becoming No. 1 takes more pressure, but also you have to see pressure for what it is," Ivanovic said. "It's a reflection of your own ambition. If you see it as a positive thing, it means that you put yourself in a position to do something memorable. So if you look at it that way, it can be very motivating."
Ivanovic, 20, wrapped up the first set with little answer from the 32-year-old Paraguayan. Her blistering groundstrokes off both sides proving too powerful. De Los Rios held her opening serve to take an early lead in the second set but Ivanovic was never troubled.
De Los Rios, who was watched by her 11-year-old daughter, Ana Paula, from the players' box, prolonged the end slightly when she successfully challenged an Ivanovic serve on match point, which was called an ace.
The respite was short-lived, however, and the Serbian favorite wrapped up the match to claim her place in the second round, where she will meet France's Nathalie Dechy.
"I think I played quite well today, considering it's the first match. Especially first match on the grass. It's quite a big change but I was very happy to be back on Centre Court," Ivanovic said.
"Today's match was a tough one. … I had to stay focused. I served really well and that's something that really help me. I was quite aggressive, so I was pleased with the way I played," she added.
Vaidisova, a quarterfinalist here 12 months ago, enjoyed a brisk workout on Court 19 on a warm day at the grass-court Grand Slam.
She will next face Australian wild card Samantha Stosur.
Despite the sunny weather, it was another in a series of dismal days for U.S. tennis. The only American woman to join Williams in the second round was Bethanie Mattek, who rallied past Severine Bremond 5-7, 6-0, 6-1.
Defending women's champion Venus Williams begins a bid for her fifth Wimbledon title Tuesday against wild-card entry Naomi Cavaday of Britain.
Plenty of seeded players fell by the wayside, including Swiss 12th seed Patty Schnyder, Russian 19th seed Maria Kirilenko, French duo Alize Cornet (No. 17) and Virginie Razzano (No. 27), and Slovakian No. 30 Dominika Cibulkova.
Information from The Associated Press and Reuters was used in this report.
SPONSORED HEADLINES
MORE TENNIS HEADLINES
MOST SENT STORIES ON ESPN.COM
WIMBLEDON 2008
Instant Classic
ESPN Classic will replay Rafael Nadal's epic five-set victory over Roger Federer in the men's final on Monday at 7 p.m. ET.
Day 14
•
Men
|
Scores
•
Bob Bryan beats brother Mike in mixed doubles
•
Garber: Nadal muscles his way to championship
•
Ubha: Top five Wimbledon finals
•
Harwitt: Loss a microcosm of Federer's year
•
Ubha: Wimbledon men's final instant analysis
•
Bodo: Nadal shows plenty of courage
Day 13
•
Women
|
Scores
•
Garber: Venus finally stands up to little sister
•
Ubha: Williamses match competitive and clean
•
Garber: Borg the man in the middle
•
Ubha: Wimbledon women's final instant analysis
•
Who will win the Wimbledon men's singles final?
•
Bodo: Five reasons Nadal can win
Day 12
•
Men
|
Scores
•
Garber: Best friends set to do battle again
•
Harwitt: Coach-less Federer ready for title
•
Ubha: Nadal clearly in Federer's head
•
Who will win the Wimbledon women's final?
Day 11
•
Men
|
Women
|
Scores
•
Garber: Time is now for Nadal at Wimbledon
•
Ubha: Top Williams sisters moments
•
Grass Stains: Williamses ready for showdown
•
Tennis.com: Rafa will win Wimbledon
Day 10
•
Men
|
Scores
•
Wimbledon women's court schedule troubles WTA
•
Ubha: Federer serving lights out
•
Nadal blog: Happy to get by Murray
•
Garber: Venus is best grass-courter of generation
•
Star Watch: Safin looking confident again
Day 9
•
Women
|
Scores
•
Garber: Williams sisters crushing opponents
•
Ford: Ancic hoping to take care of Federer again
•
Chip and Charge: Olympics taking center stage
•
Ubha: Can Murray maintain momentum
Day 8
•
Men
|
Women
|
Scores
•
Garber: Unpredictability in women's tennis
•
Grass Stains: Valiant determination from Lopez
•
Star Watch: Murray electifies hometown crowd
Day 7
•
Ford: Midway at Wimbledon report
•
Ubha: Breaking down the final 16 in each bracket
See all stories from Week 1